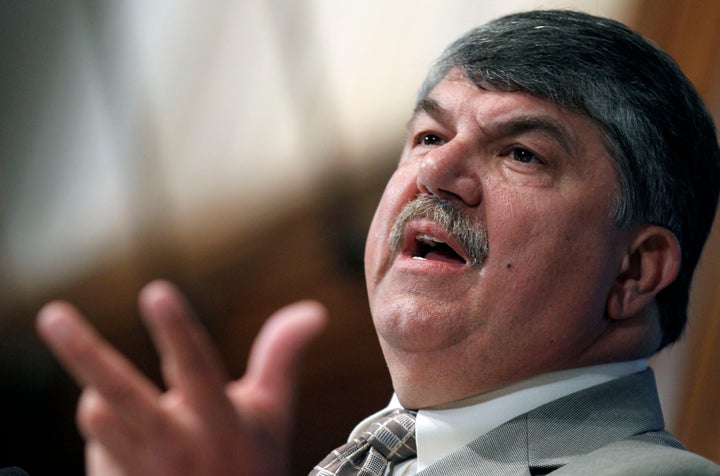 WASHINGTON -- Faced with hostility from Democrats and Republicans alike, as well as scant hope that his organizational objectives can be accomplished, one of the most powerful union officials in the country is pledging to fundamentally revamp the way his outfit conducts political business.
In an interview with The Huffington Post, AFL-CIO President Richard Trumka called the current climate "absolutely" the worst he has seen during the course of his 40-year career in organized labor. His 11-million-plus federation has been forced to adjust, he said, and is making a concerted push to expand their campaign operation so the organization can better pressure lawmakers while in office, and not just on the campaign trail.
"In the past we've spent a significant amount of resources on candidates and party structures, and the day after election, workers were no stronger then they were the day before," Trumka said, during a sit down at his Washington D.C. office slightly more than a week ago.
"What we are now focused on is doing a couple of things differently," Trumka said. "In the past, we would build our structure six to eight months before the election," he added. "Now we're not going to do that. We're going to focus our resources on building a structure that has total fidelity towards America's working people, both union and non-union working people. We'll do it 12 months a year, so they'll be able to transition from electoral politics, to advocacy, to accountability with no effort. And it will continue to build greater strength for workers after the election and in between elections."
The comments from the AFL-CIO chief provide a detailed outline of the vision he has in store for a tinkered -- but still-powerful -- campaign apparatus. To execute that vision, the union federation is outfitting itself with some new tools, including a super PAC that will allow it to raise unlimited funds from corporations, individuals and other unions.
The AFL-CIO doesn't just plan to extend its political engagement, but to hyper-localize it as well.
"One of the most important aspects of the labor movement, which is different then for other entities, is that we have an enormous network of local community workers who are responsible for talking to people after their election," one top union official said. "The experience of the last six years should teach progressives a great deal about the difference between elected people who say the right thing in their candidate questionnaires and the people who are there voting for workers, voting for jobs and advocating our positions."
"There was a perception in the progressive community in January 2009 that things had gotten pretty good," the official, who requested anonymity, added. "But we didn't have an infrastructure in place to say we need a bigger stimulus, or we need to be concerned about jobs or we need to have a different national agenda."
For Trumka too, the issue of post-election follow-through has now taken on paramount importance. While he said he wouldn't "draw lines in the sand" in terms of what future debt reduction recommendations the AFL-CIO would support, he did make it clear that there were certain promises he expected labor-endorsed lawmakers to uphold, certainly when the topics turned to Social Security and Medicare.
"How do you tell someone like my dad, who retired the day he was 62, that he has to work to 67? It would have been a death sentence for him," said Trumka. "He couldn't have worked to 67 -- he was completely disabled of black lung. So what do you tell then? You tell them that they ought to be able to retire at a lower range."
President Obama, who was endorsed by the AFL-CIO in the 2008 elections, proposed raising the Medicare eligibility age from 65 to 67 during debt ceiling negotiations, and he seems likely to embrace the idea again when he makes his recommendations to the congressional supercommittee tasked with finding $1.5 trillion in additional debt reduction.
Trumka remains an administration ally who will, it appears, be in the president's corner during the reelection campaign.
"Barack Obama's a friend," he said, "and when you place him in the context of those who are running against him right now, he is a giant."
But the past disappointments -- including the non-movement on the Employee Free Choice Act and the public health insurance option, the renewal of the Bush tax cuts and the consistent push for free trade deals -- are impossible to ignore, even with the president speaking out recently in defense of collective bargaining and public sector unions.
More than a dozen trade unions plan to sit out the 2012 Democratic National Convention because it's being held in North Carolina, a right to work state. The International Association of Fire Fighters has closed their federal PAC, convinced they can get a bigger bang for their buck on the local level. And even Trumka, in an interview that was largely respectful if not appreciative, let his frustrations show.
"I think the President made a strategic mistake when he abandoned talking about the jobs crisis and job creation and focused completely on the politically manufactured debt crisis," he said when asked for a review of the administration's economic record. "You have one very obvious way to make a dent in the deficit crisis, which is to get people back to work."
"But you don't have anyone actually talking about jobs," Trumka said. "And when you bring it up to people at 1600 Pennsylvania Avenue, their almost universal response is we have a Congress that won't do it. So what do you do? You do what leaders do, you lead."

Popular in the Community