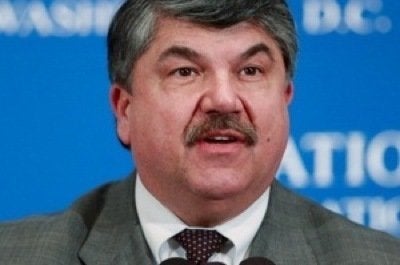 The powerful union conglomerate AFL-CIO will fully support the health care bill and campaign for its passage despite a last-minute setback over a change to a provision that would tax high-cost insurance plans.
The group's Executive Council met on Thursday to discuss new legislative language that will index the excise tax on so-called "Cadillac" plans to the Consumer Price Index (the rate of inflation) rather than the Consumer Price Index plus one percent. The change, which is in the final bill, will affect more union insurance policies at a quicker rate over time. And in a last-minute meeting at the White House, the union's president, Richard Trumka fought the new language.
He lost that battle. But in the process was able to secure provisions that were enough to temper the discouragement he and his union colleagues felt. Under the final bill, all insurance plans (not just those that were structured from collective bargaining) will be exempted from the excise tax until 2018.
This was not in the original deal. But labor officials view it as a major victory. In mid-February an analysis by Ken Jacobs of the University of California showed that at least 80 percent of the workers whose plans would be taxed under the Senate's legislation were in non-union jobs.
"We literally helped every worker in the country," said a union source.
Additionally, Trumka and union allies were able to secure a commitment from the administration to push legislation outside of health care reform that would require even small construction contractors to provide health care benefits to its workers. The amendment, introduced by Sen. Jeff Merkley (D-Ore.) was not in the final health care bill and was ruled out of bounds for reconciliation by the Senate parliamentarian.
Combined, these two concessions were enough to keep the AFL-CIO on board, which is another element of encouraging news to health care reform proponents as the House gears up for a critical Sunday vote.
UPDATE: Trumka releases a statement explaining AFL-CIO's decision
After a lot of deliberation by our national unions, the AFL-CIO has decided today to put our strong, active support behind the president's health care bill. After 60 years of fighting for health care reform, we are convinced that now is the time to say "Yes." This health care bill is good for working families--now and even more in the future.

It is not a perfect bill. But we are realistic enough to know it's time for the deliberations to stop and for progress to begin. And we are idealistic enough to believe this is an opportunity to change history we can't afford to miss.

That's not what you'll hear from the insurance industry. They've plastered their money and lobbyists across Capitol Hill to try to stop this bill because it's a game-changer for them. It ends what is literally a reign of insurance company terror. Rising health care costs are crushing families and businesses. Middle class families are losing health care coverage faster than any other group today.

This bill is a solid first step in changing that. It will make health care more secure for all Americans. It stops insurance companies from denying care based on pre-existing conditions and blocks the worst insurance company abuses. It stops the relentless rise in health care costs and expands coverage and care for everyone. It reduces prescription drug costs for seniors and saves money for small businesses. And because of the work we've done, the penalties on employers who try to run from their responsibilities are tougher - and health care reform will not be paid for on the backs of working people.

The activism of millions of working people has made the health care bill stronger, and that doesn't stop now. We are mobilizing at the grassroots, marshalling state and local leaders and putting everything we have into passage of this landmark legislation--and it will pass. And we will continue working to improve health care for all Americans. That is our goal, and this legislation moves us closer to achieving it.
Popular in the Community