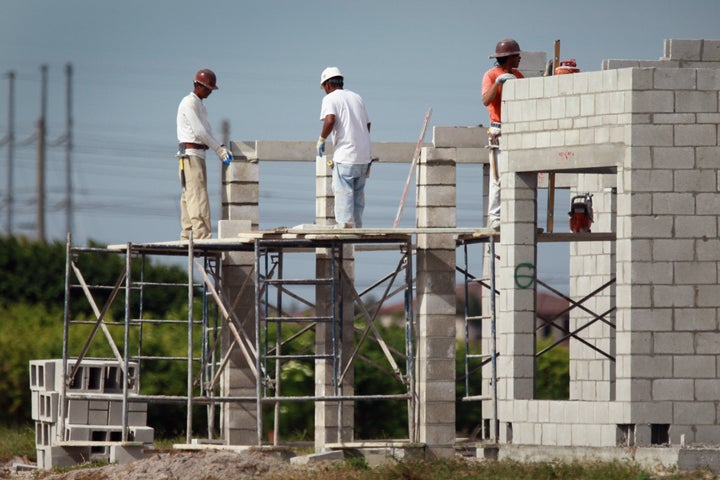 WASHINGTON -- Thirteen U.S. workers were killed on the job each day and roughly 50,000 died from work-related diseases in 2010, a worrisome increase in the long downward trend in fatalities, according to a report issued by the AFL-CIO on Wednesday.
The AFL-CIO, the largest U.S. federation of labor unions, said in its analysis that while the number of workplace deaths has been trending lower for four decades, workers continue to get injured, killed or sick on the job due to weak safety enforcement, soft penalties for offending companies and regulatory inaction by government.
According to the report, 4,690 workers were killed while working in 2010, a 3.1 percent increase from 2009. Bill Kojola, an industrial hygienist with the AFL-CIO's safety and health department, told HuffPost that while the long-term numbers are encouraging, he was alarmed to see the overall number of deaths climb in 2010 when Americans are still underemployed.
"We're actually trending upward, which is not a good sign," Kojola said. "Particularly in an economy when the hours of work are down, especially in construction. If construction was running full bore, it's likely the numbers would be higher."
The annual "Death on the Job" report analyzes workplace data from the Labor Department as well as state agencies.
"The job safety laws need to be strengthened," the report says. "The nation must renew the commitment to protect workers from injury, disease and death and make this a high priority."
Latino workers continue to die on the job at a rate 8 percent higher than all workers. Of the 707 fatalities among Latinos in 2010, more than 60 percent involved workers born outside the U.S. Researchers have attributed the higher death rate among Latino immigrants to the fields many work in -- construction and other kinds of manual labor -- as well as a reluctance among some immigrants to report workplace dangers.
The AFL-CIO had mostly kind words for the administration of President Barack Obama, saying the White House has tried to institute worthy rules on businesses and strengthen enforcement programs in the face of strong GOP opposition in the House. But it also said that anti-regulatory interests have gained an audience with the White House's Office of Management and Budget, the agency that oversees rulemaking, leaving some safety regulations in bureaucratic purgatory.
One such case is the rule regarding crystalline silica, a dangerous, breathable dust found in sand and granite that can lead to respiratory disease in construction workers. Regulators have spent 15 years trying to develop a new standard to limit workers' exposure to the dust, despite opposition from businesses and trade groups. A preliminary proposal for a new rule has been sitting with the White House for well over a year, angering workplace safety advocates who say it should have been made public after three months.
"There's a real impact on workers if we don't promulgate rules like silica in a timely fashion," said Kojola. "These are workers' lives that could have been saved."
In terms of enforcement, the report argued that the number of workplace inspectors employed by the federal and state governments is "woefully inadequate," with a total of 2,178 inspectors to cover more than 8 million workplaces. The federal government, it noted, has the resources to inspect each American workplace once every 131 years.
According to the report, states with the highest fatality include West Virginia, Wyoming, Alaska, South Dakota and North Dakota. Among those with the lowest were Massachusetts, Rhode Island and New Hampshire.
Related
Popular in the Community