The role of art in amplifying workers' voices as well as changing perceptions about worker movements got a great display in Los Angeles recently. This slide show highlights some examples.
It was all part of a concerted effort on the part of the AFL-CIO during its convention in Los Angeles. Determined to try and make this not the normal business of resolutions and side meetings on what arguably, are some incredibly pressing issues of the day, convention organizers brought in some vibrancy to those discussions and thereby, kept workers first and foremost in vivid fashion.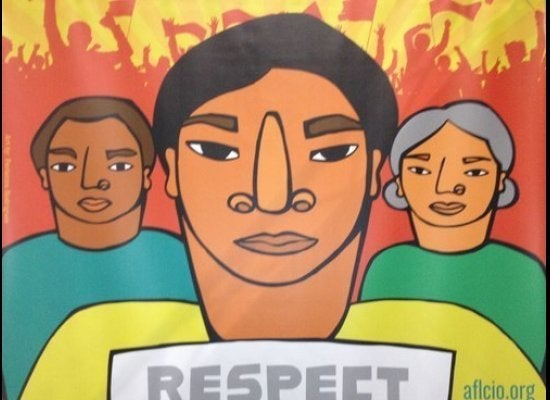 Putting Art About Workers Front And Center at AFL CIO
And with all due respect to the historic icons of Rosie the Riveter, the United Farm Workers black eagle or the classic Constructivist designs that often mark 'worker art', this was not that. Which is a good thing because just like work no longer taking place in centralized workspaces of mills,farms and factories but increasingly spread across a decentralized, contingent, and diverse workforce, art reflecting the voices in the economy should also come at us differently. And with new leaders like Tefere Gebre, just elected as the AFL-CIO's new Executive Vice-President, its cool for the art and movement to be about painting a new canvas for the future.
As the slide show will demonstrate, art popped up in multiple forms. There was the display of images created by Just Seeds, a collective of artists known for their provocative progressive art, but usually more comfortable in an underground art gallery or street mural than a convention hall.
There was the cardboard cutout display project led by Los Angeles artist Ramiro Gomez with the help of local workers in Los Angeles Federation of Labor member unions that were sprinkled throughout the convention hall. The workers got to participate directly while their products had others finding pride and not being invisible.
That impact on participants was evidenced in this video capturing the making of the cardboard cutouts and how workers at the convention reacted to it.
Finally, a long long scroll of butcher paper featured what is sometimes known as "graphic facilitation" by artist Greg Gersch who would capture the essence of speeches, presentations and workshop content as if an old-school version of a twitter feed but with images that could say so much more than 140 characters.
It all made for a stimulating environment and with elements that I hope can be reused in the future for rallies, actions or other spaces where workers' voices and issues need amplification.
For a full view of all of the Just Seeds images, check out Favianna's blog page here. This portion of their artists' statement pretty much sums up the whole vibe:
Art can connects with people's emotions, opening them up to new possibilities. Art can elicit anger, outrage, sadness, curiosity, or compassion--all of which are needed in order to humanize issues of injustice and challenge the status quo.