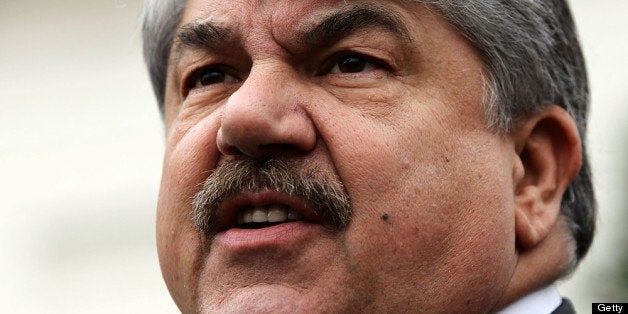 WASHINGTON -- The past year hasn't been easy for organized labor. Union density dipped to a historic low of just 6.6 percent of the private sector. Michigan, the birthplace of United Auto Workers union, went right-to-work in a blur. And public-sector unions found themselves fending off more state-level legislative attacks designed to weaken them.
Taking stock of those challenges, Richard Trumka, president of the AFL-CIO union federation, insists that the battles and setbacks have presented the labor movement with a chance to reinvent itself.
"We have to change the way we're doing business in a significant way to get out of the crisis we find ourselves in," Trumka told The Huffington Post in an interview. "But this crisis also offers us ample and tremendous opportunity. That's what we're trying to do."
Trumka's prognosis comes a few weeks ahead of the AFL-CIO's quadrennial convention, the sort of confab that's ripe for self-analysis and reflection, particularly for a movement that's been on the ropes. The labor leader said the AFL-CIO is moving to build permanent relationships with progressive allies in the immigration, civil rights and environmental movements. The convention itself will offer a reflection of that strategy, Trumka said, including a speech from progressive Sen. Elizabeth Warren (D-Mass.), which the senator's office confirmed to HuffPost.
"It's an opportunity for us to look at ourselves and say, 'What we've been doing hasn't been working. Let's figure out what we need to do to change and make it work,'" Trumka said. "It's the kickoff of a whole new process where we open up the labor movement."
Past conventions were 3-day affairs, but this year the federation has had active committees operating for the past several months, comprising not just labor groups but academics and left-leaning think tanks. Much of the discussion at the convention, Trumka said, will involve how to partner with groups like the NAACP and the National Council of La Raza to push a broader progressive agenda on Capitol Hill and in the statehouses.
The purpose of the talks is a humble one, Trumka said: "Tell us what we need to be. Tell us what people need us to be to meet their needs."
"Its the beginning of a continuous process," he said. "We will continue to bring people in and evolve, so we don't just take a snapshot of where we are and forget about it. We've done that in the past. The change has to be continual and become part of what we are and how we function."
Talk of making the labor movement more inclusive isn't new, and unions have long allied themselves with other progressive groups around political issues and elections. But the convention may signal the start of a more formal working relationship. The Wall Street Journal reported last week that the AFL-CIO was planning to extend some decision-making powers to new groups that come under the tent, such as the Sierra Club. An AFL-CIO spokesman said no such relationships have been forged yet, and that the convention will merely be the start of the discussion.
Despite shrinking union density in the U.S. workforce, the AFL-CIO remains a potent political force, having played a large role in the ground game that helped reelect President Barack Obama last year. The strategy Trumka laid out suggests that the AFL-CIO would put even more of its time and energy toward politics, as opposed to growing its ranks through union elections.
But Trumka insisted worker organizing will remain a priority, through traditional and non-traditional methods.
Given the considerable hurdles to unionization in the U.S., the AFL-CIO has been seeking ways to influence workplaces outside of union elections held under the National Labor Relations Act. The federation's 10-year-old non-union affiliate, Working America, now plans to establish chapters in all 50 states, in an effort to bring into the fold more workers who aren't necessarily covered by a union contract.
That effort isn't so different from the federation broadening its relationship with, for example, civil rights groups, Trumka said.
"People who aren't part of a union and don't have a collective bargaining agreement will be able to come and join us," he said. "Progressive groups that we talk to who we were allied with in the past will be part of us and we'll talk together, we'll plan together, we'll strategize together, we'll educate together and we'll execute together."
"It used to be your issues and my issues," he added. "We want it to be our issues, whether it's a civil rights issue, a human rights issue, a women's issue, a race issue or a collective bargaining issue."
Unions recently won a victory on the collective bargaining front, when the Senate finally confirmed Obama's nominees to the National Labor Relations Board, the independent agency that enforces labor law. The board was headed toward a shutdown when a Senate fight over the filibuster forced Republicans to the table. The deal brokered guarantees that the the labor board will continue to operate with a liberal majority backed by the AFL-CIO, issuing decisions likely to be friendly to unions.
Trumka said there wasn't much to dislike in the deal.
"We got a functioning labor board for the life of the president's term. That's a good thing. Union and non-union workers depend on a functioning board." As for the massive fight required to achieve confirmation, "It's tragic that it came to that," he said. "Hopefully we're past that now."
The AFL-CIO may have another victory soon, with the United Food and Commercial Workers union appearing likely to rejoin the federation. The 1.3-million member union defected in 2005, and a return would significantly boost the AFL-CIO's rolls.
Trumka wouldn't comment on whether or not UFCW members might be at this year's convention. His main concern, he said, was linking arms with progressive allies outside of labor.
"The opposition was really good at wedging us," he said. "The goal is to take that away from them, so that we're one single group that works together, that plans together and executes together. ... None of us are capable of doing it alone."
Correction: This story originally referred to the convention as annual. It is, in fact, every four years.
Before You Go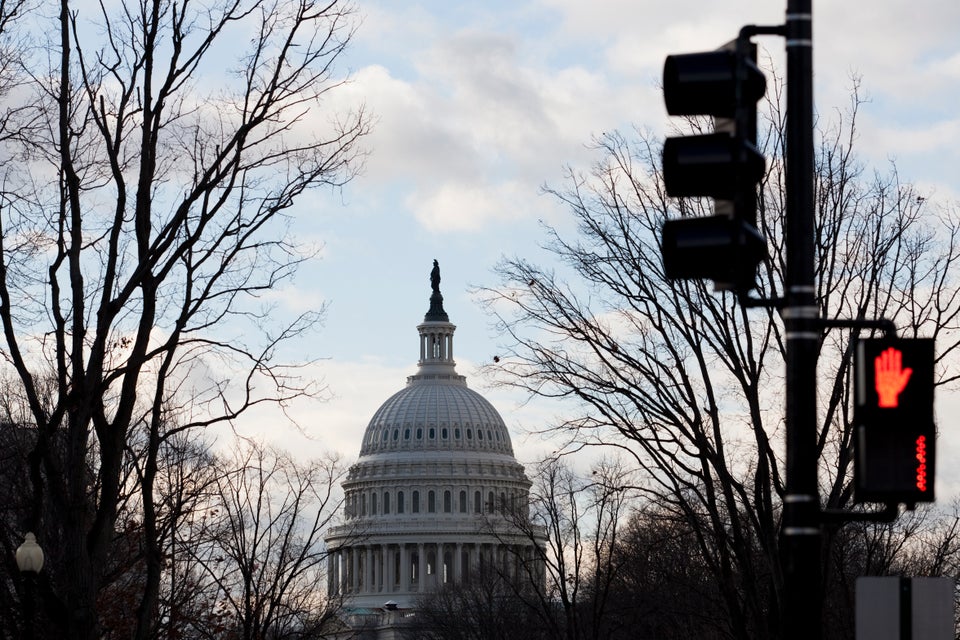 113th Congress Facts
Popular in the Community