Journalists in France want to know who will lead their international news agency and whether it will emerge unscathed from a tug-of-war between unions and the government, prompting their CEO's resignation.
The jolt came when Pierre Louette, who headed Agence France-Presse (AFP), announced his resignation two years after slugging it out with French press unions intent on maintaining independence from government meddling and possible privatization.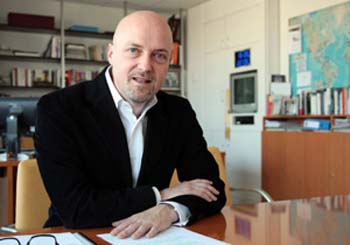 Pierre Louette (AFP)
"Pierre Louette resignation: union and other reactions. Next CEO Colombani or Séguéla?" read one of countless tweets from concerned staffers about possible replacements.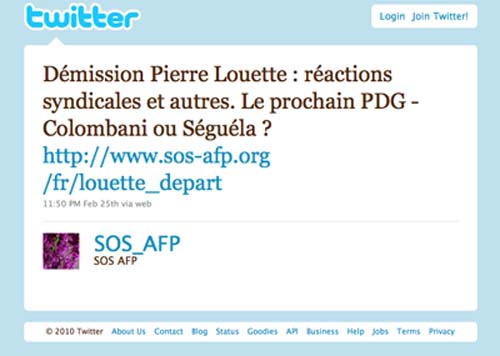 Louette's departure to become France-Télécom's chief took observers by surprise, coming on the heels of efforts to reform the agency and have it toe the Nicolas Sarkozy line.
"He leaves an agency struggling to find an economic equation compatible with its independence," wrote Simon Piel on http://www.bakchich.info last month.
According to media insiders, President Sarkozy had given Louette marching orders on the latter's appointment, to trim the fat, reign in the journalists' unions, and turn a profit from an otherwise debt-ridden, sclerotic agency.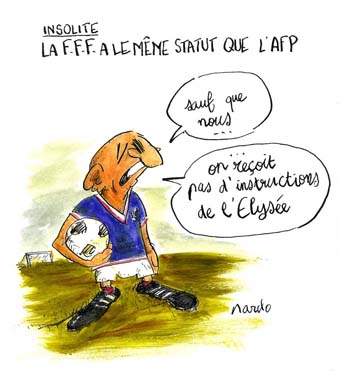 French Football Federation player says
his group ranks equal to AFP but doesn't get
instructions from the Elysée Palace (fffWEB)
AFP (www.afp.com), which traces its history to the 1835 creation of Agence Havas, the world's first international news agency, states in Article 2 of its 1957 statute that it "may not under any circumstances take account of influences or considerations that would compromise the accuracy or objectivity of the news; it must not under any circumstances pass under legal or de facto control of an ideological, political or economic group."
Not so, insiders and news reports claim.
"AFP has serious, serious structural and financial and operational problems, but the government for now keeps supporting it, so it cannot run into too much trouble in the near future," said a former AFP correspondent about one of the world's three major wire services.
The agency under Louette was completely submissive to government wishes, unlike under previous CEOs, which prompted staffers in France and abroad to quit, the correspondent said, adding that many others would like to leave but are caught in legal disputes over severance pay and benefits.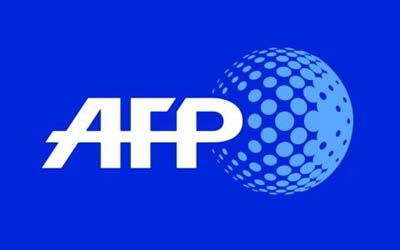 "Is AFP scared of the powers-that-be?" asked a headline in a piece by Augustin Scalbert on the popular website Rue89 (http://www.rue89.com).
On Louette's watch, if the left-wing paper Libération writes the earth is round and the Elysée says it's flat, AFP will first publish the presidential palace's denial, or will give equal play to the two statements, without taking sides, or, better yet, will report that the truth lies somewhere in the middle, Scalbert claimed.
In a satirical piece in Le Monde last October, a writer said he had promised not to speak about Sarkozy, but that the hyper-kinetic French president was too agitated and had agitated everybody with his draconian measures.
The writer recommended a little calm, for the sake of the president's health, that of his countrymen, and of France.
"Messing with AFP is messing with our liberty, with yours, and with the fragile balance between politics and information," he said.
To make the point, a cartoonist depicted AFP as Lady Liberty, carrying a microphone/torch with the agency logo.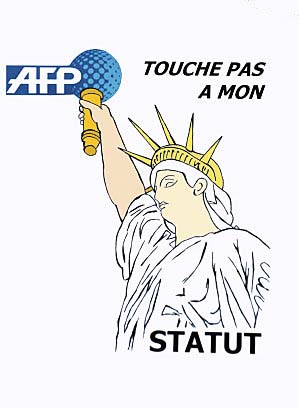 "Don't touch my statute/statue" reads caption (Coul)
The caption: "Don't mess with my statute," in a play on words, on the French statute and statue.
In a statement by the agency's branch of the French CGT Journalists' Union (http://www.snj-cgt-afp.org), Louette reportedly told staffers to work harder for less pay after being tasked with downsizing AFP and turning it into a 21st Century multimedia company.
"Conclusion: We must mobilize not only to defend AFP's independence, but also our wages, and tomorrow maybe our very jobs!" the CGT Journalists' Union said.
Union members launched a campaign dubbed AFP-SOS, set up a website (http://www.sos-afp.org) to promote their cause, and called for online and paper signatures to present to the government, in a bid to roll back decisions viewed as harming their careers and benefits.
The December 2008 statement said the CEO told employees retiring or departing staff wouldn't necessarily be replaced by new hires, at a time when management was making increased demands on them, with new tasks and new services resulting in ever-longer working hours.
Replacements are paid much less than journalists who retire or die, said a 20-year veteran who declined to be identified, adding that temporary hires and short-term contractors were becoming more frequent.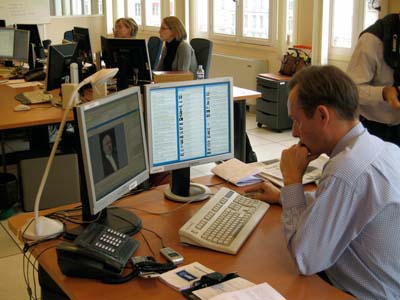 AFP journos at HQ (AFP)
"For me, it's not news," said a former AFP journalist who worked at the agency's Middle East regional bureau in Cyprus, adding that it confirmed the trend to eliminate the "heavyweights" in Paris and increase the local hires, who wouldn't receive social benefits and guarantees.
But that was not always the case.
For years French (and western) "heavyweights" sent from Paris were given higher wages and benefits, and could aspire to move to different bureaus because of their "status de siège" contracts, meaning they hailed from headquarters and deserved a better deal than the local or regional staff.
"They (status de siège) have many benefits and they are unwilling to change and that is one of the many reasons why they refused the (Louette) modifications," said a local hire at an AFP bureau in an Arab country.
If Louette had succeeded, the entrenched journalists in Paris would have been sacked, he said. "With the current status they are almost untouchable."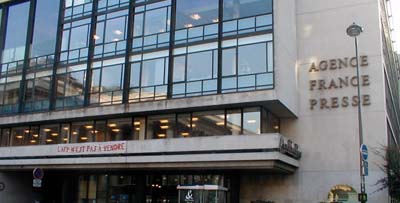 AFP Paris HQ with entrance banner "not for sale" (Le Figaro)
However, not all employees rejected Louette's methods.
"I am really far from Paris' politics and do not know what is happening," said an AFP bureau chief in Asia. "Personally, I am sad that Louette left because I felt he was doing a good job and in many respects was able at the same time to maintain a good relationship with the unions in general."
To date ten names have emerged as possible replacements for Louette, including that of British AFP journalist David Sharp, whose candidacy may not be acceptable to French old-timers, given their traditional ethnocentrism and the Sarkozy government's record of seeking a tighter grip on the media.
But American AFP veteran Nathaniel Harrison was optimistic that the search for a new CEO had produced one firm candidate from within the agency itself.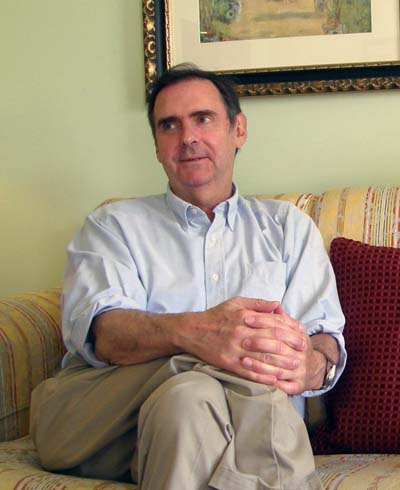 Nathaniel Harrison (Abu-Fadil)
"I would like to see the company in the hands of a working AFP journalist, someone who is not yet prepared to write off traditional wire agency news gathering, who appreciates the critical importance of slow and painstaking information verification and who can see the social value of reporting on matters in venues that may not have immediate -- or obvious -- financial appeal," he said.

Related
Popular in the Community