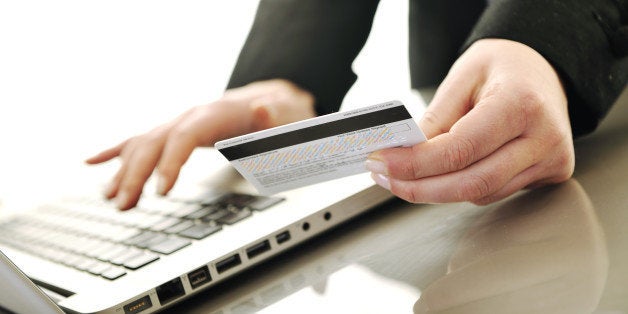 Americans are becoming increasingly comfortable with socializing, going to school, even finding their soul mates (or mistresses) online. So when it comes to something as mundane as banking, why aren't more people ditching their traditional banks for the online version?
According to Pew Research Center data, just 61 percent of all Internet users in the U.S. bank online, while 35 percent of cell phone owners bank using their mobile phones. This is compared to 58 percent and 18 percent in 2011, respectively.
While growing, online banking among Americans is still somewhat slow to catch on.
Many might assume this is due to a technological gap; younger generations, who are quick to adopt new technology, happily bank over the Web while older bank customers opt for traditional, in-branch services. However, the Pew study also shows that the online (desk-top) banking adoption rate is fairly even across all age groups, skewing just slightly toward the under-50 crowd:
In reality, it's probably not technical ability that prevents the other half of Americans from banking online, but fear.
According to a 2013 survey performed by Kaspersky Lab and B2B International, approximately one in three respondents said they would never conduct financial transactions over a smartphone or tablet due to safety concerns. In fact, just 22 percent of tablet and 27 percent of smartphone users responded that they "are unconcerned about entering financial information from their gadgets."
And many will remember the 2011 Citigroup security breach that compromised more than 360,000 bank accounts, and resulted in a $2.7 million loss from 3,400 accounts.
But let's put things in perspective for a moment.
Not to downplay the severity of the attack on Citi, but it's a far cry from the estimated 70 million Target customers whose debit and credit card data was jeopardized by the store's recent security breach.
In fact, if breaches like those at Target and Neiman Marcus stores have taught us anything, it is that your personal financial information isn't safe simply because it's offline.
Greg Meyer, a Meriwest Credit Union representative and "The Credit Union Guy" blogger, is highly familiar with the security side of banking, most recently participating in the rollout of Meriwest's mobile banking app in 2009.
"Online banking systems in the U.S. are built tough, they don't bend easily to hackers," Meyer advised. "Financial institutions will typically use various forms of encryption to exchange data with their software and your web browser and email programs. Changes in security software are tested under real-world conditions to ensure they work as advertised."
Additionally, he said, online banking usage is regularly monitored by institutions for suspicious activity. "They can block access to the account and contact the account holder to request confirmation that they were or were not aware of the activity," Meyer said.
Consumer Reports advised that Internet banking might actually be more secure than traditional banking, noting, "Online financial transactions can be safer than paper because information is encrypted, and thieves more commonly obtain personal data through low-tech methods like 'dumpster diving' and stolen physical property."
Not to mention, most financial institutions provide $0 liability in the event fraudulent activity does occur, as long as a proper degree of caution by the account holder is exercised.
The fear of online banks is understandable, but largely unwarranted. And, in fact, depositors who avoid online banks for security reasons could be doing their finances a great disservice.
While most consumers are no stranger to the concept of online banking, fewer are familiar with online banks, which operate solely via the Web. And those who have considered switching to an online bank might not have made the move yet due to the fears outlined above.
However, I say the advantages online banks have to offer far outweigh the risk of banking over the Internet.
For one, many of the costs traditional banks and credit unions incur through day-to-day operations are nonexistent for online banks. That's a huge benefit for customers, because it means these online banks can afford to pay out higher interest. (Yes, interest rates just plain suck right now, but would you rather earn 0.05 percent or 0.85 percent on your savings?).
The lack of overhead also allows online banks to charge fewer fees, which have been the subject of controversy over the last few years. Rightly so -- paying one monthly maintenance fee wipes out your earnings for the whole year, and then some.
Finally, there's the convenience factor: No waiting in line at the branch, no paper statements taking up space in your house, access to your funds 24/7. Need I go on?
Of course, not all online banks were created equal, and just because an institution conducts business over the Web doesn't mean customers are treated to all of the above benefits.
Like any traditional bank, it's important to shop around for one that is truly competitive in the space before handing over your money. We recently reviewed the online banks out there today and ranked the best savings and CD accounts for depositors in 2014:
1. American Express Online Savings
Interest Rate: 0.85 percent APY
Minimum Opening Deposit: None
Monthly Maintenance Fees: None
2. Discover Bank Online Savings
Interest Rate: 0.85 percent APY
Minimum Opening Deposit: $500
Monthly Maintenance Fees: None
3. Barclays Bank Online Savings
Interest Rate: 0.90 percent APY
Minimum Opening Deposit: None
Monthly Maintenance Fees: None
Interest Rate: 0.95 percent APY
Minimum Opening Deposit: None
Monthly Maintenance Fees: None
2. GE Capital Bank 12-Month CD
Interest Rate: 1.00 percent APY
Minimum Opening Deposit: $500
Monthly Maintenance Fees: None
Interest Rate: 1.02 percent APY
Minimum Opening Deposit: $1,000
Monthly Maintenance Fees: None
High yields, zero fees, low account minimums -- and, of course, top-tier security -- are all qualities you shouldn't compromise on when making the switch to an online bank.
How to Protect Your Money Online
Whether you only log on to your online banking once a month or have moved all your accounts to the Internet, there are certain precautions you should take to ensure you're not subjecting your accounts to undue risk.
1. Don't have an obvious password, and change it every six months.
It's obvious, but people still fail to craft a strong password for their log-ins. Be sure you create one that is truly unique. "Add symbols, numbers and mix lower and upper case letters," recommended Steven Elwell, CFP and vice president of Schroeder, Braxton and Vogt Financial Advisors. Change this password every six months to keep hackers guessing
And please, whether it's your Facebook, Amazon or savings account, don't use the same password for them all.
2. Only bank over a computer with proper security measures in place.
Your finances are only as secure as the computer you're using. "A good firewall prevents hackers from accessing the data packets that are being exchanged between your PC and the host computer with which you are communicating," Meyer said. "Hackers simply cannot see the connection so they cannot hack it."
3. Consistently monitor your accounts.
The faster you identify fraud, the faster it can be resolved. Don't put your online accounts on auto-pilot -- regularly logging in to review your transaction history is a simple, but effective line of defense against identity theft.
4. Keep total deposits under $250,000.
The FDIC insures bank account deposits, including those at online banks, up to $250,000 per depositor, per institution. If your accounts combined total more than $250,000, move the excess to a different institution to keep it protected.
5. Be wary of phishing and other scams.
Finally, be aware of potential attempts to steal your personal information. A bank will never ask you to relay sensitive data over a phone call or email. And always be sure to type in your bank's URL carefully -- there are plenty of copycat websites that prey on users who enter typos like "chaes.com." Check for an "https" at the beginning for confirmation you're logged into a legitimate, secure bank website.
Are online banks 100 percent immune to security issues? Absolutely not. However, when it comes to banking online, much of the risk is in the customer's hands, not the institution's. Online banks can be a financial tool or threat -- it really depends on how you choose to use them.
Related