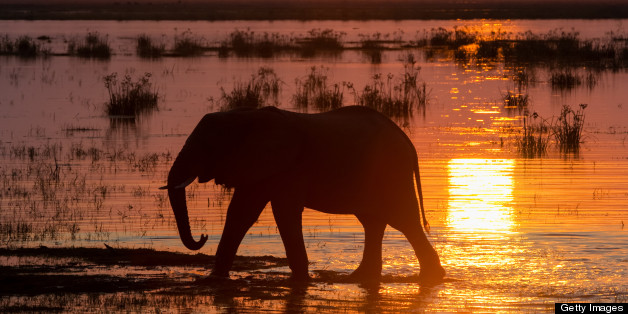 The wave of poaching devastating central Africa's forest elephant population may see some relief with a new agreement forged by the governments of Gabon and the Central African Republic (CAR) to improve management of CAR's wildlife resources.
The agreement comes after some two dozen elephants were brutally slaughtered at a CAR protected area in early May. The killings took place at Dzanga Bai, a well-known forest clearing in Dzanga-Sangha National Park, which is part of the Sangha Trinational World Heritage Site. These elephants have become the target of criminal gangs, who increasingly trade in blood ivory to fund violent campaigns of political destabilization across the Sahel.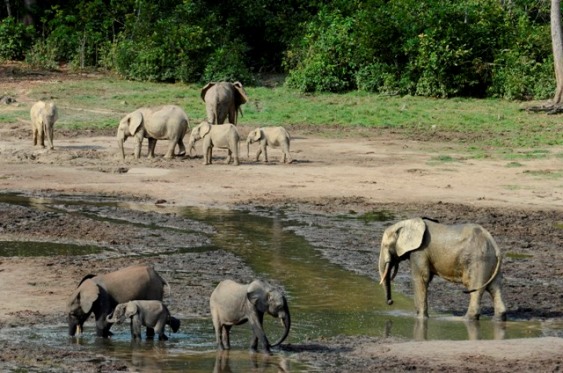 The Wildlife Conservation Society wishes to recognize the outstanding leadership of Gabon president Ali Bongo Ondimba and Michel Djotodia, acting president of the CAR transitional government, in confronting this urgent wildlife emergency and restoring security to Dzanga Bai.
The resolution to this crisis could never have been achieved without the dedicated and heroic efforts of a team of conservationists led by Mike Fay. Fay, a Senior Conservationist with WCS, an Explorer in Residence with the National Geographic Society, and a Senior Adviser to the President of Gabon, has dedicated a good part of his working life to the study and protection of wildlife in Central Africa.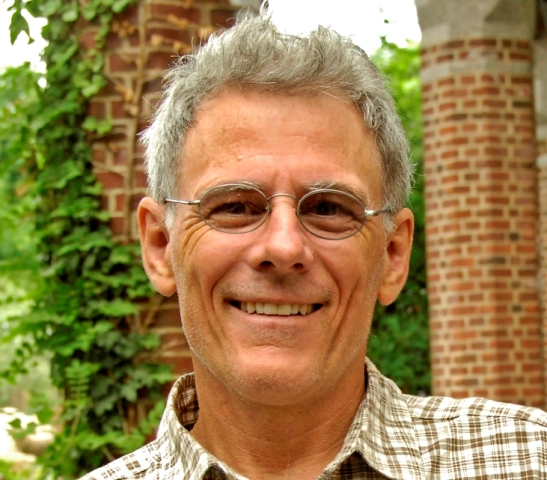 Working with Lee White of the Gabon National Parks Agency, Bas Huijbregts of WWF International, and Richard Ruggiero of the U.S. Fish and Wildlife Service, Fay helped facilitate discussions between presidents Bongo and Djotodia to secure the elephants of Dzanga and all of CAR's parks. At the same time colleagues from the Last Great Ape Association (LAGA) began discussions with the current military authorities in Bayanga, near Dzanga Bai.
Once Djotodia and Ondimba agreed to work together to safeguard the vulnerable elephants, Fay and the Aspinall Foundation's Bryan Curran traveled in a WCS plane to Bayanga and worked directly with the military to ensure security of the elephants, the bai, and the park. Plans are underway to re-equip and re-deploy the ecoguards and return the park to normalcy.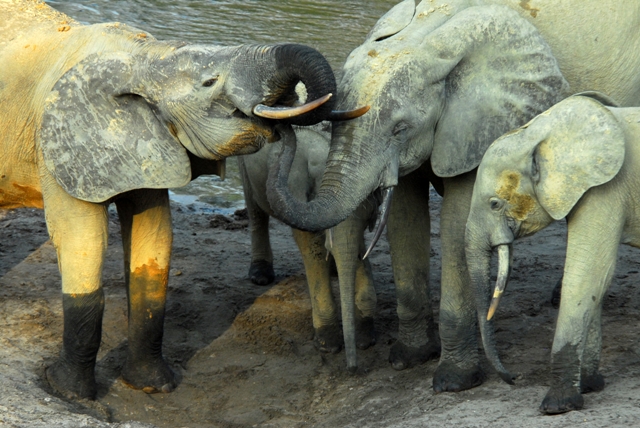 WCS and WWF have worked in southwestern CAR since the 1980s when Richard Carroll (now of WWF US), Fay, and Ruggiero helped establish the protected areas. At Dzanga Bai, up to 200 elephants gather daily to reconnect with family members and take advantage of the mineral salts present in the soil. These animals comprise what is considered one of the most important remaining populations of African forest elephants on the continent.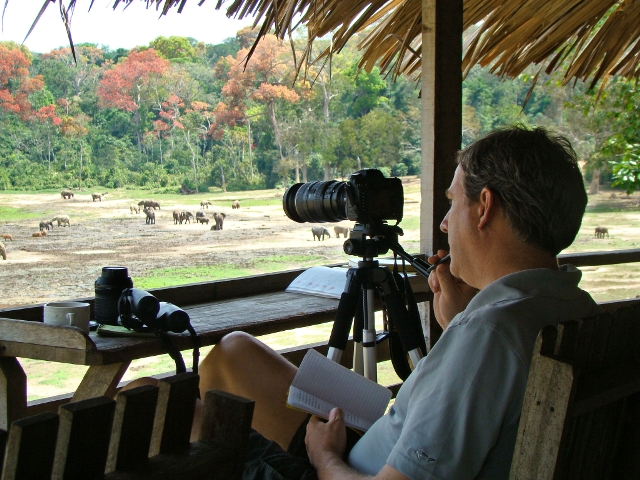 For over two decades, WCS conservation scientist Andrea Turkalo has dedicated herself to their study and protection, completing groundbreaking research on forest elephant language and social relationships and watching over the bai. With the de-escalation in violence at Dzanga Bai, Turkalo and her ex-pat partners hope to return soon to continue their work.

As life in Bayanga resumes some semblance of normality, WCS stands ready to assist the government and people of CAR; our partners in Gabon and the United States; and our long-term partner in Dzanga-Sangha, WWF, in working for a better future for the people and wildlife in central Africa.
Photos
Top: Before the recent poaching violence in CAR, hundreds of forest elephants gathered daily at Dzanga Bai. Photo by Cristián Samper.
Image 2: Mike Fay has dedicated a good part of his working life to the study and protection of wildlife in Central Africa. Photo by Julie Larsen Maher/WCS.
Image 3: Forest elephants come together at the Dzanga Bai forest clearing to reconnect with family members dispersed throughout the Dzanga-Sangha National Park. Photo by Andrea Turkalo.
Bottom: WCS President and CEO Cristián Samper visited WCS conservation scientist Andrea Turkalo's research station at Dzanga Bai earlier this spring. Photo by Elizabeth L. Bennett.
Calling all HuffPost superfans!
Sign up for membership to become a founding member and help shape HuffPost's next chapter