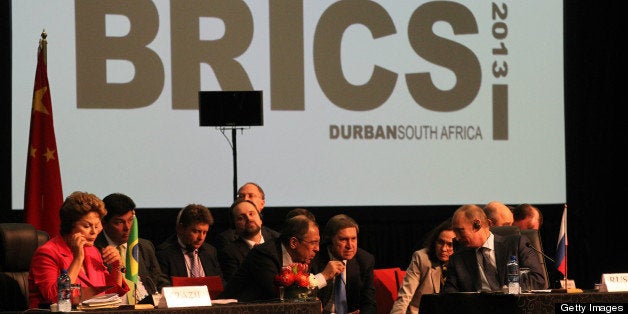 I recently wrote about foreign direct investment in Africa and the prospect of engagement among developing nations and the BRICS. But in order for sustainable development to be achieved across the continent, smart input from Africa's own entrepreneurs and institutions must also occur. The question of intra-regional African investment is therefore a large one -- and an increasingly urgent one.
Last year in the Economist Magazine, Nigeria's minister of finance, Ngozi Okonjo-Iweala, suggested that in 2013 "'Africa investing in Africa' will become an important slogan." This is our hope. Currently, intra‐African trade stands at around 10 percent, in contrast with 60 percent, 40 percent, and 30 percent intra‐regional trade in Europe, North America and ASEAN.
As populations become more urbanized, sectors like the food and drinks industry will be ripe for investment. The opportunities for local entrepreneurs and innovators are more and more apparent and the need for interaction between African nations is only likely to grow. It is clear that greater engagement between African nations would have substantial benefits for the region.
Already, a number of African firms have been investing in the continent. First, there are the banks: Standard Bank, based in South Africa, is committed to sustainable investment. Ecobank, in Togo, facilitates banking across the continent; while the Moroccan-based AttijariWafa bank has operations in ten African nations. In ICT there is the MTN Group, a multinational telecommunications firm with branches in 21 countries across Africa and the Middle East.
There is plenty of activity in the consumer sector too. Shoprite Holdings has 400 franchise outlets in 17 African countries, and they are expanding, while Massmart, founded in 1990, employs 30,000 people. At the moment, most investment is led by South Africa, which has one of the continent's biggest economies; but other countries (such as Togo, with its EcoBank) are taking advantage of opportunities to grow across the region.
There are of course several factors that have slowed the progress of intra-African trade. One problem is an under-developed infrastructure, which hinders the transportation of goods between countries. Border crossing is often an over-complicated process. There are 54 countries in Africa, with 54 different markets and sets of laws. Complex customs and trade regulations make life difficult, especially for smaller, poorer traders. The African Development Bank estimates that for landlocked African countries, the cost of trading is 50 times higher than for coastal African countries.
Regional integration would solve many of these problems. The Economic Community of Central African States (CEMAC) offers an example of successful integration: most of its members are small countries, lacking power on their own to create an economic community. Regional integration would bring other benefits too, attracting investors through the appeal of access to a bigger market.
It may be possible to categorize the stages of African investment. First, there has been investment in natural resources. When that investment generates capital and jobs, we see a growth in banking, ICT and consumerism. Hopefully the next stage will be investments in small and medium enterprises and businesses. Big changes are needed if Africans are truly to benefit from the rich resources of their own continent. But those changes have begun, and I am optimistic about what the future holds.
Calling all HuffPost superfans!
Sign up for membership to become a founding member and help shape HuffPost's next chapter