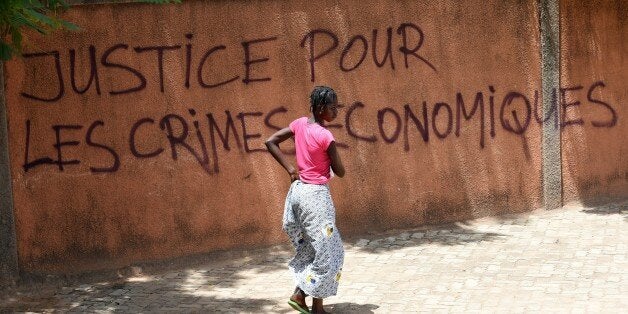 The land of the upright man - the literal meaning of the West African country of Burkina Faso - has been in the spotlight lately for all the wrong reasons. A year ago, a popular uprising forced its long-term leader, Blaise Compaoré, out of office after close to three decades in power. The political crisis began when Mr. Compaoré attempted to change the constitution in order to stay in power, as he has successfully done on several previous occasions. He fled and found refuge in neighboring Ivory Coast.
A new transitional government was put in place and normalcy seemed to be returning. Then came General Gilbert Diendéré, a former army chief of staff and protégé of Mr. Compaoré and the head of the elite army unit of Presidential Guard, who attempted a short-lived coup d'état last month. He has just surrendered and is now in custody, and the transitional government is back running the business of government.
No one could have predicted that within six days, Mr. Diendéré's coup attempt would be foiled. A combination of popular opposition, regional pressure and a strong opposition from the regular army defied Mr. Diendéré and his men until they backed down, with little bloodbath. The question is whether this is a unique Burkina Faso experiment or something of a new normal in Africa. New coup plotters aren't finding acceptance on the continent as easy as their predecessors once did. It is becoming increasingly difficult for a coup d'etat to succeed in Africa.
During the cold war era, coup d'états were an attractive means of taking control of the state apparatus and gaining power in the developing world. Times have changed since as the quest for strong institutions has spread and taken roots around the world.
From 1970 to 1989, according to a study by the African Development Bank, there were 99 coup attempts in Sub-Saharan Africa. But from 1990 to 2010, the region witnessed 67 coup attempts, still a high occurrence in comparison to the rest of the world, but nonetheless a decrease of about one third in two decades. A combination of three main factors explains why it is becoming more difficult for coup leaders to succeed or for strongmen to play with their countries' constitutions on the continent.
The first is the rise of a new generation of Africans, particularly young people and the burgeoning middle class. Africa is the world's youngest continent, with more than half of the population below the age of 25 and a growing population projected to double to two billion by 2050. These young people, who are largely unemployed or underemployed, are frustrated and outspoken about the plight of their countries and the slow pace of change, and are eager to challenge their leaders. This is putting pressure on leaders to deliver on their promises to improve people's living conditions or face the furor of netizens. At the same time, there is a small but steadily growing middle class, ever more eager for accountability, fairness, freedom and respect of rights. This breed of Africans is inspiring new grassroots movements and civil society organizations to fight attempts to deny people their constitutional rights.
This is what happened in Senegal with "Y'en a Marre", which means "Fed Up", a group of Senegalese rappers and journalists who mobilized young people in 2011 to protest ineffective government. The following year they helped prevent the former president Abdoulaye Wade from changing the Constitution in order to allow himself a bid for re-election. A similar group, the "Balai Citoyen", played a key role in the fall from power of Mr. Compaoré last year, and again mobilized young people and citizens in mass protest against the coup leader two weeks ago.
The second factor is the "changed" international environment. During the cold war era, when coup d'états were frequent, foreign interests were to a certain extent factors in supporting or abetting many of the coups d'états in Africa. Interference in the domestic affairs of African states was common and deemed important to maintain an international balance of power, and access to cheap raw materials. Since the end of the cold war, the world is a more complex place. The bipolar world with its divergent interests became something of the past and the top-down unipolar world in the post-cold-war era is ending. Military coups are no longer an attractive international activity to shape internal affairs of smaller, poorer countries.
The third factor is the pressure from the African Union and regional organizations like The Economic Community of West African States (ECOWAS), as well the international community, to not only condemn in words but also place sanctions on individuals responsible of overthrowing democratically elected governments. More than ever, those organizations are vigorously setting in place rules and regulations against any form of unconstitutional change of government, including military coup attempts.
In the case of Burkina Faso, the African Union condemned the coup in the strongest possible terms and immediately suspended Burkina Faso and threatened to impose drastic sanctions within 96 hours if civilian rule wasn't re-instated. And following the Senegalese President Macky Sall's unpopular deal to end the crisis, the heads of states of ECOWAS member states met in Abuja and took a clear position to support the people of Burkina Faso. They called for the coup leader to disarm and return power back to the transitional government. The same organization took a stand against coup leaders Dadis Camara in Guinea in December 2008 and Moussa Sanogo of Mali in March 2012.
These forces are making it harder and harder to mount a successful military coup against a legitimate government. It might not yet be the end of military coup d'états in Africa but coup plotters are sure to be challenged from many fronts. Democracy is never smooth sailing. The good thing for the rest of the continent is that ideas are contagious. Burkina Faso has just set a good example.Co-author Bernard Zongo is a consultant in international development and the founding member of the "Collectif Tekre", a group of Burkinabè artists and movie producers in the United States that supports a peaceful political transition in Burkina Faso. He holds a M.A. in International Affairs from The Fletcher School of Law and Diplomacy, Tufts University.
Related
Popular in the Community