During my recent trip to Africa, I met a woman named Hilda, who lives in the Elias Motsoaledi settlement in Soweto, Johannesburg. She is one of six million South Africans who, every month, receive their retirement benefits from the South African Social Security Agency (SASSA) via a biometric card that includes technology we provide.
We talked about how before the card was introduced last year she used to travel to a community center, stand in queues for hours, and collect her benefits in cash. And for Hilda and other grant recipients, travel can mean miles on a bus on some challenging roads or miles on foot.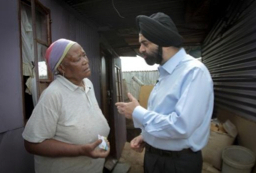 Now, instead of taking time away from her family or running the risk of being robbed, her social grant payments are uploaded to a personalized and secure debit card -- which she can use to pay for her groceries and get cash when she checks out at a local supermarket.
And by the time this project is completed, 10 million or 1 in 5 South Africans will have gained access to formal financial products and services at a savings to the government of at least $375 million in operational costs alone over the next five years.
As impactful as these benefits are for recipients like Hilda, she was equally emphatic about her SASSA card -- which she was urgently trying to find, having carefully hidden it for safekeeping. She was well aware that because of the security features she was the only one who could use it. But she wanted to stress a larger point -- that seeing her name attached to the card gave her a sense of belonging and identity beyond its functional purpose. This same sentiment was discussed by panelists at the Financial Inclusion Day we hosted in New York last fall. But to hear it directly from Hilda brought home this added dimension of ownership and pride in a personal and memorable way.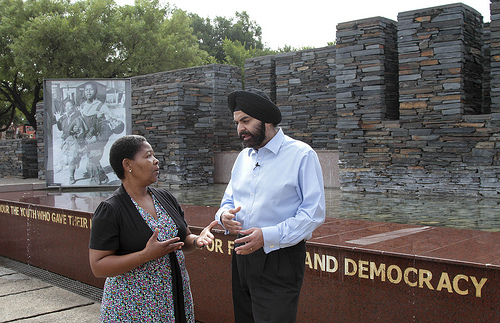 Individuals like Hilda and countries like South Africa are profoundly emblematic of an African continent on the move. They're indicative of how technology can drive economic empowerment and access, connecting more than one billion people to the global economy and enabling them to live more self-determined lives. And the same energy and drive I saw in South Africa was evident in my visits to Kenya and Nigeria as well, where both nations are pioneers in building cashless societies -- blazing new trails at a time when 85 percent of all global retail transactions are still done with cash and checks.
Kenya wants to build on the stellar success of M-Pesa -- which accounts for more mobile money transactions than the rest of the world combined -- and make government and B2B payments electronic, two areas that are particularly prone to money disappearing into the wrong channels.
Nigeria is ambitiously aiming to reduce financial exclusion by half by 2020, equivalent to connecting approximately 20 million people to the economic mainstream.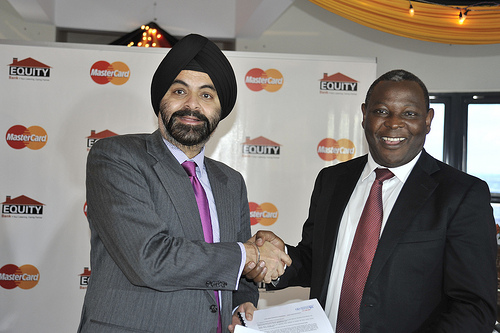 In all three nations, the leaders I met with -- from President Zuma of South Africa and President Kibaki of Kenya to multiple ministers and central bank governors -- are confronting the costs of cash, beginning with the costs of printing, securing, and handling notes and coins, which can eat up to 1.5 percent of a country's GDP! They've seen how an antiquated payment method can weigh heavily on their people -- especially younger people, and how cash facilitates crime and corruption and in the process compromises faith in the rule of law.
But these officials aren't tilting at windmills. They're cognizant that change won't happen overnight, and that it requires an ecosystem of governments, NGOs, telcos, utilities, banks, and businesses. It requires multi-stakeholders to engage in a public dialogue about the benefits of electronic payments and to work hand-in-hand to create financial empowerment whose outcome is greater economic growth that's more equitable, inclusive, and sustainable.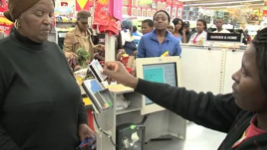 My visit to Africa reinforced what I already knew to be true: that the call to action for global multinationals in the 21st century is that, firstly, doing well and doing good need not be mutually exclusive -- that, in effect, Adam Smith's "Invisible Hand" must also be a "Helping Hand." And secondly, the single largest catalysts driving this change are public-private partnerships, as today's challenges far exceed the capacity of any one industry, sector, or country. In the case of Africa, harnessing these partnerships thoughtfully has been the common thread linking countries that are leapfrogging legacy systems to embrace electronic payments effectively.
We're hewing to this call ourselves by partnering with national governments and by joining with organizations like the World Food Programme to further revolutionize food assistance delivery to the world's most vulnerable populations through digital food.
When I returned to New York, I couldn't help but think that through the everyday resolve and achievements of people like Hilda and the systemic strides inspired by heads of state in Sub-Saharan Africa, I had just seen the future. It's a future being written by countries where everyday payments are safe and simple for everyone because we've moved beyond cash. It's also a future grounded in the truth that innovations standing the test of time aren't great in and of themselves, they're great because of what they do for people, empowering them and enabling them.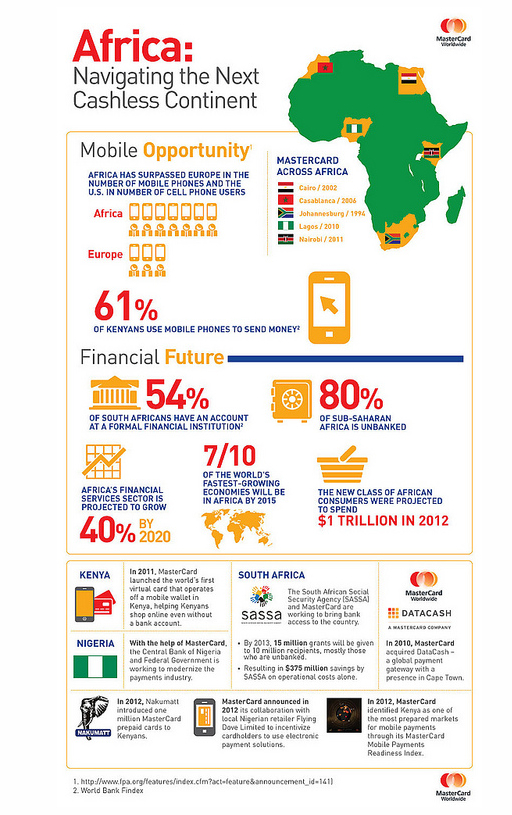 Related