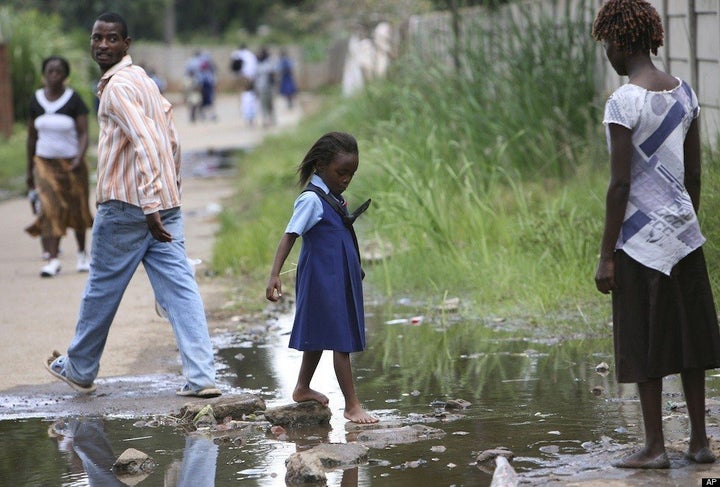 If you drive south of Harare, the capital city of Zimbabwe, for 90 minutes, you will arrive in Wedza. Turn right onto the dirt road and you will see a village in the near distance silhouetted against the vast landscape. At the gum tree plot, take the left branch and at the end of the track you will arrive in an immaculate swept yard with two small red brick dwellings, one thatched and one galvanized. And here you will find Plaxedes, the village seamstress.
With a wide smile, Plaxedes will invite you into her home. She will lean her crutches against the bricks, crawl up the two polished steps and over the door's threshold, take up one of the floor cushions and arrange her paralyzed leg with a relieved sigh. And she will tell you how the sewing machine beside her enables her to give a home to five orphan children, to feed and clothe them and send them to school. "And so", she says, "I thank God for this little machine."
As a child, Plaxedes contracted polio. Walking is slow but this does not stop her attending events in her district that help her to help others. This was how I met Plaxedes, at a secondary school meeting called to share information on new resources to increase girls' access to education.
Plaxedes is an inspiration to me and yet, she would be the first to say she is by no means unique in the extent of her compassion and her giving in her community. The village is stitched together by the thousands of kindnesses enacted every day by its members: subsistence farmers who reserve a portion of their harvest for schoolchildren who would otherwise go hungry; fledgling entrepreneurs who use their small profits to buy school books for siblings and cousins.
The culture of philanthropy is alive and very well in Africa. International aid strengthens and extends it, but in the communities where I have spent time, it is all-pervasive.
The organization I founded in 1993, Camfed (the Campaign for Female Education) was in large part inspired by the generosity shown to me by a community in a village in Zimbabwe. During my visit to Mola to research girls' exclusion from education, the people of Mola fed me, shaded me, walked and talked with me for hours each day, to the extent that I understood the possibilities of our partnership for education -- and especially for girls.
Seventeen years later, Camfed has changed the lives of over one million children. And right now, women high school graduates across five countries in Africa are attending college, running small businesses, and working as teachers, IT specialists and accountants.
Their advancement could very well have taken them away from their communities. Instead, Camfed graduates are active in their villages using their skills and resources to improve as many lives as possible. They are teaching financial literacy to marginalized women and bringing vital health care information to rural schoolchildren. Through example, they are demonstrating the power of philanthropy: Camfed graduates are supporting the education of 118,384 children out of their own pockets.
These young women have lived the reality of exclusion. As children, their families were too poor to send them to school. Today, many of them have earned university degrees -- but they have not forgotten how it feels to yearn for an opportunity to go to school or to agonize about their future. Their philanthropy is driven by those memories and by a sense of obligation to share their good fortune.
I recall an 18-year-old girl named Rachel in Zambia who was given a grant to start a business of her choosing. She decided to breed goats, so she could sell the meat and the milk, and donate the kids to orphan children. She herself was an orphan, stepping into young adulthood with no resources and it was her first opportunity to earn her own money. I asked why she chose to use her grant to help others when she herself was struggling. Her answer was unequivocal.
"If someone gives you a gift, you cannot keep it to yourself. You must pass it on."
Related
Popular in the Community