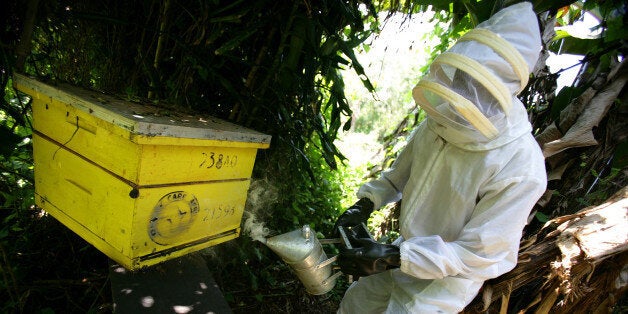 ACCRA -- In the summer of 2012, I quit my job in London to move back home to Ghana. The decision was long overdue but the catalyst was the culmination of a number of factors, mostly trying to find a deeper sense of purpose.
Growing up, I had endless support from my family, the teachers at school and my university professors. I completed a PhD in physics at a relatively young age and spent some time trying to commercialize the project I setup, all thanks to my funders -- a venture-backed project. It was this experience that made me want to help other entrepreneurs. So after six years on the job, I headed back to Ghana with all my savings and a vague career goal.
I had nothing specific in mind so I spent the first few months meeting start-ups, local businesses and the organizations that support them; from internet service providers and manufacturers to micro-finance institutions and tech incubators. It was incredibly enlightening as I wanted to understand the bottlenecks these companies faced in order to figure out my next move.
BEEKEEPERS SHOW THE WAY Towards the end of my exploration I was introduced to Stephen, a honey producer who trained beekeepers in the Volta Region of Ghana. His organization started off by collecting scraps of wood from timber companies to make beehives. Through better equipment and training, beekeepers went from producing 8kg of honey per beehive a year to 32kg of honey per beehive twice a year. Stephen also setup a cooperative of beekeepers; they were not only producing more honey but they were also now guaranteed a buyer, too.
When I first met Stephen, his organization had just been invited to place their hives in Ghana's national rainforest to help increase the bee population and boost pollination. He invited me to join him on a day of hard labor under the sweltering sun. We set off at 3 a.m. for a bumpy five hour ride to the Kalakpa Reserve and spent a good few hours strategically laying out beehives and marking them with beeswax. I learned about the habits of bees, the regional cycles of pollination and the making of honey in sub-Saharan Africa, as well as Stephen's short, medium and long-term goals.
With only a handful of permanent employees Stephen had trained a number of beekeepers, significantly improving their efficiency and livelihoods through better practice. His business is not only financially sustainable through sales, but it also has huge social merits, not just through employment but environmental, too. Stephen wanted to expand his business and required $20,000. He had struggled to get the money from banks given his lack of collateral and their crippling interest rates, and the amount was too small for the very limited African venture capital investors.
After a couple of weeks of negotiating, I provided Stephen with the amount he needed. In return, I wanted a steady supply of his delicious honey, eventual repayment if he could afford it and a small equity stake in exchange for some business advice.
It will not come as a surprise that the largest constraint to growth for small and medium enterprises (SMEs) in Africa is access to finance. Traditionally, these SMEs have survived off of money from friends and family. They are shunned by the traditional sources of finance.
This is hard to believe given the constant "Africa Rising" theme that keeps popping up everywhere these days, and it should be. Foreign capital flows into Africa have increased from $40 billion in 2002 to $246 billion in 2012. These flows and investments into Africa are highly concentrated to a few resource-rich countries (South Africa and Nigeria are at the top). The bulk of this capital goes to government support, large infrastructure and real estate, as well as some financial institutions. There are limited direct investments and these are mostly in established, large corporates.
UNLOCKING CAPITAL FOR RISING AFRICA
The critical issue is unlocking some of this capital to enable SMEs and entrepreneurs to access it.
Financial institutions are the closest thing to hope for SMEs. However, the high costs involved with microfinance means that interest rates charged for loans are also high (over 100 percent in some cases). Individuals can only afford these rates if the loan size is small, say borrowing $50 to buy goods to sell at a high mark up, or if the loan is for a short period for working capital or temporary cash flow support. This is not ideal as SMEs really need affordable long-term growth capital to acquire land, equipment, build a strong workforce and execute a bigger growth strategy.
Commercial banks face different hurdles because to them SMEs are risky clients. SMEs are often plagued with little financial literacy, inefficient management and no collateral. Infrastructure in developing sub-Saharan Africa is also poor: few physical addresses let alone information for credit assessment. This makes banking SMEs an expensive investment with higher default rates. Coupled with lower-hanging fruit (lending to governments, established corporates and multinationals), the banks are not incentivised to take any risk.
This status quo must change.
In developed countries like the U.S., SMEs employ the majority of the working population, generate a large bulk of tax for governments (which will likely lead to a reduction in foreign aid for African nations), are resilient and nimble during downturns and have strong in-depth knowledge of their markets. This is in stark contrast to developing sub-Saharan Africa, where the majority of livelihoods earned are through the informal economy, public sector and large corporates/multinationals.
It is clear that the solution is complicated, and if we are ever to grow and support a strong middle class in Africa, innovation will be needed to leapfrog the current funding and risk hurdles.
The support that is required to provide access to finance to SMEs must be holistic. Expertise from private, public, local and international institutions must come together to build an efficient ecosystem that will ultimately allow the provision of credit. Governments must improve efficiency, from company registration (varying from six hours to two years across the continent) to citizen identification, house numbering and road naming. On the private side, access to affordable services such as audit, legal and marketing is needed. All these will lay a foundation for the credit assessment agencies to do their work and de-risk lending for the banks.
It has been two years since meeting Stephen and things have moved along nicely. The company acquired a filtration facility and improved standards to allow Ghana to be the first country in developing sub-Saharan Africa to export honey to the EU. The entrepreneur has teamed up with a larger agriculture processing company to gain licensing and distribution. Sales have increased to beyond break-even and his honey has been awarded three gold stars by the prestigious "Great Taste Awards" (and will soon be distributed in the U.K.). His next step involves diversifying his product base to include pepper sauces and other condiments.
Despite all this activity, his company is an SME, growing from four to 15 permanent employees. His cooperative, however, has greatly expanded from under 50 beekeepers to over 200 (they now train five beekeepers a week). His company offered to pay me back my loan a year ago, but I was lucky enough to be allowed to acquire more shares instead.
Stephen is still ignored by the banks.
With many success stories across Africa (financially as well as socially), SMEs' access to finance should be a priority and not a luxury. If Africa is to truly rise, entrepreneurs must be supported as they are the true foundation of social and economic growth.