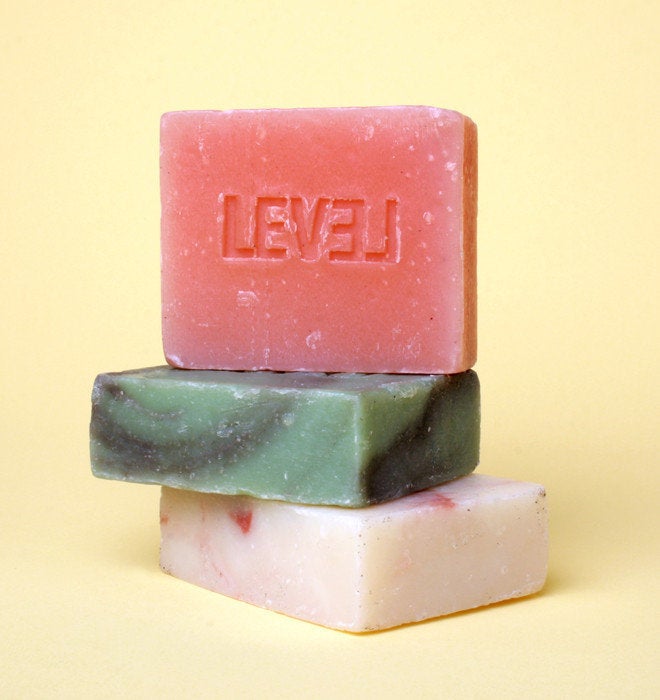 Have you ever wondered what happens to all those little bars of soap in hotels? You use them once or twice during a stay and then they're discarded the next day. Thanks to Global Soap Project, an Atlanta-based nonprofit founded by humanitarian worker Derreck Kayongo, more than 100 tons of soap has been collected from hundreds of U.S. hotels and recycled into new bars that are sent to the people who need it most. The process, which involves collecting soaps from hotels and scraping, pulverizing, heating, and repurposing them into new bars, also includes lab testing to ensure purity before they're shipped to vulnerable populations in places like Haiti and Africa. GSP, which started in Kayongo's basement a few years ago, is now receiving national attention, thanks to his recent nomination as a 2011 CNN Hero. Below, I caught up with the Hero nominee to find out more about his livesaving suds.
How did you first get the idea to re-process soap?
I grew up in Uganda watching my father make soap, and unfortunately we got a war that forced us to become refugees in Kenya. While in Kenya, I saw firsthand what it means not to have amenities like soap, and that stayed with me. Years later, when I came to the USA and checked into a hotel, there in the room I saw three bars of soap. This did not include all the shampoos! After going through a refugee experience of not having amenities like soap and then landing in a country that throws soap away to the tune of 800,000 million bars a year, the idea of recycling the soap was birthed in my mind.
Why is soap necessary and important to vulnerable populations?
Soap is the first line of defense against "opportunistic" diseases such as diarrhea. Even the CDC says that if you put a bar of soap in the hands of a child and an adult you could mitigate deaths from diarrhea by about 40%! These diseases can be fatal, especially when they find vulnerable populations like HIV/AIDS patients who have weak immune systems. Simply put, soap is a very important tool in public health.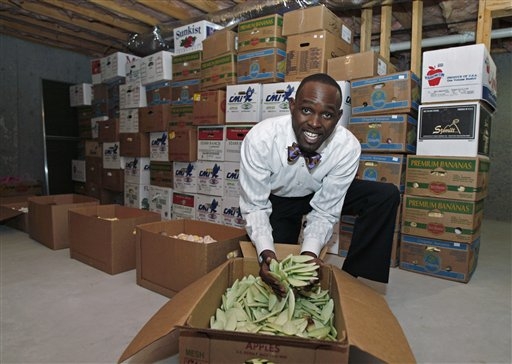 Derreck Kayongo in his soap collection warehouse in Atlanta. Photo by Eric Guthrie. Photo courtesy of Global Soap Project.

Is it expensive to ship the soap?
Not for Global Soap, because we partner with organizations that already have containers going to places like Ghana, where we've shipped 20,000 bars of soap to the jails there. So the key is to work with NGOs like Medishare or churches that have missionaries taking goods to Africa, which doesn't cost GSP a dime.

Would you also consider teaching people in developing countries the soap-making process?
GSP would love to grow into that space some day of teaching, for example, women's groups how to make soap so they can also self-actualize. At this point, however, we are working hard to develop an "airtight" process of recycling soap from the hotels and ensuring its safe delivery to the relevant populations that need it.
How did your background in humanitarian work prepare you for this?
This is an important question, because it speaks to the technical side of the story. I am not just a passionate individual, I have been fortunate to work for such great organizations like CARE and Amnesty International, where I've learned to analyze the root causes of poverty and find ways of empowering communities through innovation. One needs a serious skill set in order to build a serious institution to fight the issue at hand. CARE, especially, has taught me that -- and I am so thankful.
What have you learned from the CNN Heroes experience so far?
I have learned that when you don't give up on an issue, it has a chance to be understood and recognized in the public eye. When you start your journey, know that there are people out there who are willing to join your journey and help you out. Those people, for me, have been the redoubtable board members who've stood by me through thick and thin, as well as my family, who've sacrificed their time and money to let me develop this vision into a practical idea.
What will be your primary message if you're named the top CNN Hero?
My primary message is to never give up on life -- even when caught between a rock and a hard place. I would also like to remind all of us that America is still the greatest country in the world, because it provided the milieu in which I was able to fulfill my dream. I love it, especially as a new American. Bringing hope and innovation has always been the case for this great country.