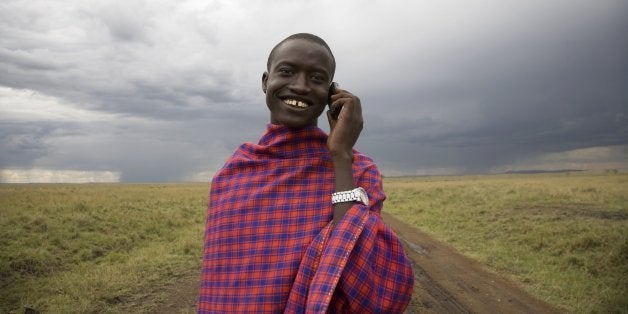 After having worked for years in Africa, I have come to believe it is one of the places in which the world of tomorrow is being incubated. Most of the stereotypes I had in mind 13 years ago when I began travelling across the continent proved to be wrong. What I discovered is that Africa produces innovation and desire for change. I believe four key factors are behind this.
Firstly, Africa is extremely young and female. Half of its 1 billion population is less than 21 years old. The UN predicts that by 2040 -- only a generation from now -- this population will reach 2 billion, out of which 70.1 percent will be under the age of 25 with women accounting for 57.7 percent of it. This young and dynamic generation wants a future. We have just witnessed protests that ousted a long term autocrat in Burkina Faso. My instinct tells me we will see more of such outbreaks. Why? Because these young Africans have a whole life in front of them and want to participate in their societies freely. Is Africa the place where democracy will be tested in the 21st century?
Secondly, Africa is connected. Mobile phones and networks are everywhere. While only 27 percent of population has access to the Internet (the world average is 42 percent), by 2019, data traffic in Africa is predicted to increase by 20 times. Not by chance, a lot of innovation comes from communications. It is in Kenya that I have seen such innovation for the first time: Mpesa, payments through mobile phones, which exist there since 2003! Another example: Econet, the telecommunication group created by the African entrepreneur (and great philanthropist) Stive Masiyiwa, who made online education available to all. Just think what this access means in terms of education, openness to the world and self-development opportunities... Is Africa the place that will make formal education obsolete?
Thirdly: Africa produces innovation out of necessity and limitations. African entrepreneurs often leapfrog traditional technological evolutions, adapting the technologies to their needs and finding innovative solutions for their use. Mpesa was created to transfer money among people with scarce access to formal banking and no credit cards. There are many other examples I've witnessed, such as 3D printers made from electronic waste dumped in Africa by the rest of the world, solutions for sanitation in absence of public sewage systems, software to translate the numerous languages used in the same country or region.
Africa is about innovation, but don't look for it in the well-known resource-based industry, which is mainly a recipe for conflict and corruption (see Tom Burgis' book, The Looting Machine). Innovation stems from today's real life challenges and finds solutions to core issues: sustainability, connectivity and affiliation. Africa has something to teach us here. Is Africa the place where innovation is adapted to the basic needs of people, and thus given a human face, in the 21st century?
I hear your question: "but what about poverty?" Yes, poverty is still huge, and the numbers are increasing. One out of two Africans live on less than USD$2 per day and 61.7 percent of the African urban population lives in slums. This represents about 570 million people...
Yet, we have the fourth factor: Africa tackles poverty through the informal sector, i.e. the part of the economy that functions without any formal business registration. It doesn't officially exist and it is often associated with illegal activities and tax evasion. However, in Africa it has another connotation as 75 percent of the work force of the continent operates in this sector.
I found the capacity to innovate and create small businesses that tackle extreme poverty is best represented in the informal sector. I've seen semi-formal cooperatives in Kenya (self-help groups), producing and/or selling goods and services in their local markets: shoes, food, garments, basic hardware and a mountain of recycled materials collected in dump sites or shipped to Africa by world charities. I've seen a shoemaker who works in a stall along a road with a small solar panel connected to a light bulb and an old stitching machine, able to put a new sole on second-hand shoes (coming from Europe) to make them stronger to walk on the rugged terrain of slums. Of course, I have also seen a lot of misery and deprivation, but always coupled with the desire to get out of poverty through one's own work and efforts. I see dignity in this.
Yes, this may also mean exploitation or involvement in illegal activities, but the informal sector in Africa also proves the capacity to adapt and work in ways we would never consider. As such, Africa can supply many ideas on how to tackle extreme poverty that currently does not benefit from mainstream economic development. Is Africa the place where we can test new ways to re-define work and existence, allowing all of us to have a dignified life? Let us put aside our stereotyped visions of Africa and enable Africans to unleash all their potential for innovation. We may have something to learn from it.
Related
Popular in the Community