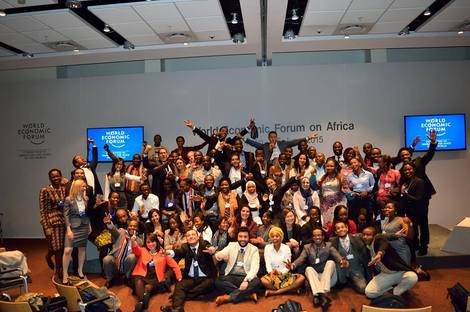 History was made at the World Economic Forum on Africa 2015 when 80 young Africans, representing 40 countries and 60 Global Shapers Community Hubs, became the largest youth delegation to a World Economic Forum meeting; taking their seat on the table side-by-side with business leaders and policy makers to discuss the future of Africa as well as her challenges and successes so far.
I was lucky to be one of that 80; Africa 80, as we're officially referred to, and in the next few paragraphs, Fellow Global Shapers and I will share our experience and takeaways from this historic meeting--the 25th Anniversary of the World Economic Forum on Africa.
Check-in, Departure, Arrival
Despite the fact that my Interview series, The Stroll, has featured over 90 guests from over 30 countries around the world, traveling to South Africa was the first time I left Nigeria's airspace. It was exciting and tough to get a Visa, and I will like to talk about visas a bit. Why should an African citizen find it more difficult to get a visa to visit a fellow African country compared to a citizen from Europe or Asia? Why? I'm asking this question because; a couple of Shapers were unable to attend the Africa meeting simply because they were denied Visas.
In fact, during a breakfast meeting hosted by FTI Consulting this issue was also raised by Naadiya, a Global Shaper from the Cape Town Hub who is raising women engineers; and she commented on how the visa barrier inhibits cross-border trade on the continent. I really don't know what the agenda for discussion is during African Union meetings, but this is really something African Heads of State will have to look into.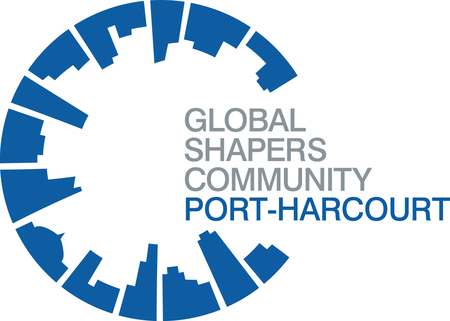 Okay, back to the story. Africa 80 started flying into Cape Town from the 31st of May--a couple of Shapers came in even earlier. After our Port Harcourt Global Shapers Hub meeting on Saturday May 30th in which our founding Curator, Mrs Bitebo Gogo, and other hub members quizzed me on the panel topic I will be discussing, and gave me their love and good wishes; I flew into Cape Town on the 2nd June, and the Cape Town Global Shapers Community welcomed all shapers with a City tour that afternoon.
Later in the evening, we had a dinner and networking session which was very important because, I got the chance to meet so many other shapers from other countries, and we talked about work, Hub projects, food, and lots more. The night was spiced up by a musical performance from a male acapella group called Major Voices, whom I later interviewed by the way, and they had such a wonderful story. After dinner we all retired to bed preparing for the next day when the forum kicks off officially at the Cape Town International Convention Center (CTICC).
Day 1 & 2
On the first day of the Forum, Shapers were all adorned in their corporate attire, looking very serious, formal, and cute, and our first event at the forum was the Global Shapers Private Event which served like an orientation for the Africa 80. For me, it was wonderful to finally meet Adeyemi Babington-Ashaye (Director of the Global Shapers Community), Chidiogo Akunyili (Senior Community Manager, Africa), Anastasia Kalinina (Head of Hub Projects and Associate Director, Eurasia), and Olympia Mantzourou (Head of Partnerships and Senior Partnerships Activation Manager); the Global Shapers team that took care of us all through our stay in Cape Town.
One key takeaway from the Global Shapers private event is the line Yemi dropped with us; "You can do only little when you work alone. Coordinate yourselves and collaborate--that is the key global impact". All Shapers left the session inspired discussing possibilities of collaboration between hubs. We also left with a healthier self-esteem--I don't know about the other 79, at least I did. This is due to the very sweet and wonderful things Anastasia, who was visiting Africa for the first time; Olympia, and Chidiogo said to us. "Africa 80, you are incredible! You inspire me", Chidiogo will always say with a beautiful smile on her face.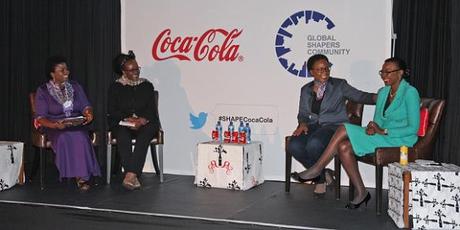 (Rosalin Abigail Kyere-Nartey, first from left, moderating the Cocacola Panel at the World Economic Forum on Africa 2015)
"Men of quality are not scared of equality". This is a quote from a panelist from the dinner organized by Coca Cola in collaboration with the Global Shapers Community. The dinner mainly featured a panel session which was led by Curator of the Global Shapers Community in Kumasi, Ghana, Rosalin Abigail Kyere-Nartey. The panel, which was 100% feminine, discussed the plight of African Female leaders and how they struggle to put the balance between their work and family life. After the session male shapers were encouraged to join the United Nations' #HeforShe Campaign before we all retired to bed after a busy first day.
Day 2 was the day we were all waiting for; we finally got the chance to meet with the founder of the World Economic Forum and the biggest supporter of the Global Shapers Community, Prof Klaus Schwab. It was so surreal for me. I have watched many videos on Youtube of Prof Schwab speaking at different events, and so just sitting few meters from him felt like a dream.
Always sharp and on time, Prof Schwab met with us and spoke to us about our identity. One line I will never forget from all he said is, "Africa needs leaders who will lead with their heart, mind, and soul in synch..." citing the leadership qualities of Late Nelson Mandela.
Prof Schwab also opened the mic for shapers to throw questions at him on any issue, and he answered all of it to everyone's satisfaction. Some super heroes don't necessarily need a cape and special attire or theme song; Prof Schwab is one of such heroes. We really appreciate the investment he's making into young people around the world, especially on the African continent. One thing is certain, the little seeds of hope and creativity he's planting all over the world will soon sprout and grow into big trees that will provide shade for the world from all her challenges.
Talking about trees, challenged by Prof Schwab and an executive from the World Wildlife Fund; Shapers made a commitment to champion the cause of conservation on the continent. As a way of matching that commitment with action, the #Africa80, led by Sadaatu Aliyu of the Abuja Hub and Kie Franck of the Abidjan Hub, supported the Greener Africa Concept by compensating for the CO2 emissions caused by their trip for the forum. The Shaper raised 350 rand for trees to be planted in Africa's most indigenous Southern forest--the Plathos forest.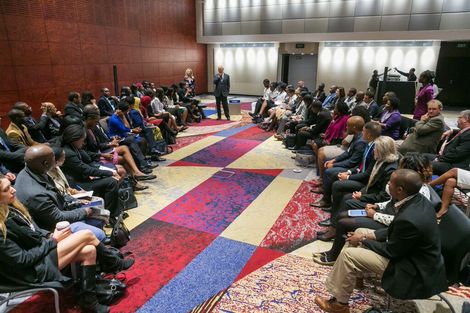 (Africa 80 meets with Founder of the World Economic Forum and biggest supporter of the Global Shapers Community, Prof Klaus Schwab)
Panels, Panels, and more Panels
Starting from Day 1, when Raelene Rorke from the Johanesburg Hub was a panellist alongside Ms Graca Machel, women rights crusader and widow of former South African president, Nelson Mandela; About 21 shapers had speaking roles in public sessions during this year's World Economic Forum on Africa.
Again, I was lucky to be one of the 21. The session I was on, The Big News, discussed how new technologies are driving media consumption in Africa, and in run-up to the session my thoughts on the discussion topic were published on the World Economic Forum's blog, Agenda. The session was moderated by Uzodinma Iweala, Young Global Leader and Editor-in-Chief of Ventures Africa, and other panellists are; the Honourable Minister for Communications, South Africa, Hon. Faith Muthambi, (whom I sat next to, yayyy), Katharina Borchert, Young Global Leader and CEO of Spiegel Online, and renowned data analyst, Allen Burch, managing director, Africa, Nielsen.
I'm sure other Shapers had fun in course of their sessions like I did in mine. I was first nervous, but having Aslam Levy, a fellow shaper, sitting there in front in the audience and smiling at every point I made, and the rest of the Global Shapers Community totally rooting for me, I had no reason to disappoint.
The Leaders, the Book, and the Love
Other high points for the Africa80 include, "Meet the Leader" sessions with Paul Polman, CEO of Unilever; Graca Machel, women rights crusader and widow of former South African president Nelson Mandela; Ashish Thakkar, Africa's youngest billionaire; and Acha Leke, Mckinsey Partner and Co-Founder of the African Leadership Network.
The Africa 80 book is another high point which initially started as a suggestion by Alvin Nyika from the Harare Hub, and right now teams have been set up, the budget has been drawn and I'll even have to cut this story short so I can go write my own portion of the book as the deadline draws nearer. The Africa 80 book will be truly legendary. It will capture stories from all 80 shapers who attended the forum and it will be bi-lingual capturing the truly African feel and culture. Trust me; it is a book you will totally like to have. Watch this space for more information shortly.
We also can't ignore the love shown to us by Young Global Leader and the World Economic Forum's Director for Africa, Elsie Kanza, who sticks her neck on the line all the time to increase the quota of Global Shapers from Africa who can attend every of the World Economic Forum's meeting on the continent. She's the reason we were 80 this year, and she has promised to break that record next year by increasing it to 100. Such an inspiring and amazing woman she is. I hope I get to "Stroll" with her someday--yeah, just my selfish wish.
Of course one article is not enough to capture all the amazing moments from this year's forum like when Lynette and Lillian, Shapers from South Africa and Tanzania respectively, stood up during the opening plenary to throw thought-provoking questions at President Zuma of South Africa and Vice President Amissah-Arthur Kwesi of Ghana, or is it when I met face to face with my dream life? Meeting with Under-Secretary-General Babatunde Osotimehin, Executive Director of UNFPA, was a truly incredible moment for me. There were just so many wonderful moments. So, to make my job easy I asked Shapers to summarize their takeaways in few sentences, and here are few takeaways I got:
"My takeaway: the power of strategy and working together needs to be present for youth to be successful at making a change in Africa..." --Lillian Secelela Madeje
"Attending WEFA was one of the most eye opening moments in my life. I am more driven now to work hard on myself and make change in my community. I also met the most amazing, inspiring and powerful young people from across the countinent and I now know that wherever I ago in the 50 countries I have a friend." --Eriyani Asantewaa
"The opportunity to be a part of the WEF Summit on AFrica has been the most meaningful experience so far. It has instilled a great sense of pride in me about being a young African woman. I am humbled by the fact that I am a part of the WEF community as a Shaper that will serve as a catalyst to my individual as well as a collective efforts to improve the state of the world, in my case being reducing youth unemployment and improving food security for Africans." --Mosidi Modise
"The Forum on Africa this year allowed me to go beyond the discussions on what needs to be done in local content creation and youth empowerment through education; this year's conference allowed me to be an advocate for women empowerment and collaborate on international projects across the African continent." - Emmanuel Agbeko Gamor
"It is inevitable that when 80 young strong minded and strong willed individuals with a shared purpose of making a difference and being the change in their communities and countries and the world as a whole, that you walk away from that more than inspired, motivated and challenged to contribute to this magnificent story of 80 shapers who were the engineers in changing destiny of Africa. But beyond that, amazing friendships and everlasting bonds and memories I have to walk away with too." --Ntandose Hlabangana
"As a Global Shaper, I am committed to bringing to the fore, the Sustainable Development Goals (SDGs) and engaging my fellow citizens on how we can implement them successfully. So that 15 years from now, we can proudly say we contributed to ensuring that Africa sustained its economic growth." --Kow Essuman
"It was indeed an amazing and humbling experience that reminded me of the responsibility on my shoulder for my generation and generations to come and i feel motivated to pay it forward to more youths out there so they can join a movement of coordinating youths and applying the rule of one." --Daniel Stephen (Dr Progress)
"After many years searching for my identity, the session with Prof. Schwab and the Africa80 made me better understand that we all have multi-faceted identities. I'm a proud Global citizen, African, South African and Muslim" --Aslam Levy
For me, one thing became clear after this event. Africa is no longer a sleeping continent, and the next generation of Africans are ready to think, sweat, and put all their energies together to take their continent to the next level. From what I saw in the Africa 80 two weeks ago, it's a whole lot of energy coming together; and so I advise you to brace yourself because, there will soon be, what Simba Sibanda has described as; another big bang.
(Images Credit: World Economic Forum)
Popular in the Community