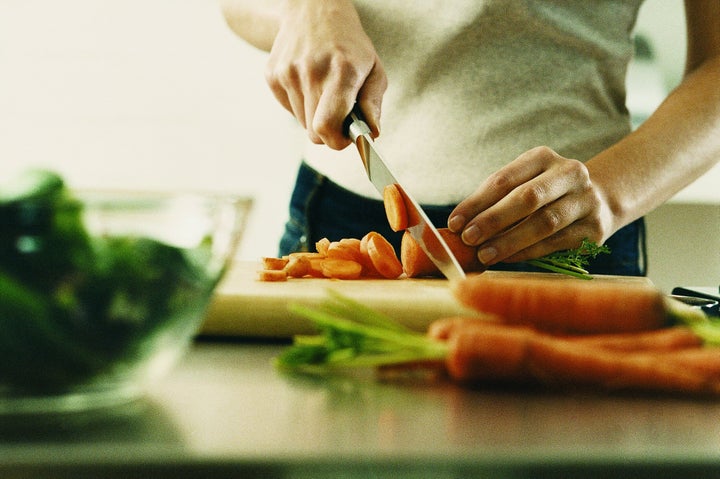 Black history is not just politics and arts and athletics -- it is also sweet potatoes and peanuts. It's taste and bellies and bodies. It's all the recipes for survival that appear in cookbooks written by Black American authors.
My daughter and I share a cookbook collection that includes over 1,000 volumes many of them written by African-Americans. In honor of Black History Month, here's my list of the ten greatest African-American cookbooks of all time.
1. What Mrs. Fisher Knows About Old Southern Cooking. Mrs. Fisher began life as an enslaved woman near Mobile, Alabama. She became a wildly successful caterer who created a small fortune and found fame in California with her pans and her pages. In honor of all the black women who have braided their culinary talent to their entrepreneurial spirit this 19th century cateress who published a cookbook in 1881 kicks off the list.
2. Good Things to Eat written by Rufus Estes. Estes was born a slave near Nashville, Tennessee my adopted hometown. His cookbook, published in 1911, is an up from slavery narrative that establishes Estes as both a sophisticated world traveler and a friend to the domestic servant. Chock-full of tips on how to get through the daily grind of cooking for and serving rich people in fancy homes as well as sketches of Estes's globe-sailing culinary adventures that landed him a cooking gig in Japan this slim volume explodes stereotypes.
3. The Taste of Country Cooking by Edna Lewis. Looking back at her childhood in rural Virginia in the early days of the 20th century Lewis describes an idyllic life on acres that seem just next door to Eden. In Lewis's world we only eat food that is precisely in season. For Lewis the roots of black food run deep into the rural soil and anything store bought or corporate made is an anathema.
4. Halleluja! The Welcome Table by Maya Angelou. Here we get the juicy essence of Anglou's (I Know Why the Caged Bird Sings) life in a single volume studded with recipes. A savory mix of food, folklore, fable, family history and celebrity gossip Halleluja! Life lessons learned in the kitchen and at the table including, " All poor people need to know how to do some of everything, and a poor colored women even more so," provided within a discussion of the preperation of chitterlings are the big take away.
5. Spoonbread and Strawberry Wine by Norma Jean and Carole Darden. The Darden's cookbook provides a must-read introduction to the trials and triumphs of the black middle class. Legions of doctors and professors and lawyers--Darden relations all--march across these pages. Though this cookbook is thick with with recipes for ice cream, confections, dessert and successes, what gives the book its power is the way it does not shy away from the harsher realities the strivers encounter from lynching and the klan to kinship through plantation rape with American presidents.
6. Vibration Cooking or Travel Notes of a Gechee Girl by Verta Mae Grosvenor. From South Carolina recipes for squirrel and venison to thoughts about why how peacocks shouldn't be eaten and Jimi Hendrix should change his clothes, to recipes learned cooking in Pee Wee's Slave Trade Kitchen, to lies told in Paris about royal African origins, this trippy cookbook provides a rare glimpse into the world of black bohemia.
7. Date with a Dish also known as The Ebony Cookbook written by Frieda de Knight. I think of this book as the Black Joy of Cooking. If you had to put dinner on the table every night of the week and you wanted variety and you could only have one book this would be it. Originally published in the 1940's this book provides a broad and deep look at foods eaten by African-Americans on farms and in the cities, north and south, east and west.
8. Smoke Stack Lightning by Lolis Elie and Frank Stewart. A modern barbecue bible. An introduction to the smoky blue-black world that surrounds the pits.
9. African-American Foodways edited by Anne Bower. There's only one recipe -- for chicken and collard green crepes -- but this history is a must have. Bower's central point that soul food has much to do with evolving and preserving is essential.
At this moment in Black American life when four of five black American Women are overweight and one in four black women over fifty-five have diabetes it's time to look back at our food history to find a new and healthier future. We are well to be reminded that black food in American has been as healthy as sweet potatoes and peanuts and fresh caught and baked fish long before it got tangled up with industrial fried chicken.
Alice Randall's forthcoming novel Ada's Rules is about one large black woman's campaign to get healthy--and it provides rules that will encourage readers to pursue their own health goals as well. Visit Alice on Red Room, where you can read her blog and buy her books.
Popular in the Community