A police officer says he was unfairly fired after suffering through a year of racial discrimination at work.
Gerry Pickens was the first black officer on the 11-member police force in the 7,000-person town of Orting, Washington, before he was fired last year. Two months ago, Pickens demanded $5 million in damages from the city, and has threatened to file a wrongful termination suit against its police department if he does not receive the money.
"They took my manhood, my income, my security," he told The Washington Post. "They thought I was just some dumb black guy who would take unemployment and kick rocks."
Pickens said he had experienced racial prejudice while on the job. From The Post:
He began writing down all the ways he thought he'd been discriminated against: co-workers who called him a "token black guy," discrepancies in his vacation time and racial epithets shouted at him by a resident when he responded to a disorderly conduct complaint.
In January, after Pickens had threatened to sue the police department, he discovered his car had been vandalized with spray paint that read "n----r" on one side and "Sue cheif [sic] and pay" on the other.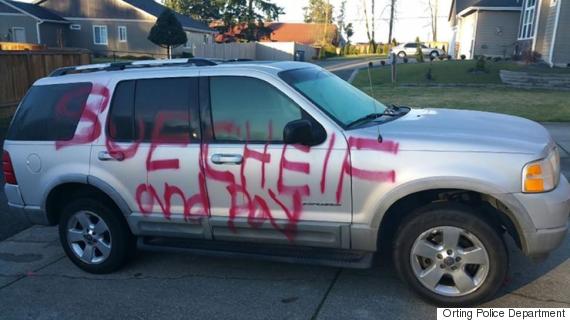 Police Chief Bill Drake fired Pickens five days before his one-year probationary period on the force was scheduled to end and the officer would have been up for a full-time job offer. Drake cited "unsatisfactory work" in his decision to deny Pickens permanent employment, according to Tacoma-based newspaper The News Tribune.
In a letter obtained by The Tribune, Pickens' lawyer, Beverly Grant, claims Drake made "racist and defamatory statements" about his former officer.
Orting City Administrator Mark Bethune told The Tribune he couldn't comment on the allegations because of the possible litigation, but he said he had "100 percent confidence" in Drake.
"I've never heard him make a disparaging remark about anybody," Bethune said. "He would not tolerate racism in the department."
"I'm in fear for my life because I don't know who in Orting is out to get me," he said.
REAL LIFE. REAL NEWS. REAL VOICES.
Help us tell more of the stories that matter from voices that too often remain unheard.