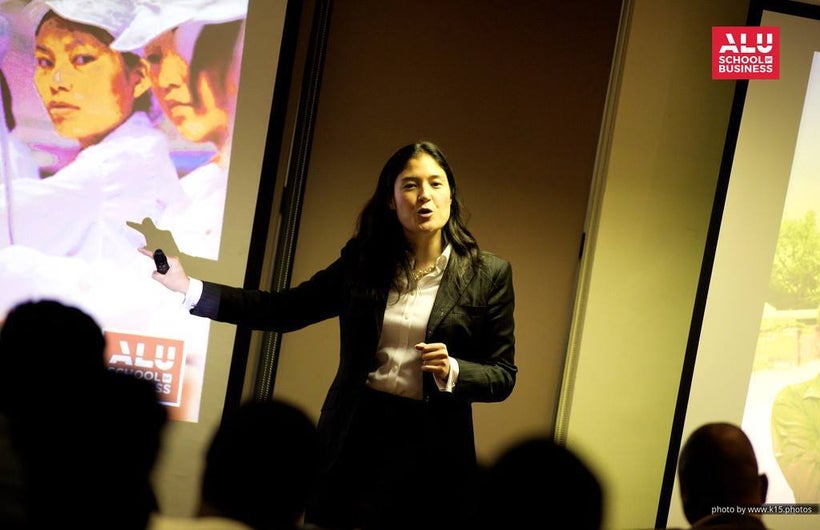 Global Leadership: African & American Leaders of The 4th Industrial Revolution
Thomson Reuters' Euvin Naidoo, a Mossavar-Rahmani Center for Business & Government senior fellow, will conclude a three-day series on Innovation and Entrepreneurship in Africa later today. Last week Naidoo moderated a panel discussion on Africa's investment and innovation landscape, exploring the challenges and opportunities of the Fourth Industrial Revolution, during the United Nations General Assembly week.
Among the expert group of panelists featured was African Leadership University's Dr. Catherine Duggan.
"I spent nearly a decade as a professor at Harvard Business School telling people about Africa from the confines of my wood-paneled office. Explaining the promise of the continent to people who had never been; reassuring people who were nervous to go. Encouraging students with African parents to follow their hearts back to the continent. Trying to tell the story of African business — the innovation and excitement that I see every time I set foot on the continent — to as many people and in as many ways as I could," Duggan stated.
"But studying it and talking about it from afar did not take me far enough," she said.
Dr. Catherine Duggan | African Leadership University - Rwanda Management & Political Economy, Professor | African Leadership University - Rwanda Strategy & Research, Vice Dean
Supremely confident in and "bullish on the future of Africa," Duggan is a proponent of developing a class of "Pan-African business leaders" to serve the increasing Pan-African market.
Focused on research that examines financial-sector regulation, entrepreneurship, investment and contract enforcement in developing countries, specifically in Sub-Saharan Africa, the Brown and Stanford alumnae has taught at the Saïd Business School at the University of Oxford and the Gordon Institute of Business Science at the University of Pretoria.
"Entrepreneurs, firms, and even governments are developing new technologies, systems, and approaches to reach new markets and create new products for a continent brimming with early adopters," said Duggan.
"A generation of young, innovative African leaders is looking for ways to leapfrog old constraints and create economies built for the twenty-first century," said Duggan, a member of an "all-star" cast of African business giants teaching students enrolled in ALUSB's flagship MBA program.
Leveraging technology to leapfrog traditional MBA learning models, Duggan is leading ALUSB's nimble and innovative strategy to develop three million leaders for Africa over the next 50 years.
"The story of African business, of African leadership, and of the African Century is being written ," said Duggan. "It is far from having a foregone conclusion."
"The success of the coming decades depends on the decisions that leaders, educators, and young people on the continent make now," said Duggan. "I want to help tell this story. But I cannot tell it from the sidelines. Nor should you.
Key Awards & Recognition
2-Time Harvard Business School Faculty Award for Outstanding Teaching in the Required Curriculum | Charles M. Williams Award for Excellence in Teaching | Berol Corporation Fellow | G.J. Lieberman Fellow for the Social Sciences
LinkedIn Profile
Instagram
Facebook
Calling all HuffPost superfans!
Sign up for membership to become a founding member and help shape HuffPost's next chapter
This post was published on the now-closed HuffPost Contributor platform. Contributors control their own work and posted freely to our site. If you need to flag this entry as abusive,
send us an email
.