In 2004, current comedy superstar Kevin Hart made his debut as a lead actor in the movie Soul Plane. In the film Hart plays "Nashawn Wade," an everyday guy turned airline owner as a result of receiving a $100,000,000 settlement for getting his buttocks stuck in an airplane toilet during flight. Wade (Hart) decides to use this settlement to start his own airline which specifically caters to African-Americans and hip-hop culture.
In his effort to create the most African-American airline possible, Wade gives his best friend and business partner "Muggsey" (played by rapper Method Man) the task of finding an African-American pilot. Moments before the airline's inaugural flight is set to take off Wade expresses his concern to Muggsey as the pilot has yet to show up. Muggsey then tells Wade to calm down and points out the pilot (played by rapper Snoop Dogg) as he enters the plane.
Wade immediately becomes perplexed after taking one look at the pilot, questioning his ability due to the lack of "professionalism" in his appearance. Muggsey responds to Wade's concerns by sternly saying, "Look, I did what you asked me to. There ain't but two black pilots around, and one of them is [already] flying for Puffy (Sean 'Diddy' Combs)."
While this was indeed an example of hyperbole, the reality is that the statistics for African-American pilots are quite bleak. As this demographic makes up just over 2 percent of commercial airline pilots, it is no surprise that despite my flight frequency, I (and possibly you) have yet to receive a greeting from an African-American pilot when deboarding the plane after arrival.
This is furthermore reason why I was fascinated when I met FedEx pilot Gerry Dupree during last summer's Olympics in London. This Tennessee native has been to over 75 different countries and has flown cargo ranging from standard parcels to live dolphins. Below I take a dive into his life and experiences as an African-American pilot.
1. How and when did you realize you wanted to be a pilot?
Dupree: I realized at a young age that I wanted a career in aviation. I did not know it would lead to a career in the cockpit, but like most young men, I was always fascinated about flying. I grew up near a small airport in Jackson, Tenn. and would spend hours looking at the planes as they flew by.

2. After you realized you wanted to be a pilot, what steps did you have to take?
Dupree: I did not know anyone who flew or worked in aviation when I was in school. However, I was always good in school in math and science. So when I was fortunate enough to receive an academic scholarship to Tennessee State University, I majored in Aeronautics to pursue my love of aviation.
3. How did you end up working for FedEx?
Dupree: After graduation from university, I started in earnest to pursue my dream of becoming an airline pilot. After investigating all options, I realized that the only economic means to pursue my dream was via the military. I talked to all the recruiters, and the Navy stood out above the rest. The two and a half years of Aviation Officer Candidate School (AOCS) and Navy flight school proved the be the most challenging and rewarding professional experience of my life. This gave me the prerequisites required to become a pilot at FedEx Express.
4. What makes working for FedEx different from working for a commercial airline such as Delta?
Dupree: FedEx is obviously a cargo carrier, versus a passenger carrier, but beyond that it is mostly the same. We fly the same types of airplanes, have similar schedules, and the job requirements are actually higher for FedEx versus the passenger carriers. We at FedEx fly to every continent except Antarctica, and I have been to every one. It is a challenging environment, but very satisfying career. I recently joked with a colleague at Delta about why I did not fly passengers [as opposed to] cargo, and my reply was that I could not afford the pay cut. He laughingly agreed.
5. How many different countries have you been to?
Dupree: As I mentioned before, I have been fortunate enough to fly to every continent except Antarctica, and it is still on my bucket list. I'm so far on my third passport since joining FedEx 14 years ago, and have visited over 75 countries in my aviation career. I have learned that the world and its people are a lot more alike than different.
6. What has been your favorite country thus far?
Dupree: Well that is an often asked, but difficult question to answer. I love Australia in January; their Independence Day and summertime there for the beaches. Paris is always most beautiful in springtime. And Singapore is the most modern, safe, and cleanest place I have ever visited.
7. What have been some of your most unique pieces of cargo?
Dupree: Well I've flown numerous international horse and other animal charters; Formula One race cars, and military missions that I cannot elaborate on. I even flew live dolphins on a C130 in the Navy, but flying Pandas from China [with FedEx] is a top highlight.
8. What is your schedule like?
Dupree: I average flying 15 days a month, and primarily international for my schedule. It sounds good to others until they realize that that means you are actually on the road over half the month every month, and not sleeping in your own bed. My sister once joked that I live my life out of a suitcase. Yeah, she's kind of right.
9. How has this schedule affected the rest of your life?
Dupree: Being gone over half the time takes it toll on your personal life. It is hard to plan for numerous events. One big event a month is relatively easy to plan around, but after that, it gets difficult. My son Andrew, who is now 23, told me when he was about 12 years old, that he did not want to be a pilot anymore when he grew up. I told him I understood but asked why, to which he replied that he did not want to spend that much time away from his family. [This was] a rude awakening from an insightful kid. That being said, all things considered, I would not change a thing.
10. What is the most rewarding part of your job?
Dupree: I am a country boy from Jackson, Tenn. and aviation has allowed me to see the world and go places I never could have imagined. I consider myself a great pilot, and most of all, I love my job. I don't always look forward to going to work, but when I do go to work, I love my job. I do realize how fortunate [I am]. I volunteer at numerous career fairs and school visits and my top advice to students is to find a career that you love; that way you never actually 'work' a day in your life.
11. What are the statistics like regarding African-American pilots?
Dupree: African-Americans make up just over 2 percent of the commercial airline pilots in the United States. The number in the military is approximately the same, and most airline pilots traditionally come from the military, though those demographics are changing. The number of African-American female pilots is abysmal, with less than 1 percent, but they are in great demand. FedEx is among the leaders in employing female pilots with over 300, but only one African-American female. FedEx has approximately 150 African-American pilots, which sounds like a lot until you consider that it employs almost 5,000 pilots.
12. Why do you think these numbers are so low?
Dupree: It is a combination of factors that make these numbers so low. The military has been the primary feeder for the airlines, and the 2 percent overall number has been stagnant for decades.
13. Is there anything being done to improve these numbers?
Dupree: I am an active member of OBAP, the Organization of Black Aerospace Professionals, (formerly the Organization of Black Airline Pilots). We have numerous outreach and youth programs that focus on promoting aviation opportunities for minorities in aviation. Not just in the cockpit, but across the community, because every aspect of aviation is underrepresented by minorities. [Those interested can] check out our website at OBAP.Org for details and information on our youth programs and opportunities.
14. Since there are not many African-American pilots I'm sure you've received a number of interesting responses domestically and internationally when people find out what you do. What has been one of the most memorable?
Dupree: I have had many experiences as an African-American pilot. From total disbelief to the point of being called a liar in Australia, to a sense of pride and acknowledgment in Africa and Brazil. When flying with another African-American pilot, and flying into China and Europe, upon deplaning the ground crew would ask, where are the 'other' pilots? When told, that's it, just us, they would look amazed, and we would just laugh. 2013 and we are still an anomaly.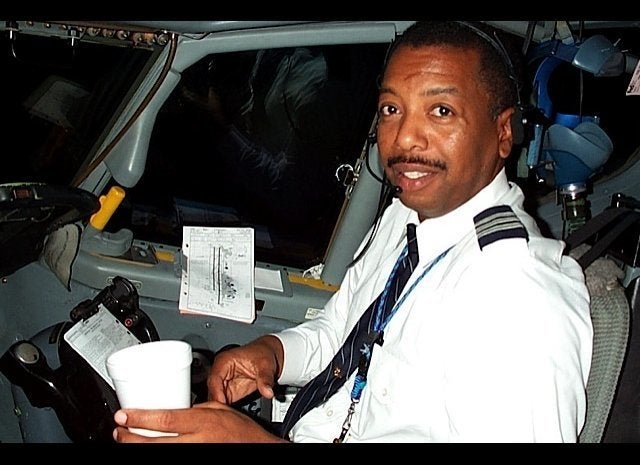 Gerry Dupree
Support HuffPost
Every Voice Matters
Popular in the Community