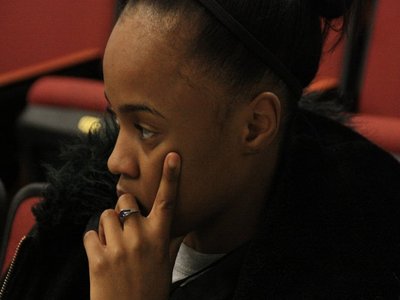 The future was now. And the revolution has been Tweeted. The mainstream print industry is under a digital assault, so what's to become of Black publications?
"There's no such thing as real-time, there's only the millisecond," states Munson Steed, publisher of Rolling Out, a national urban weekly. "Everything else is history. When you read the weeklies and the monthlies, you've already heard, saw, and received it on Twitter. And a lot of people don't want to say that."
A lot of people don't want to recognize that African-American publications are at a crossroads either.
Recently, the Columbia College Association of Black Journalists presented a dynamic panel of print media professionals to dialogue with Columbia journalism students about the current and future state of Black media.
The discussion was moderated by CCABJ president, and journalism student Jorian Seay. The panel included Steed, Kathy Cheney, (Chicago Defender), Candi Meriwether, (Jet magazine), Frances Moffett, (Gloss e-zine), and Mary C. Johns, (We The People Media).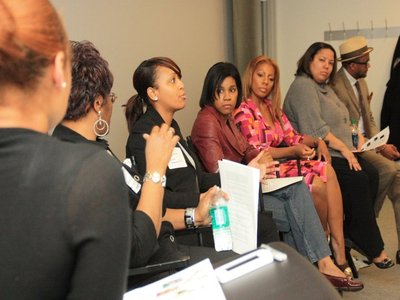 One topic focused on the legacy of John H. Johnson, (founder of Ebony magazine, the preeminent publication for African-Americans).
Johnson, a shrewd businessman, once stated that the "only way to get ahead in this world is to live and sell dangerously. You've got to live beyond your means. You've got to commit yourself to an act or vision that pulls you further than you want to go, and forces you to use your hidden strengths."
The moderator questioned if there was a John H. Johnson in this time to pick up the torch.
As the panelists pointed to him, Steed pointed to new media success stories Chuck Creekmur, co-founder and CEO of Allhiphop.com, and blogger Necole Bitchie, two entrepreneurs who have sustained dominance and profitability.
Ironically, the two future Johnsons, Steed recognized were not print media entrepreneurs.
"The future in terms of growth is clearly mobile," he explained. "When you talk to advertisers, they want to know if you're mobile; [they ask] 'Do you have apps or games?' As we go into a four-day workweek, there will always be growth in games. Video On Demand is the future, that's why we bought [Hip Hop on Demand] a VOD network. At some point, we're all going to be able to VOD whatever we want, because it's just downloading. APPs, mobile, anything you're already talking about, can and is already alive."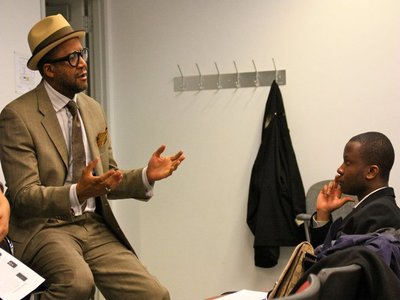 The struggle to add depth and positive images of African-Americans is an issue that exists in both print and digital platforms. Equally problematic is that positive stories don't generate much interest or traffic on the web, according to the panelists, so content producers must rely heavily on gossip, salaciousness, and/or celebrity to attract eyeballs.
"You are challenged to write solid, good, urban content, but we don't get any traffic with that," Steed quipped. "When you're talking about mediatakeout.com, 60 percent of that traffic is coming from women with college degrees."
Add the overall browning of America, (and more mainstream publications integrating African-Americans into their pages), and the necessity of ethnic niche publications is also up for debate.
Meriwether addressed the relevance of African-American publications in this burgeoning multicultural, (arguably) post-race society.
"I think that our content is evolving, as is our mission, as is our audience," Meriwether stated. "One of the questions asked about Jet magazine, Ebony magazine [is of] relevance, are they still necessary? And it's asked about Black colleges and anything that is purely African-American.The whole world being multiracial, I don't want to be segregated anymore. I'm African-American, I don't want to have to come to Jet to read about African-Americans because we have a Black president, we're everywhere."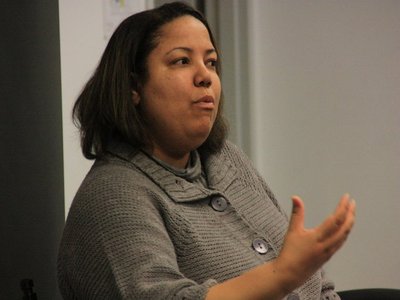 Meriwether continued, "Part of the history of African-Americans in this country stems from protest. And whether or not there is a still a need for protest, and for someone to talk about the problems that have not been resolved, speaks directly to the mission of African American publications, like mine and some of the others. And whether or not we're living up to that, I would love to let the audience, the reader decide. The challenge is to get African-Americans ... to see there is still a need for that kind of voice, in our culture, in Latino culture, in all cultures."
Unfortunately, on the other side of the instant digital space is a dwindling paycheck for those working in the print industry.
Gloss, a bi-monthly e-zine, does not compensate its contributors, and such platforms are best bets for journalism students who are seeking to get their clips published and widely distributed, Moffett stated. In fact, the bimonthly schedule was built with the volunteer workforce in mind.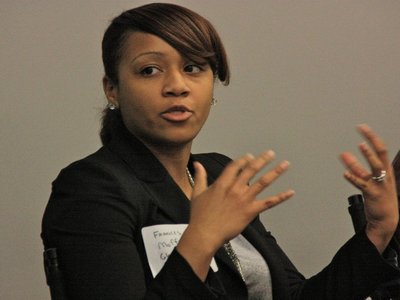 "We chose to be bi-monthly because a lot of our writers are in school," she said. "We don't want to take a lot of their time, and we have extended deadlines for them to submit."
The panelists urged the students to find work in the creative side of the industry (public relations, marketing, i.e.); to develop their skill sets to include digital platforms; learn a foreign language; and to open a second line of income if they want to earn a decent living.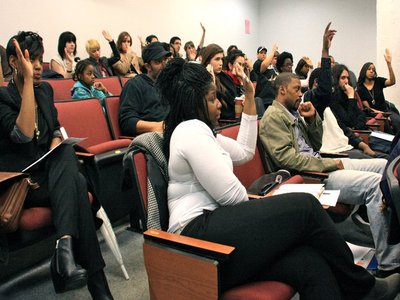 "I think the challenge for your generation is not to cave to mediocrity," Steed said. "You should want to be the best."
Photos by Billy Montgomery/Columbia College, used with permission for this Huffington-Post blog entry.

Calling all HuffPost superfans!
Sign up for membership to become a founding member and help shape HuffPost's next chapter