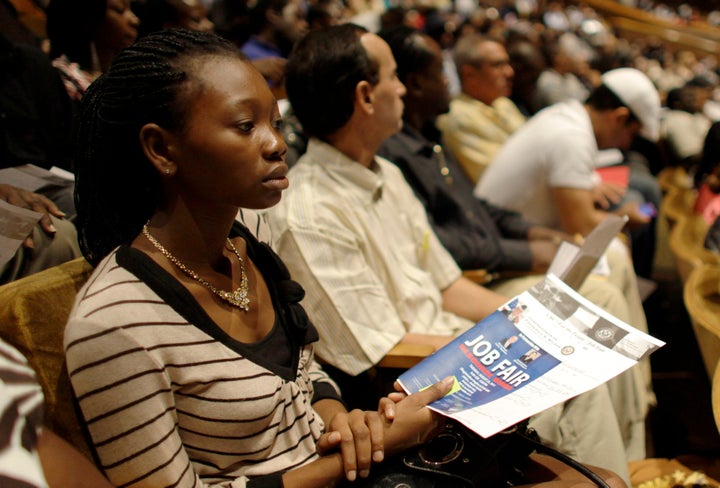 Walter Character -- a self-described Atlanta family man, out-of-work African American and independent voter -- spends a great deal of time consuming news that criticizes the Obama administration for ignoring blacks' struggles, but said he doesn't believe the president should shoulder the blame alone.
"I watch enough news so I can tell you. There are a lot of folks, folks on every side, who seem to want to blame the president for any and everything," said Character, 45. "But, you have to ignore the facts, pretend there is no Congress, pretend the president can just make laws and create jobs on his own to believe that idea."
"If you look at objective reality," said Paul Taylor, the Pew Research Center's executive vice president, "the household wealth number or the unemployment number or any other number of economic indicators, there is not a lot of cause for anybody, but in particular, African Americans to think that things are getting better. But our results are clear. There's something quite fascinating going on here."
Character said he wouldn't describe the economy in such positive terms, but said he understands why some people don't blame the president.
"No president, not Bush, not Obama could turn the mess that we are in around in four years, much less the two Obama has had," Character said. "This is a mess many years and many greedy people in the making.
"Now, to get us out, could the president compromise a little bit more with the Republicans, yes. Could he let the businesses have some more tax breaks, yes. But could the Republicans behave better, could the Congress actually do its job, I would also have to say yes."
While Obama was running for office in 2008, Character was working as a cable television installation crew supervisor. Character had been with the company for six years and was earning about $43,000, plus extra pay for particularly difficult installations. His wife was earning another $35,000 at a bakery where she had worked for 20 years. Together, the couple was making enough money to send their daughter to college, their youngest on class trips and enjoy the occasional dinner together in a restaurant, Character said.
"Things were really great, frankly," Character said. "Bills were paid, you know, life was good."
Then in March, Character's wife lost her job when the bakery closed. One month later, Character's employer decided to lay off its Georgia crews, he said. For the first time in their two-decade marriage, Character and his wife were looking for work at the same time.
The couple abandoned their plan to buy a house just outside Atlanta. They lived off of their unemployment benefits. Some bills simply could not be paid, Character said. In order to hold onto their cars -- something Character said is essential for anyone who wants to get or keep work in Atlanta -- the couple declared bankruptcy.
By 2009, the family's economic outlook improved, even if their financial situation did not.
In January of 2009, Character landed a temporary job at an Atlanta factory. A few months later, Character's wife found a job at an Atlanta company that processes airline food. By June, the plastic factory hired Character full time. Still, the couple was earning about $40,000 less than they had been when the recession began.
"I've always been a worker, a hard worker," Character said. "As a matter of fact, every job I've ever had, I've received some sort of promotion. So, those were tough times. But I knew that we would be able to climb out and pay everyone eventually. That is what Americans do. That's certainly what we've tried to do."
When Obama was elected, Character said he was hopeful that the new president might be able to begin the long process of improving the nation's economy or stimulate job growth. But to do so, Obama would need a cooperative Congress, he said.
When you ask why economic trends haven't been enough to turn African Americans against the president, it's like asking why a person facing a torrential downpour puts on a rain coat, said David Bositis, a senior political analyst at The Joint Center for Political and Economic Studies, a Washington, D.C.-based think tank.
"You have to put the choice that African Americans are making in context," Bositis said. "Certainly there may be some residual good feelings from that historic moment in 2008. But support for the president remains strong because there is no real menu of political options for African Americans. Economic conditions don't change what the Republican Party has become."
The Republican Party is dominated by Tea Party enthusiasts, Bositis said.In a study that began in 2006 and continued this summer, researchers found that Tea Party supporters are long-time Republicans who have a low regard for immigrants and blacks that predates Obama's election.
In July of this year, things got worse for Character. As federal officials wrangled over the best method to reduce the national deficit, the plastic factory announced layoffs and Character lost his job.
So when Character saw a story indicating that the job fair organized by that group of frustrated federal legislators was coming to Atlanta on Aug.18, he made plans to go. This was a chance, he thought, to get past the faceless online application process, talk with a human being and show them what kind of worker he could be. But Character wasn't the only one with high expectations.
One Atlanta radio station that bills itself as the "home for Atlanta's hip-hop community" announced boldly on its website that the Congressional Black Caucus was "coming to Atlanta with jobs!"
When Character arrived just after 8 a.m., he found a line of job seekers wrapped all the way around a mammoth building on the Atlanta Technical College grounds. local paper reported the next day that about 3,000 people waited in line outside the Atlanta job fair.
When a rumor spread around 10:30 a.m. that a woman who arrived before sunrise still had not made it inside, Character grew concerned. When people started to pass out in the 94 degree heat, Character grew frustrated. And when he talked to a woman leaving the job fair about her experience, he decided to leave.
Character said the woman told him that employers were not hiring or even interviewing people on the spot, but rather were shaking hands and directing jobseekers to apply online. Character already spends a few hours each day doing that at a local library, he said.
"I don't know what that was at the college," Character said. "Maybe it was organized with good intentions. Maybe somebody wanted to show the world how desperate black people are for work because 99.9 percent of the people in that line were African Americans. But, you have truly got to twist that and turn that all types of ways to say that is Barack Obama's fault. That's just the way things are right now."
Calling all HuffPost superfans!
Sign up for membership to become a founding member and help shape HuffPost's next chapter