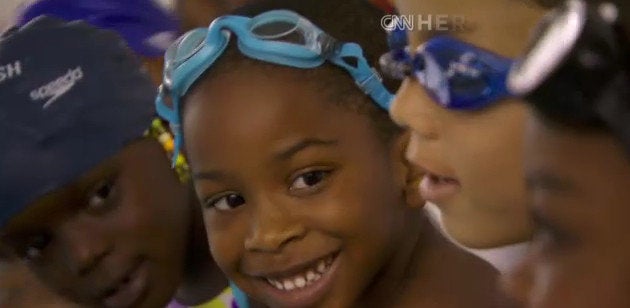 Wanda Butts always wanted a son. After trying for years, her dream came true at 38-years-old when she gave birth to Josh. Growing up, Josh and his mother were inseparable. He was always happy and never failed to bring a smile to his mother's face.
On August 6, 2006, Wanda Butts' life changed forever when she learned that her beloved Josh had drowned while rafting with friends in a Michigan lake. Josh didn't know how to swim and wasn't wearing a life jacket when their raft capsized.
"It was the worst day of my life!" recalls Butts. "It was very hard for me to believe in an instant my son had drowned and was gone."
Butts says both of her parents never swam and instilled a fear of the water in her as well. Naturally, she didn't expose her children to the water and they grew up unaware of how to swim. "It did not occur to me that my son would drown because he didn't know water safety," she said. "Josh was never taught the basic life skill of learning how to swim."
Following Josh's death, a devastated Wanda struggled to understand why God had taken her cherished son away from her. In an effort to make sense of the tragedy, she researched childhood drowning statistics and was shocked to learn that the African American community was especially at risk. She discovered that 70-percent of African Americans can't swim, which increases fatal drownings by three times in black families over white families. Most frustrating for Wanda was that Josh's death, like so many others, could have been prevented with basic swimming and water safety education.
"After losing my son, I wanted to do something to help other people, to help another mother not have to suffer the way I do every day from the loss of my son," she says.
She developed Josh's Project, a nonprofit that provides affordable swimming lessons and water safety training to children and their families in Toledo, Ohio. Participants receive four ½-hour lessons of swim instruction in a small group format. Students are evaluated at the beginning of each session and families receive feedback on student progress at the session's end. The program culminates with each child swimming solo across the pool's deep end from the diving board and receiving a Josh's Project T-shirt, signifying he or she is a successful swimmer.
Josh's Project developed organically with the help of USA Swimming. The national governing board connected Butts to her local swimming organization, The Greater Toledo Aquatic Club. She explained her story to GTAC and her newfound mission to empower young African Americans with basic swimming skills. GTAC worked with Butts to create a swimming educational program for the Toledo community. GTAC offered swim instructors and pool time at a discounted rate so Josh's Project was accessible to all.
Butts did her part to recruit participants to the new program. She visited local churches and spoke to those who shared her same fears of the water. Most wanted to break the cultural cycle for their children that plagued them.
"At first, it was very difficult for me to talk about Josh's death," recalls Butts. "But, it became easier once I could share the statistics of how our community was at greater risk to drownings and it became my mission to save other lives."
Just eight months after Josh's death, Josh's Project's first session was held in March 2007. Butts remembers vividly the excitement she felt surrounded by the first 42 student participants and their families. Most of the students were the first in their families to learn how to swim.
Since 2007, Josh's Project has grown tremendously. Butts estimates that approximately 1,000 students have learned how to swim through the program. They have advanced the program to offer broader water safety education through a partnership with the U.S. Coast Guard Auxiliary. "We realized that drowning prevention is more than knowing how to swim. One must know how to be safe while in and around water so we added life jacket and water incident demonstrations to our program," says Butts.
Josh's Project even gained national attention when Butts was selected and featured as a CNN Hero. After her story aired, Josh's Project received inquires from individuals all around the world who wished to set up similar programs in their communities. Currently, the nonprofit is developing a start-up kit so communities can have the organization and tools to begin their own chapter and impart Josh's legacy throughout the world.
"When [Josh died], I wondered why this happened and how I could ever go on," recalls Butts. "Now, I can see his life has meant so much to so many and made such a difference; I know his impact will continue long after I'm gone."
You can read more DoGooder Spotlights and fundraise for your school or nonprofit at TheDoGooder.com
Related
Popular in the Community