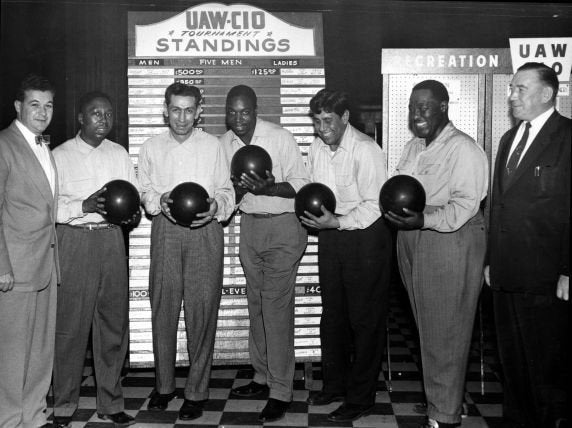 During last December's right-to-work showdown in Michigan, a vocal African-American presence stood out among those opposing the ultimately successful Republican effort to pass the anti-union legislation into law. State Sen. Bert Johnson (D-Detroit) filibustered for over 45 minutes on the floor of the legislature in protest, and several African-American activists were led away in handcuffs at the huge rally held at Lansing's Capitol building.
But there was a time -- in the Motor City, of all places -- when unions did not enjoy strong support from the African-American community. The eventual embrace of the United Auto Workers by African-American workers in Detroit would change both the city and the labor movement.
Although Detroit had become an international center of the automotive industry by about 1915, African-Americans were largely excluded from unions and most manufacturing plants in the city.
Henry Ford, however, was a rare exception to this, according to Mike Smith, UAW archivist and former director at Wayne State University's Walter P. Reuther Library in Detroit.
"In the very early years African-Americans could work at Ford -- very few other places," he told The Huffington Post. "And even when they went where they were employed in the car business, they were usually given the worst jobs -- the foundry where it's noisy, hot, dangerous -- or you might see African-American women, maybe a few, as secretaries."
Smith said that Ford worked with church leaders and the Urban League to recruit African-American workers, and in turn he enjoyed a high level of support from many in that community.
In the 1930s, the United Auto Workers began to organize Detroit auto factories and suppliers with success. Ford was the last of the major automakers to resist this wave of unionization.
"African Americans were in a tough spot, because ... they understood the UAW was necessary in the old factories. You'd have people killed each year," said Smith. "There would be dozens of limbs lost in a factory."
As they began to organize, leaders like Shelton Tappes and Horace Sheffield Jr. emerged. Sheffield's son, Rev. Horace Sheffield III, who is a prominent Detroit community leader, told The Huffington Post that the rise of African-American labor activism came with tension, even in his own family.
"My dad grew up at a time before the union was accepted at Ford, and my grandfather was a foreman and he believed Henry Ford was a modern-day Moses, you know, because of the $5 dollar [a day] wage," he said. "My grandfather, while not certainly not anti-union, was not anti-Henry Ford."
Organizing at Ford did come with risks. Smith, the UAW archivist, said that just talking about unionizing while at the plant could get somebody fired or worse. Ford had a security squad led by a man named Harry Bennett with a reputation for roughing up union activists. Still this wasn't enough to deter Detroit workers. In 1941, they held a huge strike at Ford's River Rouge plant that resulted in making the company a union shop.
Because the UAW is organized democratically, requiring contracts to receive the approval of member locals, the company's unionization opened up some opportunities for African-Americans. In practice, though, times were still tough.
"It was a very dangerous enterprise," said Sheffield. "They had to deal with segregation in the union. There was a double jeopardy of not only having to fight that in the larger society, but also fight that within the union."
A 1943 "hate strike" at the Packard Motor Company exemplified that fight-within-a-fight. When the company put three African-American workers on the assembly line, 25,000 fellow workers walked off the job in protest.
Slowly, however, African-American involvement in the UAW began to change the culture of the union. Some were elected to positions in the locals -- and the union became a training ground for future Detroit political leaders like Coleman Young, who went on to become Detroit's first black mayor.
Around the middle of the last century, the UAW desegregated its bowling league and, with the support of its liberal president Walter Reuther, offered financial and moral support to the emerging civil rights movement.
Today, Smith said the UAW has become much more integrated, with several African-American members, as well as a Latina female, now serving on its International Executive Board.
Sheffield said that the changes brought about by African-American participation in unions like the UAW have been substantial.
"Look at the American society, the results of integration, African-Americans being able to occupy these high-paying jobs ... Unions in general have done a lot [for people] across the board," he said. "We have a lot that we owe them."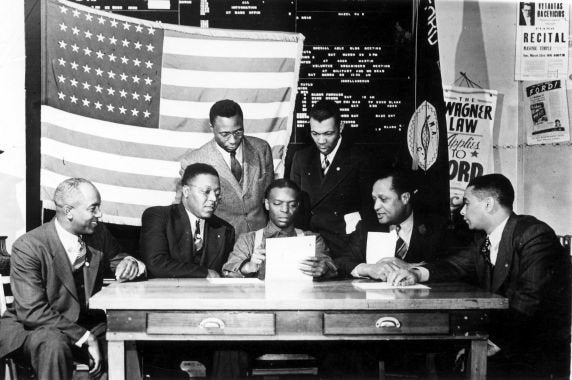 African Americans And The UAW