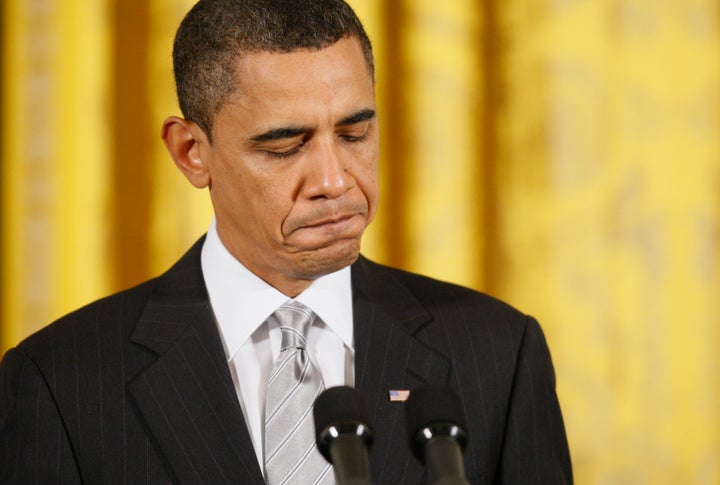 Shantie Chatman was struggling before President Barack Obama was elected, and he has struggled in the three years since. Imprisoned on a concealed weapons charge for 18 months and recently paroled, he is living off a twice-weekly, $92 welfare check. In the midst of one of the worst job markets since the Great Depression, he is unemployed, spending his days cleaning bathrooms in state offices as a condition of his cash assistance.
Still, Chatman, 31, pronounces himself hopeful -- in large part because a fellow black American occupies the Oval Office.
"I voted for Obama because I trusted that he would do the right thing by the country, and I still do," said Chatman as he took a break from a mandatory welfare training program in Manhattan. "It took Bush two terms to mess everything up, Obama should be given at least another term to get things right."
On the airwaves and in prominent public meeting places, one may get the impression that African Americans have become disenchanted with the nation's first black president, seeing him as unwilling to fight to create jobs and as removed from core issues of economic distress. Members of the Congressional Black Caucus have dominated recent media conversations about the president, accusing him of failing to champion African American interests.
But in conversations this week with black Americans across the socioeconomic spectrum, a more complex picture emerges, one colored by recognition that the nation's problems are so entrenched that they are beyond fixing by one man -- even a man whose ascension was a source of enormous community pride. Despite harboring disappointment that the Obama years have failed to crystallize a sense of recovery, many black Americans retain a deep sense of identification with the president, as criticism from political insiders and the punditocracy triggers a defensive impulse to protect a member of the family.
To be sure, polling data reflects a dip in African American support for Obama, down from the 97 percent level registered amid the jubilation, tears, shrieks of joy and sense of unity in black neighborhoods throughout the country just after the 2008 elections. Still, even the most recent polling data from Gallup shows that African American approval of the president remains in the high 80th percentile range.
Still, in a recent phone conversation with The Huffington Post, Cummings took an entirely different stance, saying: "African American people are with this president 100 percent -- they love him, they admire him and they want for him to succeed. On the other hand, they see the roadblock of Republicans, who have fought him on everything and are not going to meet him one hundredth of the way," he said. "It's not like black Americans have lost faith in him, they're just saying, 'Go out there and push, because we've got your back.'"
But ordinary black voters appear more willing to cut the president slack, expressing a sense of acceptance that he inherited a nation beset with problems and must work within a flawed political system laden with deep-seated antagonism to get anything done.
"He is one black man in the middle of all these powerful white people, and no matter what, he still has to listen to what they're saying," said Janet Chandler, 61, who has been a criminal clerk for the New York City District Attorney's office for the past 29 years. "He doesn't need to stop in black neighborhoods for me to know he's doing what he can for us."
Some political strategists cast the recent upsurge in criticism from influential members of the black community as a healthy development, a spur for the White House to take heed of African American concerns.
"I don't think it's bad for the president to get a little pressure from his base," said CNBC contributor and former Clinton White House aide Keith Boykin. "It helps to remind him of the concerns of the people who voted for him."
Democratic political strategist Donna Brazile said she hopes the recent debate over Obama's responsibilities to the black community has raised the profile of the broader economic crisis within the electorate at large.
"That is, more pressure on the president to devise a jobs agenda, more pressure on the super committee to include a job-creating target along with its deficit reduction target," she said.
But some experts suggest that the current ferment is representative of a much deeper cleavage than the current political moment: The president finds himself at the center of a long-running argument within the black community over the rightful aspirations to be pursued by those with power.
"At the heart of the debate is the absence of a clear black policy agenda for the post-civil rights era," says Omar Wasow, co-founder of BlackPlanet.com and a Ph.D candidate in African American Studies at Harvard University. "And, whether President Obama wins or loses in 2012, that debate is unlikely to be resolved any time soon."
Omar Hoist's agenda is far more personal: He needs a job. A former mortgage broker who lives in the Bronx, he is out of work, making him precisely the sort of voter one might anticipate would be among those expressing disappointment with the president, whose economic policies have yet to put significant numbers of people back to work.
But Hoist remains proud of the president. Despite his own current joblessness, Hoist says Obama has injected hope into the hearts of black Americans by transcending a barrier of great historical import. He "opened the market just by becoming the president," Hoist said. "Even if he opens the door for a few more folks down the line, that's a good thing."
Popular in the Community