Several years ago, a park ranger named Shelton Johnson noticed something in his line of work: not many African-Americans were visiting national parks.
Shelton had worked at Yosemite National Park in California for the better part of his 18-year career, and was so concerned by what he saw that he decided to take action to encourage his fellow African-Americans to visit national parks. Shelton enlisted Oprah Winfrey to help.
"My entire career, I have been bothered by the lack of African-Americans visiting national parks. It has bothered me when I look out and I meet people from Germany, from Spain, from Africa, and yet, I can't find an African-American family from Chicago or from Boston or from Detroit. Oprah, I need your help in spreading the word that the national parks really are America's best idea and that this beauty belongs to every American ― including African-Americans."
So, in 2010, Oprah and her best friend, Gayle King, packed up their camping gear and set out for Yosemite to surprise Shelton ― and he certainly appeared stunned.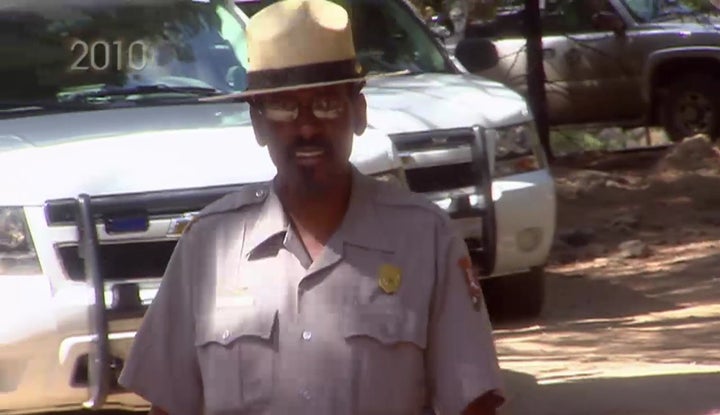 Oprah and Gayle's camping adventure brought more visibility to Shelton's cause, but six years later, how has his mission been going? "Oprah: Where Are They Now?" checked in with Shelton recently to find out. 
"It was the culmination of a dream that I had," Shelton says of Oprah and Gayle's visit. "Oprah and Gayle were the agents of facilitation for that dream to come true."
Over the last few years, Shelton says, there has been a change in the demographics of park visitors.
"I have noticed a spike in the park with regards to African-Americans visiting Yosemite," he says. "It's shifted from seeing African-Americans, in general, once every week or so to seeing African-Americans essentially on a daily basis."
Shelton says he is also focused on educational work, participating in programs such as those highlighting the history of the Buffalo Soldiers. Ultimately, the park ranger plans to continue doing whatever he can to bring awareness about the national parks to the African-American community. 
"The work is still ongoing," he says. 
Another national park moment:
REAL LIFE. REAL NEWS. REAL VOICES.
Help us tell more of the stories that matter from voices that too often remain unheard.