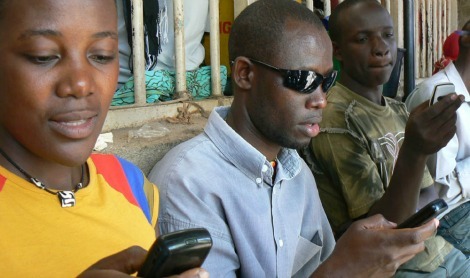 The increasingly widespread usage of new technologies in Africa is fueling innovation and creating winds of change across the continent. Africans in Diaspora are helping to lead the charge in driving innovation, as more are returning to their home countries in greater numbers, bringing the latest technologies, technical know-how, and knowledge gained from spending years abroad.
Africa is the fastest-growing region for mobile markets. In African households, communication with loved ones in the Diaspora is encouraging the rapid adoption of mobile phones and other new technologies.
A 2014 Pew Research Center survey in Uganda, Tanzania, Kenya, Ghana, Senegal, Nigeria and South Africa found that a majority of adults owned cell phones. Pew's research revealed that 89 percent of adults in South Africa and Nigeria owned a smartphone or basic cell phone, 83 percent in Senegal and Ghana, 82 percent in Kenya, 73 percent in Tanzania and 65 percent in Uganda.
Mobile technology has the greatest impact on the African continent, compared to other regions of the world. So, it's not surprising that mobile phones are sparking innovation in Africa.
Yet, the tech innovations springing out of Africa are not cookie cutter approaches that best fit in Western countries, instead they are uniquely tailored to the African context and are creating homegrown solutions using mobile phones and other technologies to tackle challenges in their communities.
While the continent is brimming with innovation, Sub-Saharan Africa still faces a severe shortage of highly skilled African talent, especially African software developers who can create new mobile apps to meet the demand of a growing African consumer market.
Many Africans in the Diaspora are highly skilled in areas that the continent severely lacks. By leveraging their skills, ingenuity and resources, African Diasporans are uniquely positioned to contribute to scaling Africa's tech sector.
Iyinoluwa Aboyeji, co-founder of Andela, a technology company that seeks to build the next generation of African technology leaders by training African talent to become software developers. Select participants also gain experience working in leading tech companies like Microsoft, in the U.S. and Nigeria.
The Nigerian-born tech entrepreneur earned degrees in the U.S. and later returned to his home country where through Andela works to build a pipeline of African technology leaders.
Still, in order to find the solution through technology, Aboyeji said African countries need skilled talent. "Technology is the future of work and learning and can make an impact around the world," he said.
Aboyeji is just one of example of how skilled professionals from the African Diaspora are recognizing the enormous opportunities that exist on the continent and are launching businesses to create well-needed jobs and spur economic growth.
Conferences that bring the Africans in the Diaspora together to encourage greater engagement with our home countries, like the African Diaspora Investment Symposium, held January 29-30 in Silicon Valley, can only contribute to Africa's dynamic growth.
When we, as Diasporans, collectively come together to bring our knowledge, resources, creativity and experiences back to the African continent - tremendous progress is bound to happen.
PHOTO CREDIT: KIWANJA VIA FOTER.COM