When the concept of working with African first ladies came to me back in 2008, rather than seeing an exciting opportunity to engage global leaders, I saw a group of chronically misunderstood women who had not been recognized for their full potential. My work at the time focused on refugee health in Asia -- I knew nothing about first ladies and little about Africa... and it was the not knowing anything about first ladies in particular that drew me in.
What do any of us know about first ladies?
As I scratched the surface I realized many of these women are cast into this role with no preparation, and potentially little ambition to play that part, only to become subject to intense scrutiny as they walk the tight rope of being gracious hostesses and partners, while also delivering quality programming or advocacy to their people.
It has become standard to expect first ladies to champion and even directly impact key challenges her population faces, yet first ladies are provided with little to no infrastructure to support them. The equation doesn't add up.
And so my passion for the topic grew, and I began planning the largest gathering of African first ladies outside of Africa to have ever taken place. The vision was to create a platform for these first ladies that would provide them the opportunities and empowerment they required to make lasting change.
Empowering one of the most visible females in a country would not only improve the status of women writ large, it had the potential to impact millions of lives by helping first ladies become more effective leaders on the issues they champion -- often social issues like maternal health, education and women's economic empowerment.
What struck me most during this process was the first ladies' reaction to this vision. 'Really? This meeting is just about our work? We get to present on our work and no one is asking us to do something for them?' They would call, and then call back again as if they couldn't believe their ears.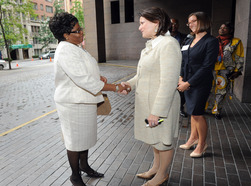 I realized through this process that first ladies had sat through innumerable global meetings where others -- mainly outside aid organizations -- presented to them on issues in their countries. Others had implored them to advocate for specific issues, but it seemed no one had ever asked first ladies what they could do to help these accidental leaders become stronger champions for their own unique visions and work.
Yes, I would say. This effort is focused on finding ways to support and empower you.
And so it went, until late April 2009, when we convened 13 African first ladies, Sarah Brown, Laura Bush (via videoconference), and nearly 300 of the world's leading global health, education and development experts in Los Angeles for the African First Ladies Health Summit.
A high point of the summit was a closed first ladies' roundtable moderated by Anita McBride and Melanne Verveer, former chiefs of staff to First Ladies Laura Bush and Hillary Clinton. The roundtable, focused on how the powerful position of first lady actually came with no job description or standard infrastructure, was lively and transformative for a number of first ladies.
Through this dialogue it became clear that with strategic support, training and technical assistance, Africa's first ladies would be able to act as even more visible champions and leaders in improving the health, education and welfare of men, women and children in their countries and continent-wide.
Since its inception, AFLI has worked closely with individual first ladies to refine and grow their platforms, fostered collaborations between first ladies with more than thirty public and private entities, convened annual First Ladies Roundtables, hosted several international meetings of first ladies, and launched its signature program, the African First Ladies Fellowship Program. To date, AFLI has worked with 24 first ladies and 36 of their senior advisors across Africa.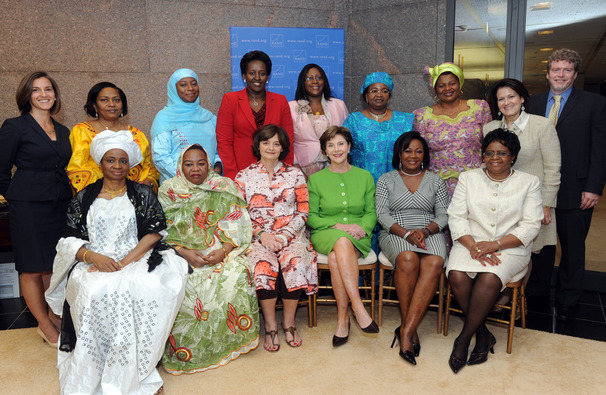 During year two of her participation in AFLI, Mrs. Penehupifo Pohamba, First Lady of Namibia, noted that the African First Ladies Initiative contributed foundational support and on-going guidance to help her 'accomplish the objectives of my office in line with overall Government priority plans, especially those relating to maternal and child health, nutrition, as well as the upliftment of rural poor women who have been affected by the HIV/AIDS pandemic.'
Mrs. Pohamba is a midwife by training, but nothing could have prepared her for her role as first lady. It was our honor to assist in helping her recognize her potential. During our time working with Mrs. Pohamba, she worked closely with the Ministry of Health to oversee successful collaborations with global institutions such as UNFPA, CDC, UNICEF, WHO, as well as private sector Namibian partners, to deliver life-saving maternal and child health services to millions of recipients. She launched a comprehensive national campaign that used social and conventional media, as well as community outreach and education programs, to engage both men and women in utilizing life-saving practices to stop the transmission of HIV/AIDS. Mrs. Pohamba displayed remarkable leadership as a first lady, and in 2011 was elected president of the Organization of African First Ladies.
On a policy front, we worked with Mrs. Pohamba as her office submitted groundbreaking domestic policy to formalize the office of first lady. The policy was adopted, and now Mrs. Pohamba and her successors will be provided the basic infrastructure and staffing needed to help them play an active and supporting role in their administration's national strategy. Similar support is afforded to first ladies in the United States, but is not yet the norm around the world.
This is just a fraction of the important work Mrs. Pohamba is undertaking, and there are many more first lady profiles and stories to share. In the coming months I will author a series on this topic.
Five years ago, I could have only dreamed that we would bring Laura Bush and Michelle Obama together on an international stage to discuss their experiences as first ladies with their counterparts. My initial vision was to incubate and grow a program that could eventually be run by and for first ladies, and in Tanzania this July, we watched that dream become a reality.
The Bush Institute First Ladies Initiative, inspired by and building upon the work of AFLI, is a demonstration of first ladies' commitment to investing in and fostering women's empowerment across the globe. Emboldened by the visibility and support of the Bush Institute and Laura Bush, we expect first ladies to unleash even more impact and positive change in the coming years.
Related