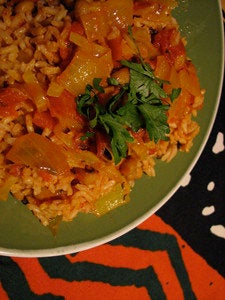 A team of culinary historians, nutritionists and health experts joined forces last year with a single goal: rectify soul food's unsavory reputation and dispel the notion that the cusine is the stuff high blood pressure and heart disease are made of. The team was successful, and their work produced the Oldways African Heritage Diet Pyramid, a model for healthful eating that draws inspiration from the comfort food's Southern, Caribbean, South American and African roots.
Oldways is now taking the pyramid on the road, introducing a series of cooking classes that demonstrate just how healthy soul food staples can be. They've tapped chefs around the country to create programs based on the African Heritage Diet Pyramid.
"As the population in the U.S. becomes more diverse -- more people are coming into America, more children are being born of diverse households -- we need to factor that in and not just assume that a one-size-fits-all standard American diet will suit our needs," said Tambra Raye Stevenson, a dietetic intern and founder of NativSol Kitchen in Washington, D.C. Stevenson will host a six-week cooking seminar based on the Oldways pyramid, starting this month.
"Soul food has been given so much flak, but if you look at the essence of where it came from, back to the continent, it has strong tradition and values," Stevenson told The Huffington Post.
Stevenson said her African Heritage cooking course aims to teach participants how to redevelop shopping lists, navigate grocery stores to source ingredients, and then to prepare dishes from the various regions of the African diaspora.
"At the end of each class, people will walk away with a renewed sense of their ability to make a healthy African dish ... and also build on this community that they're creating by sharing stories," she said.
"We go over how to design a healthy African kitchen; how to stock your pantry; getting away from plastic and using more recyclable goods like glass jars; going back to cooking methods like baking instead of frying and doing one-pot, slow-cooked meals, which was very common on the continent," Stevenson added.
(Check out Stevenson's rice and bean recipe below.)
Because of Stevenson's background with faith-based nutrition work, participants can expect homework in some of her courses as well.
"Homework assignments begin with first identifying their own health motivational goals," Stevenson said, outlining an approach that incorporates writing a letter to participants' god of choice. Stevenson said she's found people resonate with that approach better than simply keeping a list of goals for themselves.
The connection people have with their own faith or their family makes "the difference between a patient being compliant [with a healthy eating regimen] or not," she said.
"In one case I had a patient who was Ethiopian ... Christian ... and she was practicing fasting on a Friday, but she's diabetic, so she needed consistent carbs. But if you're not able to eat certain foods, how do we make sure that you receive the proper nutrition to ensure that you have a quality health care outcome?"
While improving nutrition is one goal of the African Heritage diet plan, Stevenson says there's an even greater one: Diminishing the pressure many people may feel to assimilate into a uniform image of America and helping them to incorporate their ancestry into their cooking instead.
"That one-size-fits-all standard American diet ... frankly is not suiting the needs of the average American, and this is why we're in the epidemic of diet-related diseases, from obesity to heart disease to diabetes," Stevenson said. "It's out of control and we have to do something about it, [even] if that means helping people let go of their adopted culture and really take root to their heritage."
Jollof Rice with Black Eyed Peas
Layers of warm spices and seasonings make this traditional African rice and bean dish a perfect addition to your fall dinner rotation. Enjoy it as a side or as a centerpiece of your meal.
Ingredients
15 oz. diced tomatoes, drained
4 cups liquid (see step below)
2 cups uncooked brown rice
2 tablespoons extra-virgin olive oil
1 large onion, chopped (about 2 cups)
2-3 garlic cloves, minced
1 large carrot, chopped (about 1 cup)
1/4 head of green cabbage, chopped (about 2 cups)
2 tablespoons tomato paste
15 oz. black-eyed peas
1 teaspoon turmeric
1 teaspoon thyme
1/2 teaspoon red pepper flakes
Instructions:
Drain liquid from diced tomatoes into a measuring cup. Add enough water to equal 4 cups of liquid total, and put in a medium sized pot with the brown rice. Bring to a boil then cover and simmer until rice is tender to your taste, about 30-35 minutes.
While the rice cooks, heat the oil in a large pan. Cook onions and garlic until onion is soft and pale, about 5 minutes. Add chopped carrots and cabbage, tomato paste and tomatoes, black-eyed peas, and spices. Simmer with the lid on for a few minutes on low heat until the vegetables are done to your taste. Adjust spices until you're happy with them.
When the rice is done, mix it with the vegetables and beans, or simply serve the rice with everything else on top.
Nutritional Analysis: Calories: 301, Fat: 5g, Sodium: 377, Carbohydrates: 58g, Protein: 10g
*All costs based on actual grocery store prices in January 2012. Prices may vary by location.
Calling all HuffPost superfans!
Sign up for membership to become a founding member and help shape HuffPost's next chapter
BEFORE YOU GO
PHOTO GALLERY
A History Of Food Guides