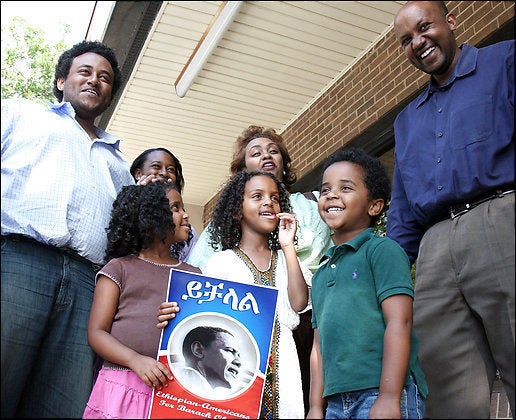 A catered fundraiser for Sen. Barack Obama was held recently at Duke's City, an upscale restaurant and bar nestled amid the hip new condominiums in the District's U Street corridor, where up-and-coming white professionals are slowly taking over an area that was once mostly black.
But the owner of Duke's City, Donato Sinaci, is not one of Obama's many young, white supporters. And the host of the event, Michael Endale, is not a native-born black American. They are members of Ethiopians for Obama, one of several campaign groups made up of African immigrants who are rallying around the first black American to win a major party's presidential primary, and the son of a Kenyan immigrant.
From coast to coast, Somali, Ethiopian, Nigerian and Kenyan Americans are knocking on the doors of their fellow African immigrants, registering new citizens to vote, raising money and preaching Obama's mantra of hope and change. They hope that his prominence will change their status as one of the nation's least-recognized immigrant groups, and that he will one day provide aid to help ease the turmoil and poverty in countries such as Ethiopia, Somalia and Sudan.
REAL LIFE. REAL NEWS. REAL VOICES.
Help us tell more of the stories that matter from voices that too often remain unheard.