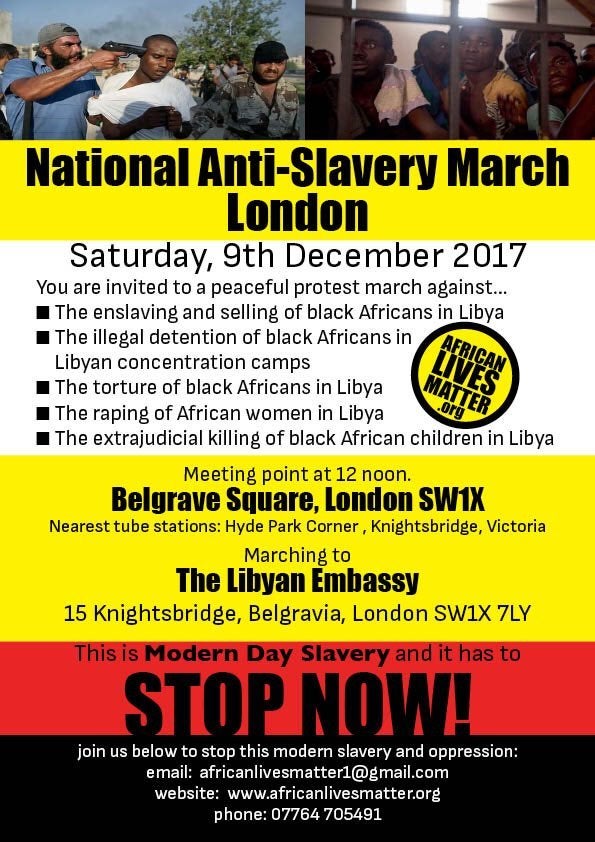 Former president Barack Obama described the handling of the situation in Libya as his greatest mistake as president. As I have argued in "The West, Africa, and Gaddafi," this was a mistake that was very avoidable had Obama learned from the many failed American interventions of the past. Hillary Clinton was even more eager to celebrate the intervention. She found humor in the fact that Gaddafi was horrifically killed. It was not so humorous for Hillary when Gaddafi's death was being investigated as a war crime. It's even less humorous now given that the instability in Libya has led to an ongoing civil war, as well as slave trading.
Recent outrage was sparked by the discovery of slave markets in Libya. Africans who are trying to pass through Libya on their way to Europe are being captured and sold as slaves in Libya. One of the many organizations that are taking a stand against slavery in Libya is African Lives Matter. African Lives Matter was organized in response to the fact that issues that confront Africa are ignored by the media and by many activists, including some of the Black Lives Matter activists. In response to the slave trade in Libya, African Lives Matter will be holding a national march in London on December 9th.
Dwayne is the author of several books on the history and experiences of African people, both on the continent and in the diaspora. His books are available through Amazon. You can also follow Dwayne on Facebook
Calling all HuffPost superfans!
Sign up for membership to become a founding member and help shape HuffPost's next chapter
This post was published on the now-closed HuffPost Contributor platform. Contributors control their own work and posted freely to our site. If you need to flag this entry as abusive,
send us an email
.