It was not that long ago that entire neighborhoods in the southern Chinese city of Guangzhou were overflowing with African migrants. Although there are no precise figures, scholars estimated that more than 20,000 African immigrants ― and perhaps as many as 200,000 ― used to lived in Guangzhou, or as it is glibly known, "chocolate city."
Today, those same neighborhoods, once filled with halal food shops and other stores that catered to China's African migrants, have been completely transformed, or as the Chinese government prefers to characterize it, "beautified." Across Guangzhou, there are ever-mounting pressures on African migrants that are prompting more and more to just pack up and leave.
Although Guangzhou's urban planning agenda and tighter immigration controls may be partially responsible for the displacement of the African migrant community, experts believe that China's changing economy is more likely the main reason as to why the African population is rapidly disappearing. With the standard of living in many of China's major cities comparable to that of many parts of Europe, it is much more expensive to live and do business in places like Guangzhou today than it was even just a couple of years ago.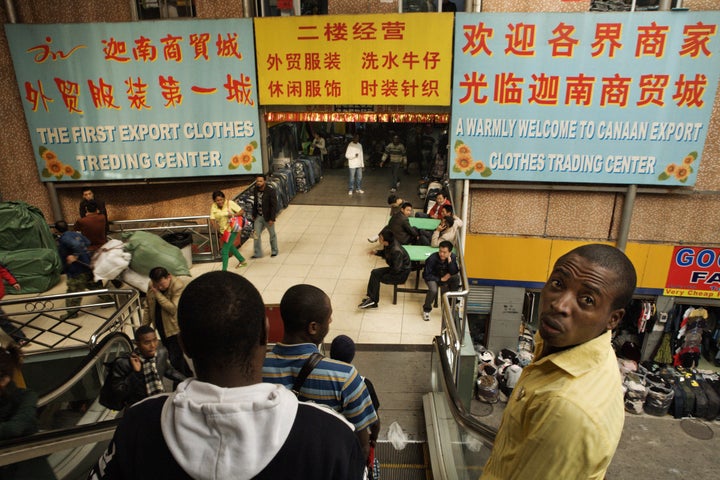 Hong Kong-based journalist Jenni Marsh has been covering the African communities in China for several years, first for the South China Morning Post and now as a producer for CNN International. She recently published a multimedia report on the growing number of African migrants who have given up on the Chinese dream. Jenni joins Eric and Cobus ― in the podcast above ― to discuss what's behind the new phenomenon known as "U-turning" where hundreds, if not thousands, of African migrants are leaving China to return home.
Join the discussion. Do you feel that it is hypocritical of China to crack down on African migrants at home while hundreds of thousands of Chinese people have migrated to Africa in recent years?