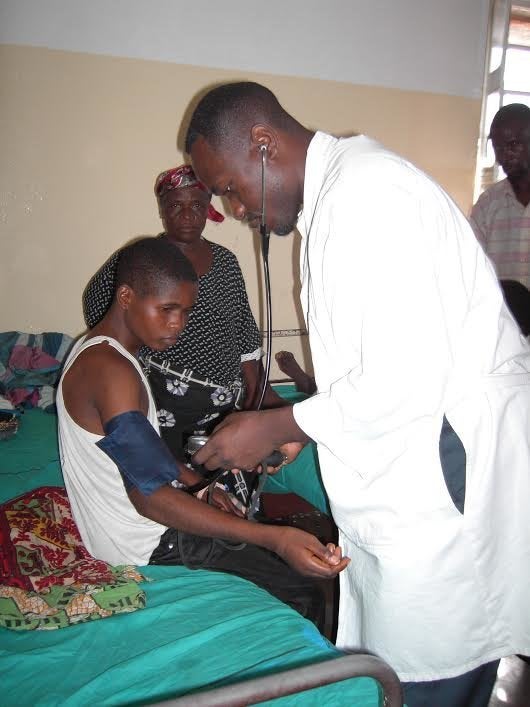 This article is part of HuffPost's Project Zero campaign, a yearlong series on neglected tropical diseases and efforts to fight them.
His name was Tendayi. He had watched five of his nine children die. Yet when he was diagnosed with a serious disease, he steadfastly held onto his will to live ― until he just couldn't anymore.  
Tendayi died about a decade ago, but his picture still sits on Dr. Wilfried Mutombo's desk in Kinshasa, the capital of the Democratic Republic of Congo. It reminds him daily that a terrifying ― yet treatable ― disease is still killing far too many people. 
Mutombo, 45, could have chosen a path that promised competitive compensation and days full of seeing patients with common ailments. Instead, he decided to focus on finding a cure for the mystifying illness that killed Tendayi and thousands of other people living in rural areas. 
Tendayi succumbed to African trypanosomiasis, known as African sleeping sickness. It occurs primarily in the DRC, and is far more alarming than its name would suggest.
The parasitic disease is transmitted by the tsetse fly and attacks the central nervous system. It can cause people to sleep all day and stay up through the night. The illness can also lead to severe hallucinations ― some patients have been known to chase neighbors with machetes and scream in response to the slightest touch. And it can be deadly when not treated properly.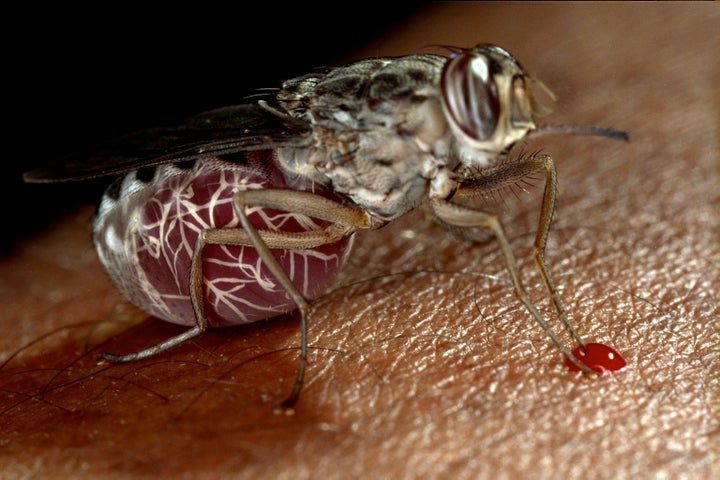 The number of recorded cases hit a seemingly manageable number last year ― fewer than 3,000, according to the World Health Organization ― and the treatments available today are far superior to what Tendayi was given. But Mutombo remains only cautiously optimistic. 
Because the illness affects such a small and isolated population, there isn't that much interest globally ― or even within the DRC ― in addressing it. 
Mutombo, who studied medicine at the University of Bujimayi in the DRC, said about one page in his infectious diseases textbook was devoted to sleeping sickness. 
After graduating in 2004, many of Mutombo's peers migrated to big cities in South Africa to make a reasonable income. Mutombo chose a different route. He took a job at Kasansa Hospital in the DRC's Kasai Oriental Province, earning about $200 a month in a remote area with limited resources.
Mutombo was the sole medical doctor, and there were three nurses on staff.
The fresh-faced physician functioned as the hospital's pediatrician, gynecologist and infectious disease specialist ― essentially, he took on every case that came his way.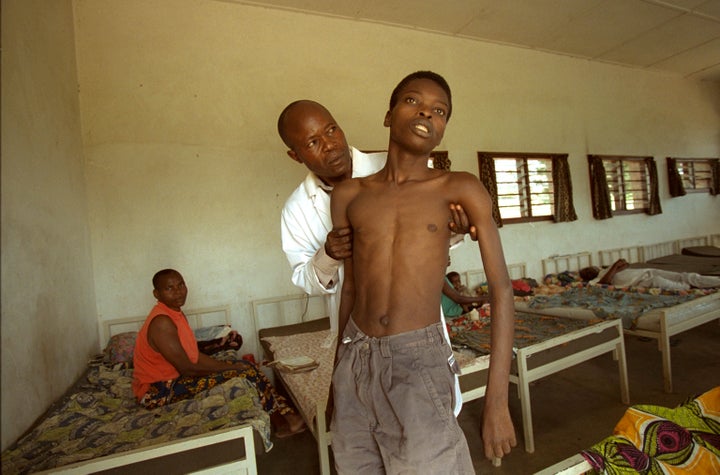 It was during his time at the hospital that Mutombo was first exposed to the prevalence of sleeping sickness cases in the region, and the frustration that comes with trying to effectively treat these patients. Mutombo estimates that he has treated about 500 cases of the disease, 
The work, especially with its low pay, was a "sacrifice," the father of three told The Huffington Post.
Until 2009, a medication called melarsoprol ― which a Swedish pathologist developed in 1949 ― was the only feasible treatment for a patient with stage-two sleeping sickness. About 1 in 20 people die after taking the arsenic-based treatment, and it causes such severe pain that it has been dubbed "fire in the veins." It wasn't all that effective, either: About 40 percent of people relapsed, according to Mutombo.
"It's terrible," Mutombo said of watching his patients take the medication and endure agony and fear.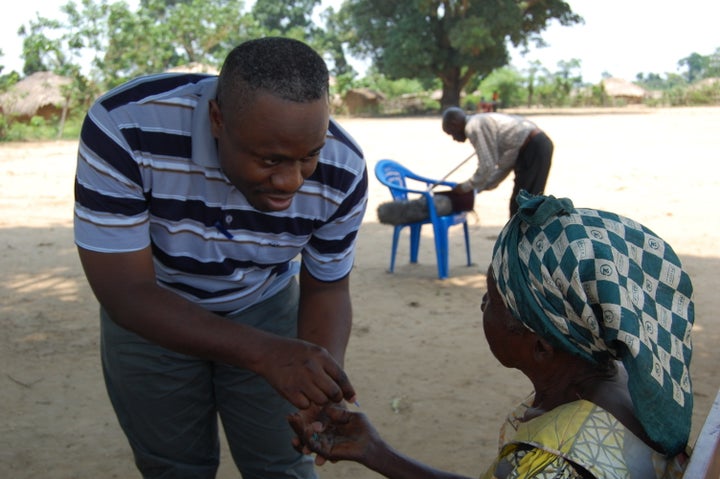 Tendayi was one such patient. 
He was 39 years old in July 2005, when he was diagnosed with stage-two sleeping sickness ― meaning the parasite had already infected his central nervous system. Patients at this stage can experience severe issues including personality changes, sleep disturbances and partial paralysis. 
Tendayi was treated with melarsoprol for 20 days. He relapsed six months later and returned for another round of treatment. When Tendayi relapsed again in 2007, he was "disappointed," Mutombo said.
That's when he stopped coming in for treatment. When left untreated, sleeping sickness will eventually lead to coma and death, according to the Centers for Disease Control and Prevention.
"It was complicated," Mutombo said of the case. "All these years later I have his name in my mind. I still look at his picture."
Because stage-one symptoms such as headache and fever are associated with a number of other conditions, many patients don't seek treatment until they've reached stage two, Mutombo said. People often assume they have malaria and spend months getting treatment for that.
It's when patients start sleeping all day and staying up all night, when they can't stop smiling or feel overwhelmingly angry, when they can't eat and start losing weight ― that's when they'll realize they likely have sleeping sickness, Mutombo said. But by that point, they've already reached stage two.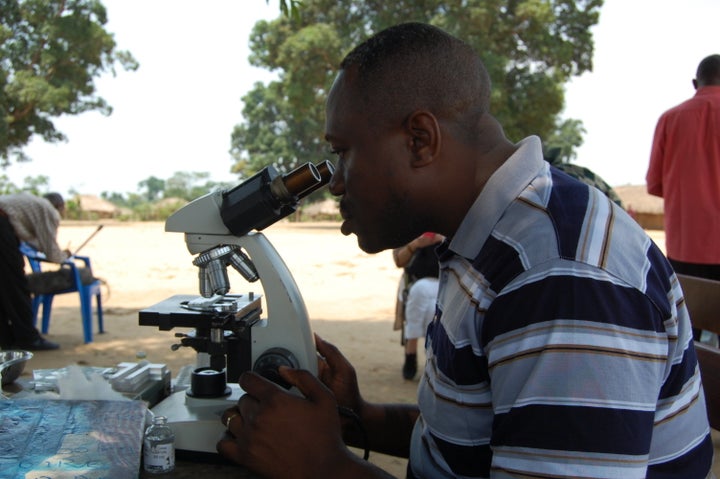 Mutombo felt helpless after another patient who had been treated with melarsoprol died. He thought he wouldn't be able to find help in improving the course of treatment. 
That changed more quickly than Mutombo could ever have expected.
In 2006, he learned that the nonprofit Drugs for Neglected Diseases Initiative (DNDi) was looking for researchers to conduct clinical trials and explore alternative treatments for sleeping sickness. Mutombo pounced on the opportunity. (HuffPost is currently raising money to support DNDi's efforts to identify new drugs that are easy to administer.) 
DNDi, which develops drugs and treatments for overlooked illnesses, hired Mutombo as a local investigator.
For the next three years, Mutombo immersed himself in research. He spent six months doing a clinical internship with Sanofis-Aventis, a France-based pharmaceutical company. He also spent half a year working in Geneva completing a fellowship with the World Health Organization. 
Along with Doctors Without Borders and other partners, DNDi made a breakthrough in 2009: A treatment called nifurtimox-eflornithine combination therapy (NECT), which had a cure rate of more than 96 percent, was approved for people with stage-two sleeping sickness. Unlike another viable treatment that has been used in recent years, patients only need to receive 14 infusions over a period of a week together with a 10-day pill regimen. 
It was a great step forward in treating the sleeping sickness, but its application came with a few challenges.
Patients have to undergo a spinal tap to determine where they are on the disease spectrum and how much medicine they need, and hospitals need staff members who are well-versed in administering the treatments. Clean needles aren't easy to come by. The equipment is bulky and difficult to transport.
Patients also have to stay at a hospital for the duration of the treatment. For people living in rural areas, especially now that the country is on the brink of a civil war, it can take hours or even days to get to a clinic ― if they can get there at all.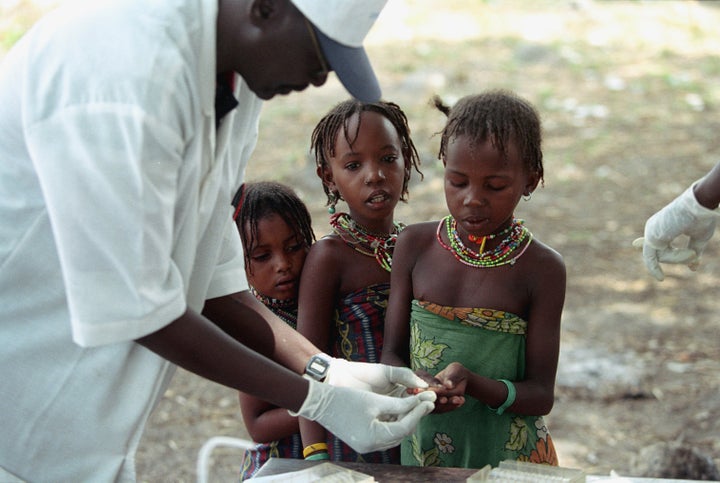 That's why Mutombo and other researchers involved with DNDi are eager to keep working toward developing an oral pill to eliminate most of the challenges NECT presents.
DNDi expects to spend $45 million to develop an oral pill called fexinidazole and $50 million on another called SCYX-7158. The group will complete the clinical trials for fexinidazole this year. 
Even though the number of sleeping sickness cases hit a record low in 2015, Mutombo stressed the importance of aggressively addressing the issue now. 
"When you look at the trend now, you have the impression that [sleeping sickness] is decreasing," he said. "If we stop now, I think in five years, we'll have many, many cases. We need better drugs. Drugs that are effective and easy to use."
DNDi is a recipient of grants from the Bill & Melinda Gates Foundation, which also funds HuffPost's Project Zero series. All content in this series is editorially independent, with no influence or input from the foundation.
If you'd like to contribute a post to the series, send an email to ProjectZero@huffingtonpost.com. And follow the conversation on social media by using the hashtag #ProjectZero.
REAL LIFE. REAL NEWS. REAL VOICES.
Help us tell more of the stories that matter from voices that too often remain unheard.