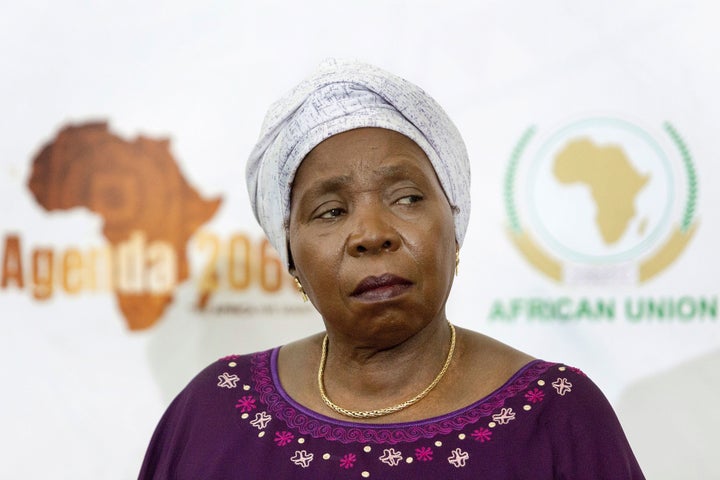 The head of the African Union called out President Donald Trump on Monday for the ultimate American hypocrisy.
South African politician and chairperson of the AU commission Nkosazana Dlamini-Zuma addressed representatives of the continental union's 54 member states during a summit in Addis Ababa, Ethiopia on Monday. In her comments, Dlamini-Zuma referenced Trump's recent executive order halting the U.S. refugee resettlement program and blocking entry of individuals from seven Muslim-majority countries, three of which are AU members.
"The very country to which many of our people were taken as slaves during the transatlantic slave trade has now decided to ban refugees from some of our countries," Dlamini-Zuma said, according to The Independent.
Trump's order did not name the countries that would be affected, but reporters quickly confirmed that individuals from Iran, Iraq, Syria, Sudan, Libya, Yemen and Somalia would be blocked from entering the country. The three African countries ― Libya, Somalia and Sudan ― are all members of the African Union.
"What do we do about this? Indeed, this is one of the greatest challenges to our unity and solidarity," said Dlamini-Zuma, who is stepping down from the AU this summer and is expected to run for South Africa's presidency.
The U.S.'s role in the transatlantic slave trade constitutes one of the grossest abuses of human rights in the country's history. The Trans-Atlantic Slave Trade Database estimates that more than 300,000 Africans were forcibly taken to the U.S. over the 360 years of the trade's operation.
Today, the administration's treatment of Muslims has elicited comparisons to the 1942 executive order President Franklin D. Roosevelt signed authorizing the internment of Japanese Americans.
Trump signed Friday's executive order on live television, claiming the move would keep "radical Islamic terrorists" out of the country. There have been no fatal terror attacks on U.S. soil since 1975 by immigrants from the seven Muslim-majority countries. Nonetheless, the president asserted the order did not target Muslims.
Within hours of Trump signing the order, travelers from the implicated countries were being turned away at airports and even detained. The Department of Homeland Security told Reuters on Sunday that roughly 375 travelers had been affected by the order ― 109 who were denied entry to the U.S. while in transit, as well as another 173 who were stopped by airlines before boarding flights.
United Nations Secretary-General António Guterres also addressed the AU summit on Monday and praised the African countries for their peacekeeping efforts. Without mentioning Trump or his executive order, Guterres said: "African nations are also among the world's largest and most generous hosts of refugees. African borders remain open for those in need of protection, when so many borders are being closed, even in the most developed countries in the world."
Calling all HuffPost superfans!
Sign up for membership to become a founding member and help shape HuffPost's next chapter
BEFORE YOU GO
PHOTO GALLERY
Evolution Of Trump's Muslim Ban