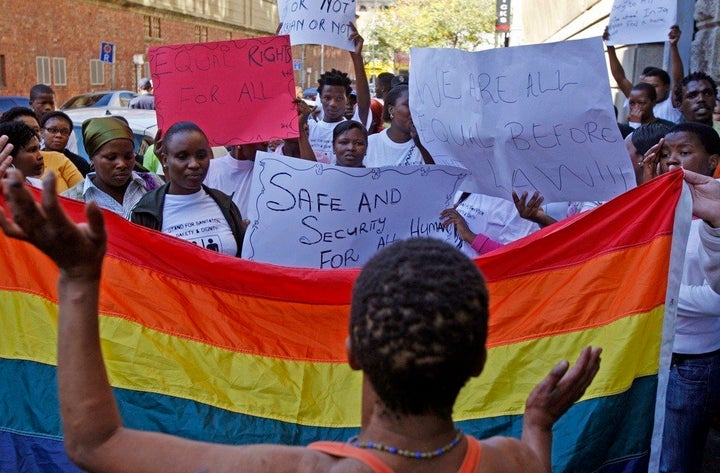 In 2004, leading African gay rights activist Fannyann Eddy was brutally murdered while she worked alone in the office of the gay rights organization she founded in Sierra Leone. She was a courageous crusader for the rights of Africa's lesbian, gay, bisexual and transgender community. Years after Fannyann's death, the state of LGBT rights in Africa may at first blush seem woefully bleak, but in fact now is a time for cautious hope.
African NGOs and community groups championing the rights of Africa's sexual minorities are publicly condemning institutionalized homophobia, filing lawsuits arguing for the recognition of LGBT rights, and taking their grievances directly to government officials -- collective action that was exceedingly rare at the time of Fannyann Eddy's death.
In spite of ongoing discrimination against Africa's sexual minorities, fearless advocates fighting for LGBT rights continue to win small but significant victories. As the law school human rights program I lead grew, I remembered Fannyann and looked for opportunities to collaborate with some of those brave protest voices.
My program began working with a Malawian human rights NGO on a project crafting constitutional and international legal arguments against Malawi's anti-sodomy law, which criminalizes sex between men. While working on the project, we were shocked when in January the Malawi government passed a new discriminatory law also criminalizing sex between women.
One could certainly argue that Malawi's recent criminalization of lesbian sex is yet another example of rampant institutionalized homophobia on the continent. But, refreshingly, over 40 African NGOs quickly condemned the new law as an affront to human rights in a strongly worded public letter of protest. Africa's mushrooming indigenous LGBT rights movement created the political space for this swift and strong civil society condemnation. Public rebukes of homophobia in what is essentially a "closeted" continent are deeply important -- when marginalized groups refuse to silently swallow the bitterness of their suffering, true social movements can blossom.
There was a similar strong public denunciation of the recent homophobic and shameful action of the African Commission on Human and Peoples' Rights, the continent's leading quasi-judicial human rights body. In 2010, the Commission, tasked with promoting and protecting human rights on the continent, refused to grant observer status to an African lesbian rights NGO, despite the fact that the group had fulfilled all of the Commission's administrative requirements. African civil society organizations publicly condemned the Commission's disgraceful and discriminatory decision, flooding the Commission with letters of protest, bringing media attention to the injustice, and demanding that the Commission live up to its human rights mandate and reverse its decision.
In addition to public condemnation of institutionalized acts of homophobia, African gay rights activists have begun to take their righteous grievances to court. In a landmark case for gay rights in Africa, in January the Ugandan High Court held that it is unconstitutional for Ugandan media companies to out alleged homosexuals in their publications. Most importantly, the court affirmed the rights of LGBT people to privacy and dignity.
One of the main plaintiffs in the lawsuit was David Kato, a leading Ugandan gay rights activist who sued a Ugandan newspaper after it ran a cover story with his picture above the title "Hang Them." Weeks after winning the lawsuit, Kato was murdered. The successful lawsuit was one of his last acts of courage before his death, and it will serve as persuasive and powerful legal precedent for future lawsuits on the continent challenging attacks on LGBT rights.
In April, human rights defenders in Botswana filed a landmark case in the country's High Court, suing the government in an attempt to decriminalize homosexuality. And gay rights activists in South Africa are soon expected to file a lawsuit in South Africa's Constitutional Court challenging the government's failure to sign on to a United Nations statement condemning human rights violations against LGBT people, despite the fact that gay rights are recognized in the South African constitution.
Activists have also been taking their grievances straight to the halls of government. A small group of South African lesbian activists rallying against 'corrective rape,' a hate crime in which men rape lesbian women in order to 'turn' them straight, recently led a bold international petition drive, obtained tens of thousands of signatures from 163 countries condemning the practice, and presented it directly to the South African Parliament. Due to their activism, South African government officials have vowed to develop a national action plan to confront 'corrective rape.'
These are but a few examples of the overlooked victories and defiant determination that mark the burgeoning African LGBT rights movement. Throughout the continent, organizations and activists bravely championing LGBT rights, echoing the spirit of Fannyann Eddy, refuse to be silent in the face of discrimination. It is with this spirit of optimism and fierce determination that those of us dedicated to the rights of LGBT people everywhere must, in solidarity, approach the struggle for LGBT rights in Africa.
Related
Popular in the Community