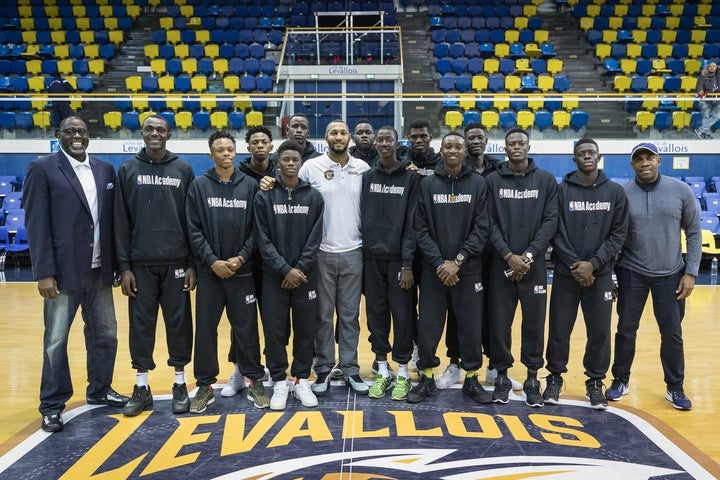 A talented team of prospects from NBA Academy Africa recently concluded a tour of Europe, spending time in Paris and Prague.
Participating in training sessions, playing games against local teams, and visiting cultural sites and attractions, the tour showcased the National Basketball Association's and SEED Project's (Sports for Education and Economic Development, a non-profit organization based in Thies, Senegal) commitment to use basketball as a platform to civically engage youth in academic, athletic, leadership, and diplomacy.
"The NBA Academy Africa European tour is part of the NBA Academies' holistic, 360-degree approach to player development," said NBA Vice President, International Basketball Operations & Head of Elite Basketball, Brooks Meek.
"Not only will our academy athletes improve by playing against elite competition, they'll also learn invaluable life skills by traveling internationally and being immersed in different cultures."
"This trip will be instrumental in the development of NBA Academy Africa prospects on and off the court," said Meek.
The NBA Academy Africa prospects attended a Paris-Levallois' game, participated in a clinic with students of the NBA Basketball School in Paris, toured PSG stadium, and participate in a meet and greet with French National Team member Boris Diaw, whose father was born in Senegal.
"It is an incredible pleasure to be able to see the Parc des Princes, where my favorite players play. It is a very inspiring source for me to be here and to be able to visit this magnificent stadium."
The NBA's international elite development initiative consisting of a network of elite basketball training centers around the world, NBA Academies aim to develop top international male and female prospects.
With NBA Academies in Hangzhou, Jinan; Urumqi, China; Canberra, Australia; and Delhi National Capital Region (NCR), India, students-athletes around the world have opportunities to develop their athletic abilities and learn principles of education, life skills and responsible citizenship.
Offering educational development, exposing elite student-athletes to NBA-level coaching, facilities and competition and provide a global framework for maximum success, NBA Academies builds on the NBA's existing basketball and youth development initiatives in Africa, including Jr. NBA programs in Cameroon, Congo, Kenya, Morocco, Mozambique, Nigeria, Ivory Coast, Tanzania, Uganda, Senegal and South Africa.
"Our guys competed in late June at the first NBA Academies tournament in Canberra, Australia," said NBA Vice President and Managing Director for Africa, Amadou Gallo Fall. The tours serve as an evaluation tool of sorts as well.
"We are still scouting talent across Africa," said Fall, "we want to be very deliberate and ensure the best of the best are given an opportunity."
Dedicated to providing student athletes world-class, comprehensive training and education "so they have the resources to achieve on the court and in life," Fall founded SEED to build "a predictable path for African youth" through sport.
SEED's 20th Anniversary campaign launches a series of events throughout the year with the 16th edition of the SEED Hoop Forum taking place in Senegal in May.
In February, the top 40 boys and 25 girls from Africa, the Americas, Asia and Europe will participate in activities, at the Los Angeles Lakers Practice Facility – UCLA Health Training Center, surrounding the 67th edition of the NBA All-Star Game.
NAME Position Country Age Height || ABDOU HALIL BARRE F Benin 14 6'9 || PAPE K. CAMARA G Senegal 19 6'2 || IBOU DIANKO BADJI C Senegal 15 7'1 || CHEIKH FAYE G Senegal 19 || MUDIAGA TIMOTHY IGHOEFE C Nigeria 17 6'11 || THIERNO D. KEITA G Senegal 19 6'5 || JOHN KENOYE G/F Nigeria 17 6'5 || PATRICK MWAMBA G/F Democratic Republic of Congo 18 6'6 || EL HADJI AMADOU S. N'DIAYE C Senegal 19 6'10 || MODIBO SANOGO F Mali 16 6'9 || SALIOU SEYE G/F Senegal 16 6'6 || EFEMINA TENNYSON ABOGIDI F Nigeria 16 6'10 || KURT-CURRY WEGSCHEIDER G Central African Republic 16 6'3