Rajni Perera Illustrates A Future Power People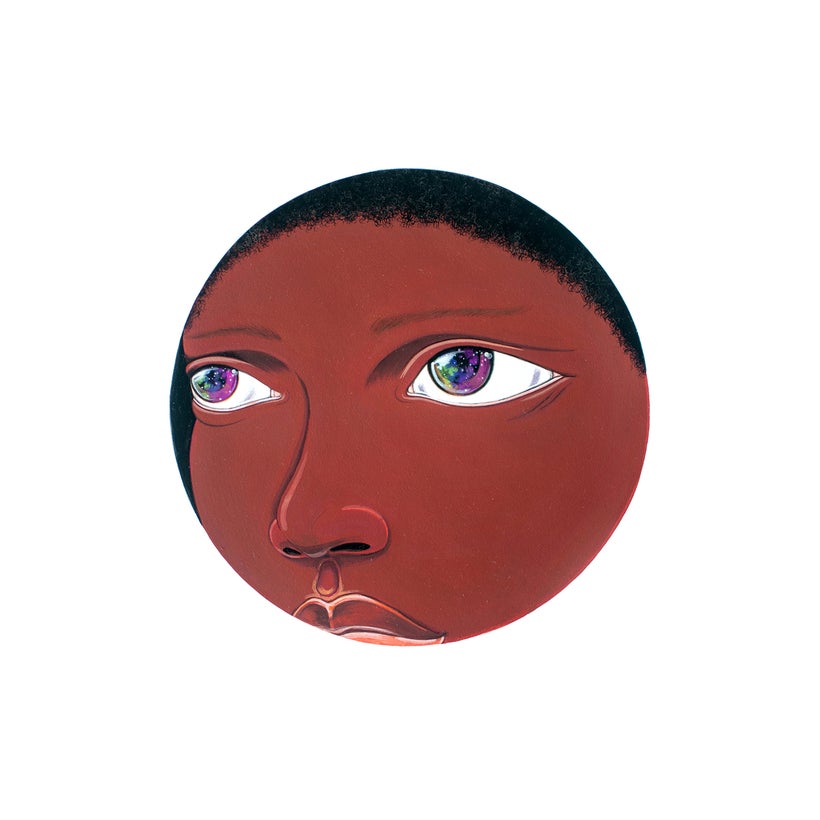 "The central themes of Neo-exoticism, or perceptions of ethnic female sexuality prevalent in Western culture – a set of  (mostly manufactured) ideas used to market products to wealthy Anglosaxon consumers, as well as perpetuate an exoticized, idealized image of ethnic female sexuality - are explored further." www.rajniperera.com
What happens when we are no longer "here", amongst the living?   Where does our knowing, being and consciousness go? How do we get back to where we come from? How do the future and the past intersect with one another? How do our future selves intersect with our aboriginal selves to create our present being? What is the difference between the constructs of feminine and male energy?
These are some of the questions inspired by Rajni Perera's work. These questions are evidence as to how the work of artists as Rajni Perera are catalysts to our globe and a brilliant struggle to move into the new power paradigm. The artwork of Rajni, particularly the meditation inspired by her 2013-2015 meditation and heroine Afrika Galaktika, a searing vanguard, a thin line of demarcation between the here and now and the future expressed by so many artists and writers of the Afro-Futurism movement.
Toronto based artist Rajni Perera (www.rajniperera.com) was kind enough to lend insights into her process, inspirations and the impact of her work on individual perspectives and how we see ourselves.
1.) Which one – Star Wars, Frank Herbert's Dune Lord of the Rings or Star Trek – which is the greatest science fiction/fantasy franchise? Or, do you believe that title belongs moreso to Marvel's X-Men or Avengers? Or, perhaps, it is an altogether different franchise not as well known?
Rajni Perera (RP): I really like Star Wars and Star Trek - the science fiction world I create out of lies closer to that of Jean Giraud's, Frank Frazetta's and HR Geiger's work from the earlier Heavy Metal magazines, the anime series Robotech and similar ones like Voltron. Manga stories like Lum, anything by Osamu Tezuka, the huge crazy epics by Hayao Miyazaki...not much from the west in terms of inspiring the look of my work, although I did some Top Cow comics (Witchblade, Gen 13) growing up. So I'd have to side with 'not well known' on this one, I guess.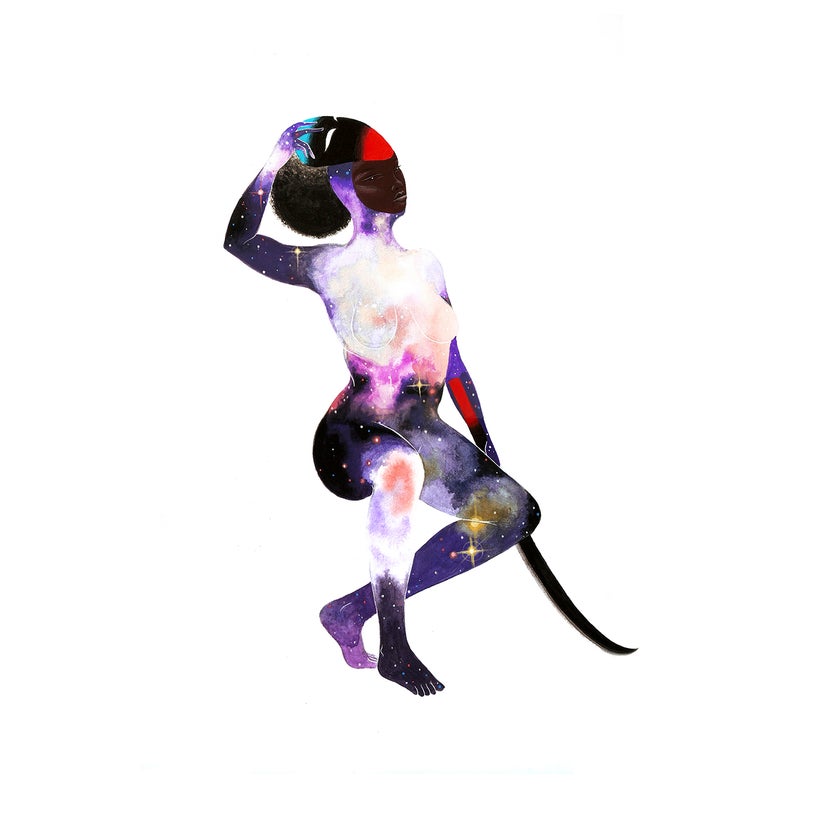 "The central themes of Neo-exoticism, or perceptions of ethnic female sexuality prevalent in Western culture – a set of  (mostly manufactured) ideas used to market products to wealthy Anglosaxon consumers, as well as perpetuate an exoticized, idealized image of ethnic female sexuality - are explored further." www.rajniperera.com
2.) The X-Men's Storm, Halle Berry's Catwoman, Pam Grier's Foxy Brown, Sheba Baby and Jackie Brown, Zoe Saldana's Superhero Gamora from Guardians of the Galaxy are all black heroines who have had an impact on world popular culture or a 'global imagination' if you will. Which is your favorite all time heroine? Why?
RP: I really liked Foxy Brown. The special thing about blaxploitation for me was that it wasn't the same as a Hollywood-style heteronormative ideal. The issues of Black America were not covered by mainstream media, so a subculture had to be created out of necessity. Culture is, among other things, a mirror. When a mirror is too small for everyone to be able to see themselves, other mirrors have to be made. Again it is from subcultures that I'm really inspired, from which I gain the most insight. My first heroines were Shera and Captain Dana Sterling from Robotech, but I didn't see myself or my friends in those worlds. I wanted to make one for us.
"As these images begin to saturate global media, they also crystalize into the imaginations, hopes and dreams of displaced peoples. Other futures beg to unravel; fantastic and explosive, filled with revolution and paradigm shifts of thought and vision." www.rajniperera.com
3.) Are there any artists- performance, literary, painting - that represent your aesthetic or are you and your work a once in a lifetime experience? The issues of ethnicity, cultural heritage, gods, monsters, the taboo, reverence, are all explored within your work without limitation on imagination, subject or what is believed to be the popular normative.
RP: Of course there are. This is 2016 we're talking about here...I'm pretty sure Nep Sidhu comes from the same planet as me, Wangechi Mutu, Andrew Thomas Huang. So does Motohiro Hayakawa, Inka Essenhigh...who else? Lots. Their work also inspires me quite a bit so I don't know if we're contemporaries per se. I think Flying Lotus, Thundercat, Hiatus Kaiyote, Shabazz Palaces, Bjork...they're all musical artists but I see a matching aesthetic there, their work drives me and inspires me.
"It's exciting. I've just applied for a grant and am working towards something like a 20-piece series, including some ceramic sculpture. I'm having a lot of fun making this series, I want to talk about exoticism in a new way that is new and sort of glamorous with a scifi edge. When I start a piece I have a very specific vision of what I want and my work process is very singular and focused. I'm going into blaxploitation and afrofuturism with AFRIKA and I find new inspiration all the time through things like street style, high fashion, anime, comics, the internet…I have a lot of friends who design clothing and jewelery, and being surrounded by that type of atmosphere is great. They're full of creative sparks and it's entirely infectious." www.hermannaudrey.com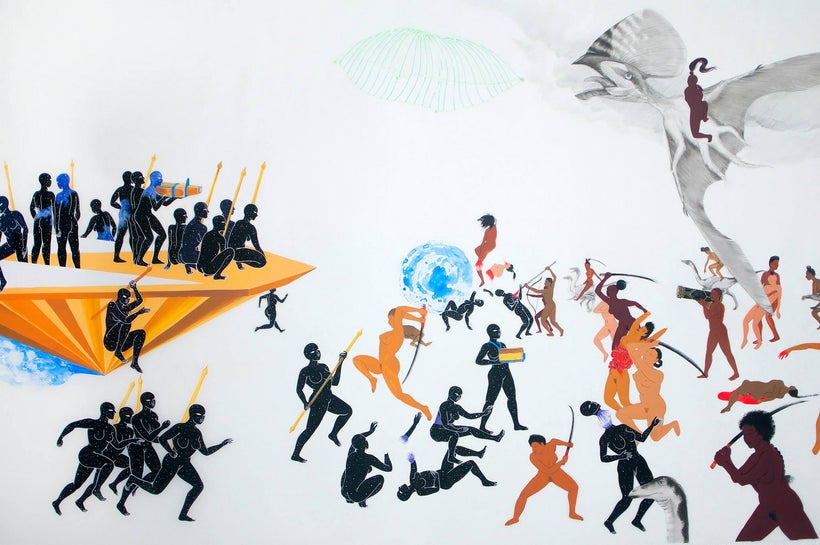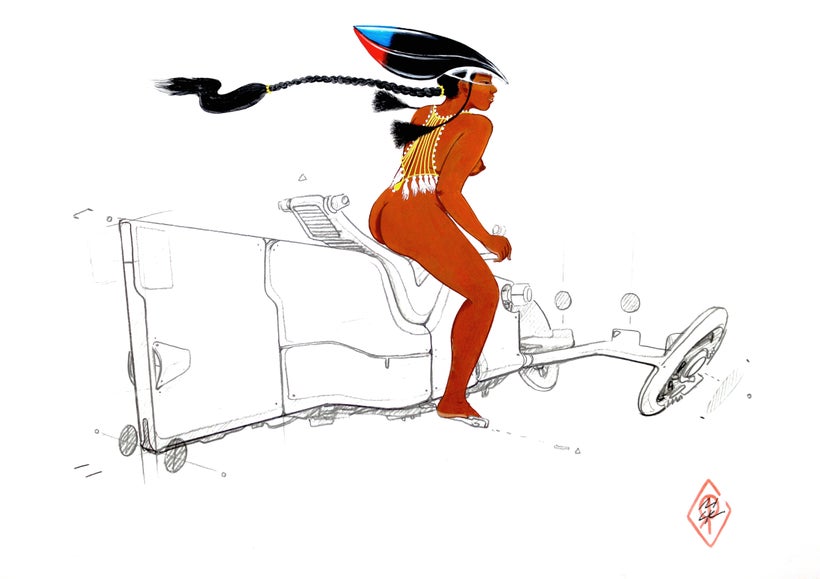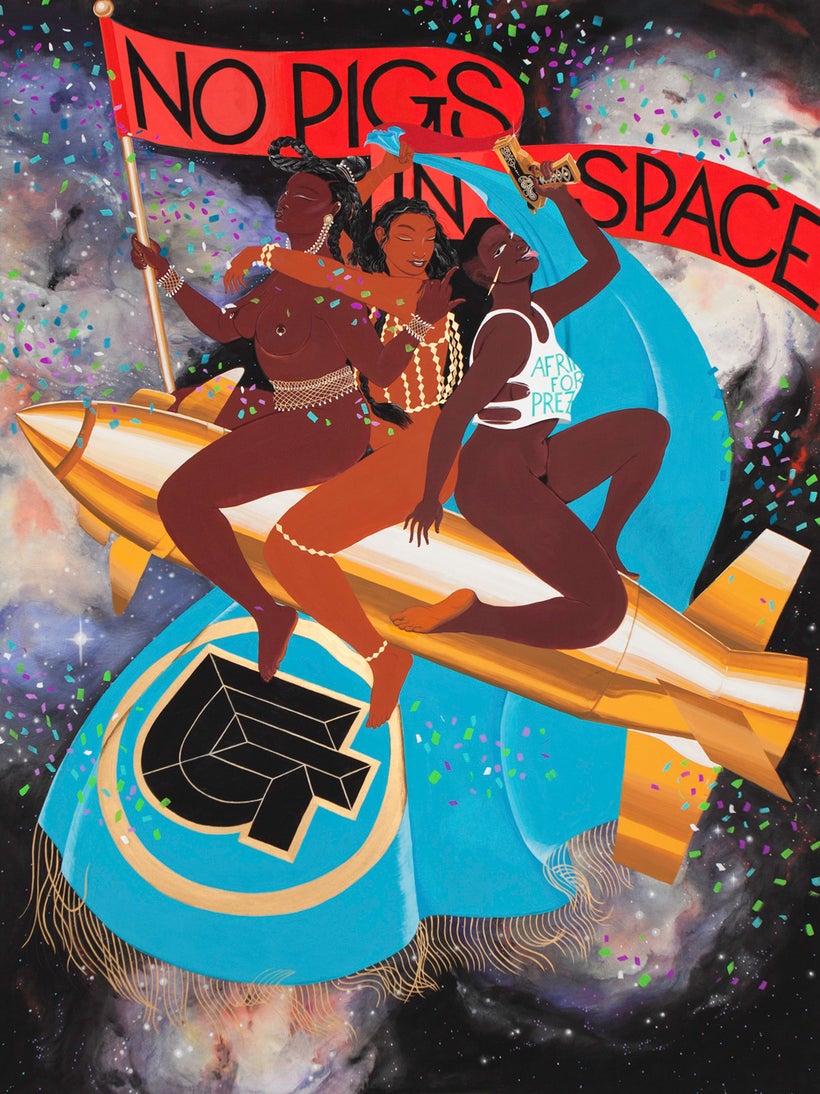 "Other futures beg to unravel; fantastic and explosive, filled with revolution and paradigm shifts of thought and vision." www.rajniperera.com
4.) Afrika Galaktika is a triumph of thematic, visionary, stylistic work. It is quite literally out of this world. What was the process for creating this gallery showing? What were the inspirations you pulled from to create the work? I noted the influence of comics, fantasy, afro-futurism and aboriginal cultures. I noted very strong thematic constructs against mainstream perceptions of women, global "black" culture, and "white power".
RP: I think I was always waiting to make this series, due to an underrepresentation of diasporic people and attitudes in the genres I loved so well. RIght out of school I did a series called The New Ethnography highlighting the ongoing colonization of the coloured body in popular Western culture, and Afrika Galaktika is very much an extension of that aesthetically speaking, although it is much more about our bodies' absence in a particular subculture.
5.) You hail from Toronto but your work has been exhibited all over the world – places as diverse as Houston, Sri Lanka and Germany. Is there a common emotion associated with reception to your work? Do different cultures respond differently to your work? If so, how?
RP: Yes they do. In some places there is a strange empowering effect of the work, the same as if you were to sculpt an idol and place in a made-up house of worship. I think this comes from the specific amalgamation of references and influences which reflect deeply in the (mostly millennial) audience, such as a strong belief in a non-white-male-focused future, a shoutout to Japanese animation and manga aesthetics, a love of one's roots and their hand in concepts of adornment, ritual and powermaking, a love of space travel and our belief in it as some sort of salvation, science fiction in general. These are some things that I feel contribute to the reception of the work in most places, or themes that I notice. In other places it is met with criticism - sometimes because I'm not black, others because I don't have a specific type of education. And that's alright, I'm creating from a very specific here and now and I think there is value in that.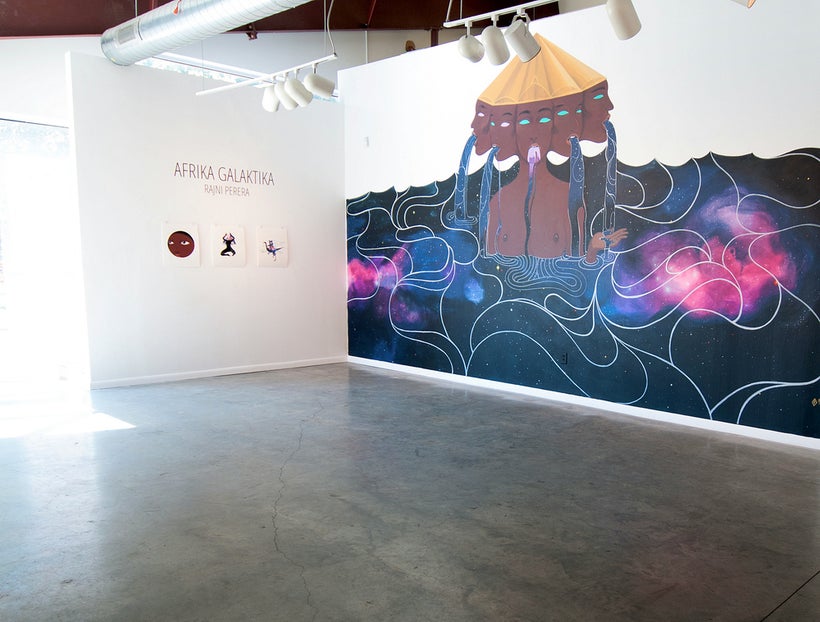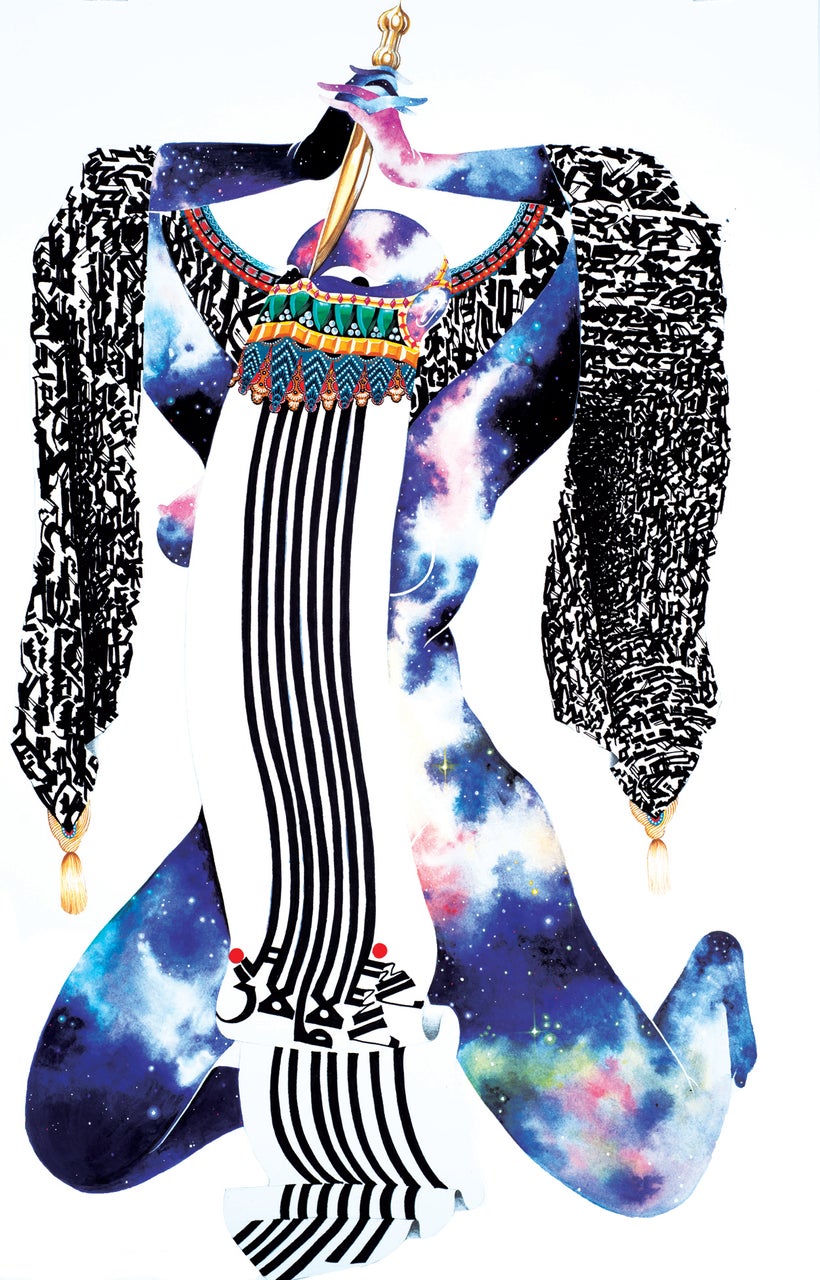 "The body shapes are in opposition to contemporary notions of beauty, and an overt sexiness, both in pose and proportion, and the cultural implications thereof, are brought to the surface. The styles of armor and weapons are referential to and derivative of ethnographic photographs of tribal women still being published today; the legacy of colonial ethnography used to objectify and categorize those thought of as the 'less civilized' portion of the human population. Deep-space images and the influence of Afrofuturism go hand in hand as an inspirational launchpad. As these images begin to saturate global media, they also crystalize into the imaginations, hopes and dreams of displaced peoples." www.rajniperera.com
6.) How do men and women of color respond to your work?
RP: I have a good response to the series overall. A lot of WOC, especially science fiction lovers and comic book nerds feel the same way in regards to wanting to see ourselves in fantastic futures, which offer a very different feeling of possibility than say, only seeing ourselves in stable, egalitarian worlds, which is something we still have to fight for. I want something more than that. And so do most WOC.
7.) What do your children think of your work?
RP: My daughter loves everything I paint unconditionally, but she is biased after all.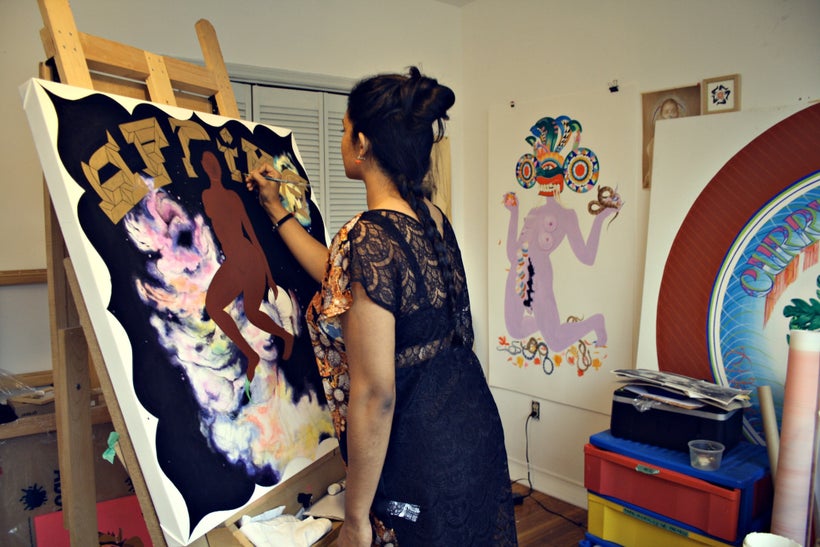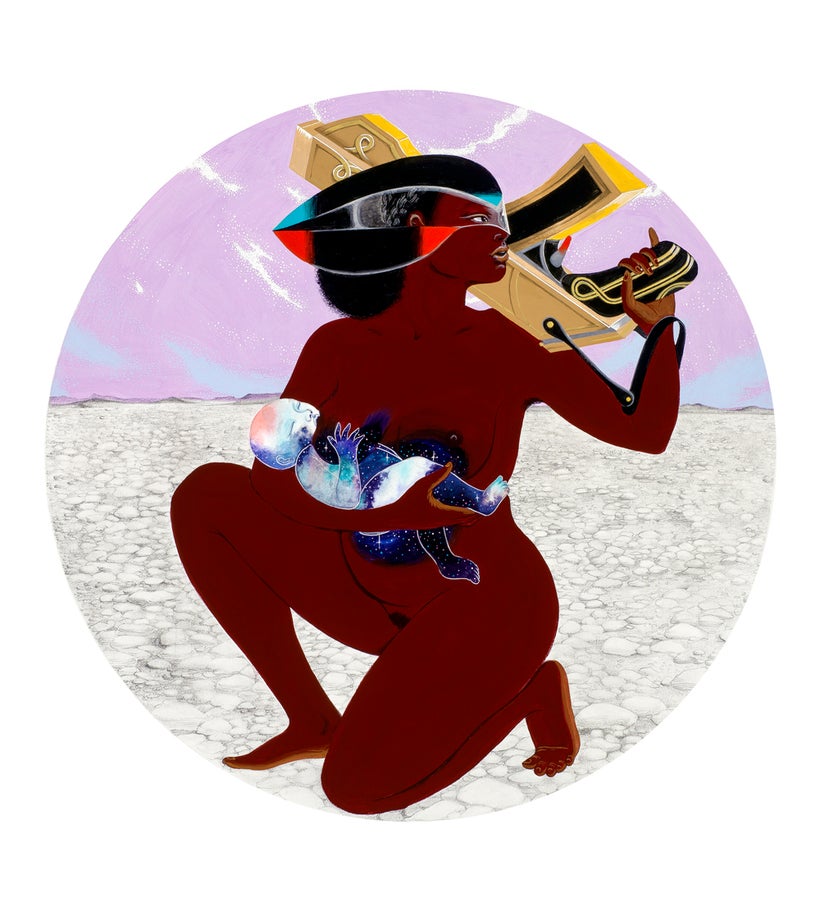 "This revolt on the picture plane is personified by the image of AFRIKA GALAKTIKA, a black heroine who travels through space and takes up arms with other warriors in displays of brutal, dynamic and arousing power – a counterbalance to white military spectacle as portrayed in propaganda on screen, print and other advertising media." www.rajniperera.com
REAL LIFE. REAL NEWS. REAL VOICES.
Help us tell more of the stories that matter from voices that too often remain unheard.
This post was published on the now-closed HuffPost Contributor platform. Contributors control their own work and posted freely to our site. If you need to flag this entry as abusive,
send us an email
.