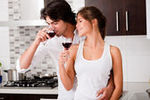 The hit film Sideways, which debuted in 2004, still holds up with pinot noir as the clever matchmaker.
To recap, the comedy follows the antics of two friends, Miles Raymond (Paul Giamatti) and Jack Cole (Thomas Haden Church).
Miles is a wine aficionado and a writer, albeit an unpublished one to date. Jack is an actor who is soon to be married. But the groom-to-be is hoping for one more fling before he ties the knot.
The duo decided to take a road trip through the wine country of Santa Ynez Valley. During their junket, Miles falls for a woman named Maya, and pinot noir plays the starring role in their love affair.
My husband, Tim, and I are both wine writers who have long embraced the sex appeal of pinot. As we watched the movie, we alerted each other to the pinot dialogue coming up. It was this exchange that made us come to see pinot as "bottled romance." Take a peek at the following pinot-infused conversation between Miles and Maya:
Maya: "Why are you so into pinot? It's like a thing with you."
Miles: "I don't know. It's a hard grape to grow. As you know, it's thin-skinned, temperamental, and ripens early. It's not a survivor like cabernet that can grow anywhere and thrive even when neglected. Pinot needs constant care and attention and, in fact, can only grow in specific little tucked away corners of the world. Only the most patient and nurturing growers can do it really, can tap into pinot's most fragile, delicate qualities. Only when someone has taken the time to truly understand its potential, can pinot be coaxed into its fullest expression. When that happens, its flavors are the most haunting, and brilliant, and subtle, and thrilling, and ancient on the planet."
This exchange between Miles and Maya is priceless, and I'm grateful for it. It pinpoints when Miles and Maya fall in love.
Pinot is a potent love potion.
REAL LIFE. REAL NEWS. REAL VOICES.
Help us tell more of the stories that matter from voices that too often remain unheard.