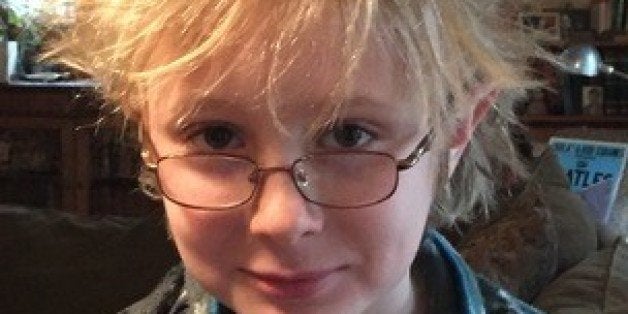 My 10-year-old son, my youngest, badly needs a haircut--and we just can't seem to get around to it.
I feel bad for him. He actually crossed the line between needing a haircut and needing barrettes quite a while ago. Add to that the fact that he is on a swim team, meaning that chlorine has turned his hair to straw...well, it's kind of out of control.
But he doesn't mind (he combs it down with water, ends up with a style reminiscent of the Monkees) and we're busy--and at this point in our parenthood career (feels like a career, somehow) we are past caring about how our kids look.
Liam was a surprise baby, born when I was almost 42, when my eldest child at that point was 14. He came along in a sling to high school marching band meetings and swim meets, took his naps in the car while we shuffled the other four to school and activities, often ate when we had time to feed him as opposed to when he was hungry...by the time he was born, we were just different parents than when we started.
When we started, we were all about doing things perfectly. I obsessed about every outfit, every snack, every activity. Bedtime was exact. Less than perfect report cards (even in preschool) were cause for concern, consternation and action. I huddled with the mothers at elementary school pickup, discussing the latest news or teacher scuttlebutt. I was always comparing my kids and my parenting to what I saw around me.
It's not that I don't care about what Liam eats or wears or how he does in school. I do. It's just that over time, I've learned that micromanaging is not only exhausting, it's often useless--or counterproductive.
Also, after raising teenagers (we now have two graduated from college), I've learned the truth of the adage, "Little kids, little problems. Big kids, big problems."
Here's what I've learned is important.
It's important to teach your child to be respectful and kind
Being intellectually curious and loving to learn, and having a strong work ethic, play out way better in life than having perfect grades
Loving your child means loving them no matter what, and making sure that in their heart, they know not only that you feel that way, but that you will be there when it matters
Life is short and we are always vulnerable...it's so important to enjoy each other and each day, and to teach your children to do the same.
Haircuts just aren't in there anywhere. Nor are clothes that match (or pants that are long enough), the perfect diet, excelling at swimming or exact bedtimes. We actually almost got his hair cut yesterday, but decided that it would be more fun to watch some demolition work near his grandmother's house instead (and eat yummy snacks at her house afterward).
Like I said, Liam doesn't mind. He's too busy enjoying each day.