Buddhist monk Palden Gyatso endured 33 years of torture at the hands of the Chinese government in Tibet's most brutal prison. He is in New York right now and you are invited to hear his life story -- one of the greatest never told.
Andrei Sakharov, Elie Wiesel, Aleksandr Solzhenitsyn, Nelson Mandela, Aung San Suu Kyi, Armando Valladares... they each represent the triumph of the human spirit over tyranny and oppression.
Valladares spent 22 years in a Cuban prison; Wiesel survived Auschwitz; Mandela was imprisoned under apartheid for 26 years; Suu Kyi embodies the struggle for freedom in Burma; Solzhenitsyn survived and exposed Stalin's gulag; Sakharov became a monument to freedom in Communist Russia (sadly, his widow and equal, Elena Bonner, passed away this past Saturday).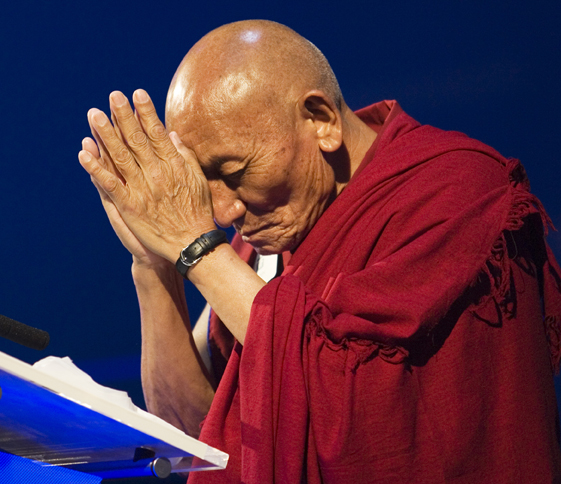 Gyatso is, like those mentioned above, a symbol of dignity in the worldwide struggle for human liberty and freedom. In 1959, during the Tibetan uprising, Gyatso was arrested for refusing to compromise his religious beliefs. He spent the next 33 years under forced reeducation and constant torture in Chinese prisons and labor camps. During all that time Gyatso never ceased to abide by the Buddha's peaceful teachings.
Upon his release in 1992, he managed to smuggle the instruments of torture used by the Chinese authorities against him. He understood the value of having material proof of human rights abuses in Tibet. His memoir, Fire Under the Snow, ranks with the greatest works of the literature of suffering and survival.
I began communication with Gyatso in 2005, and had the honor of meeting him in 2009. After hearing his story, it is painful to watch the never-ending endorsement that the Western world bestows on the regime that conducted Gyatso's torture. Despite America giving China "most favored nation" trading status; despite the overwhelming number of American consumer goods made in China; despite the media's ongoing obsession with China's status as the world's next economic superpower; despite the distracting dazzle of the Beijing Olympics; the undeniable truth remains. The Chinese regime is one of infinite viciousness, cold-blooded repression, and raw brutality.
With systems for repression like the laogai -- a prison system of more than three million slave laborers working to make the country's economic miracles possible -- China is not headed to democratization. It is the last great communist power, and its apparatus of control and oppression remains unwavering.
Anyone who wishes to understand the tyrannical and malicious nature of China's rulers should take the opportunity to learn more about individuals like Rebiya Kadeer, Liu Xiaobo, (the currently imprisoned 2010 Nobel Peace Prize winner), and, of course, the venerable Palden Gyatso.
Gyatso has begun a four-month speaking tour in the US, coordinated by Built on Respect, with the help of Care2 and the Robin Reed Trust. See the list of appearances included below, and check the Care2 website for updates.
At the age of eighty, Gyatso continues to fuel his inner flame. His tireless efforts to raise awareness about human rights in Tibet show that his passion for good still burns fiercely, despite, or rather because of, all that he has overcome. Meet him on Thursday, June 23rd 8-9:30pm at Jivamukti Yoga (841 Broadway # 2, New York, NY 10003-4704 (212) 353-0214) and on Saturday, June 25th 1:30-3:00pm at Jacques Marchais Museum (338 Lighthouse Avenue, Staten Island, NY 10306-1217 (718) 987-3500).
Related
Popular in the Community