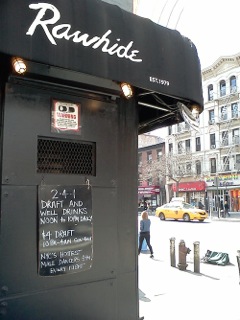 Outside Rawhide, a sign above the water dish was bad news for thirsty dogs...and hungry men.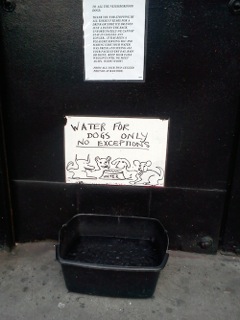 "Thank you for stopping by all these 33 years for a drink or some ice or even just a pat on the back...It has been a pleasure serving you and making sure your water was fresh and seeing all your faces every day, rain or shine."
And with that, confirmation was given to rumors that had been aggressively circling the darkened backrooms of cyberspace. Open since 1979 -- when some of 2013's most formidable barflies were mere pups, Rawhide (212 Eighth Ave.) closed for good on March 30.
"Unfortunately we cannot stay in Chelsea any longer," the sign explained to canines who, like straights, rarely entered the premises but would occasionally find themselves sniffing around the doorway.
The culprit wasn't a declining customer base. A new landlord -- and a subsequent increase in the monthly rent from $15,000 to $27,000 -- did what the Internet, Grindr and mayoral vice wars couldn't.
That's too bad -- because with Rawhide gone, Eight Avenue is left with a paltry base of retail establishments catering to men on the make, on the take and generally out for a good time (often with bad intentions, albeit ones those on the receiving end don't seem to mind).
The absence of Rawhide leaves GYM Sportsbar as the only sodomite-centric watering hole from 14th to 23rd Street -- a once-flaming runway that long ago reached a tipping point where purveyors of sexual thrills were handily outnumbered by vanilla To-Do List destinations.
How many drugstore, banking and soft-serve frozen yogurt opportunities does a person need in the course of nine blocks? I have nothing in particular against nannies pushing baby carriages and storefronts sporting corporate logos. But when cruising Eighth Avenue, that's not the kind of thing I'm looking to have shoved down my throat.
Not that we have much of a choice. Five days after Rawhide closed, a sign went up on the building's 21st Street side, hyping the former unapologetic cock market as a perfectly respectable "Corner Restaurant/Retail Space for Lease."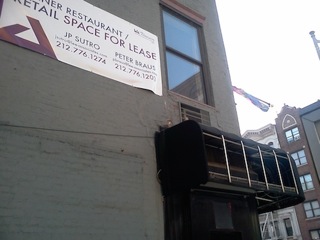 One day later, the name itself was gone from Rawhide's front and corner signage, in a whitewash campaign to make these pricey digs more appealing to potential tenants. I'll miss that manly, oversized "R," always there to hammer home the bar's first syllable.
That's the sign of the times I'll always be looking for on Eighth Avenue -- a place whose name conjures up visions of hot, shameful, outlaw behavior. I don't care what comes in there next. It'll be hard to swallow my pride and stick my you-know-what in it.
Sure, there are 24-hour porn establishments like the The Blue Store and Rainbow Station -- but without that loyal Rawhide customer base purchasing poppers and hitting the booths, how long do these iconic service stations have? And what about the Rawhide's stable of "NYC's Hottest Male Dancers, 8pm Every Night?" Who will stuff dollar bills in their G-strings and negotiate terms of after-hours surrender?
Somebody around here is getting hustled -- and for once, it's not me in the wee hours leading up to last call. That's just as well. With my apartment less than a block away, I've made only a handful of trips to Rawhide since living in this specific patch of Chelsea. I was intimately familiar with the place, though, while living in the Flatiron District -- when I'd regularly split the cab ride with likeminded men who did hard time shuttling back and forth between Rawhide and The Eagle (a 3-story leather hangout on 28th St. & 11th Ave.).
Proximity to a pair of thematically similar gay bars, I quickly learned, can be a dangerous thing...unless you're a social butterfly, a chronic drinker or a prolific cruiser -- or, lord help you, a potent combination of all three. There's a word for that around here. It's called "popular."
I was popular once. Not for as long as the Rawhide, though. Thirty-three years is a damn good run -- although its exit, while technically voluntary, seems forced and premature.
On the other hand, one's martyred demise at that particular age does has a way of ensuring immortality.
Author's note: Portions of this blog appeared in the April 3, 2013 edition of Chelsea Now newspaper.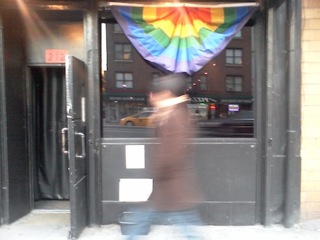 REAL LIFE. REAL NEWS. REAL VOICES.
Help us tell more of the stories that matter from voices that too often remain unheard.