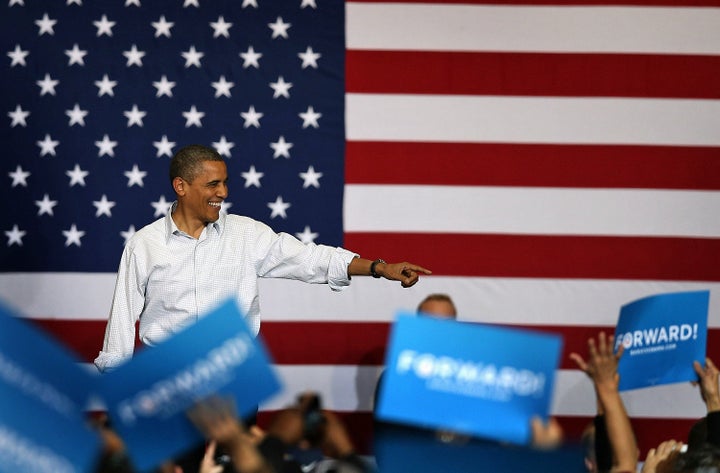 America just ended the most expensive election campaign in history -- $6 billion, according to an analysis of Federal Election Commission data by the Center for Responsive Politics. And that doesn't even count several hundred million dollars in undisclosed "shadow money" spent by non-profit issue advocacy groups who don't legally have to disclose their donors.
"In the new campaign finance landscape post-Citizens United, we're seeing historic spending levels spurred by outside groups dominated by a small number of individuals and organizations making exceptional contributions," according to the Center for Responsive Politics Executive Director Sheila Krumholz.
Putting aside super PACS, the official presidential campaigns were dominated by wealthy donors. Governor Mitt Romney raised nearly 4.5 times as much from large individual donors as he did from small donors, and President Barack Obama's fabled grassroots fundraising machine raised nearly twice as much from large donors as small donors.
Meanwhile, in Congress, where smaller amounts of money can make a bigger difference, Congressional leaders raised tens of millions of dollars: Just in direct (non-super PAC) donations in the 2012 election cycle, John Boehner and Nancy Pelosi -- who were up for reelection for safe seats -- raised, $24,565,257 and $3,245,427, respectively, while Mitch McConnell and Harry Reid -- who were not even up for reelection -- raised $27,800,315 and $29,188,669. Of course, Congressional leaders don't just use such money for their own campaign, but parcel it out to other members of Congress in close elections who are then indebted to the party leaders and their donors for their jobs.
Whether you're president, a senator or a Congressperson, most likely you owe your office in large part to money from a relatively small number of rich people.
So despite the election results, when Congress reconvenes it will be no surprise if it's priorities are those of its wealthy backers more than those of the majority of voters.
For example, a bipartisan national poll of voters conducted by The Mellman Group and Ayres, McHenry & Associates found that when given an "either/or' choice, 29 percent want Washington to focus on deficit reduction while 67 percent favor job creation. When Bloomberg offered voters a choice of 8 issues from which to pick the single most import, 43 percent chose Unemployment and jobs while 14% chose the Federal deficit.
But despite voter preferences, it's a safe bet that in the next few months the debate in Washington will focus more on the deficit than jobs. The finance industry -- the top contributor to the presidential campaign -- will try to win through backroom negotiations what it couldn't win through open elections.
But in reaction to such trends, a citizens movement to end the domination of our country by the forces of big money and reclaim American democracy is growing.
Spurred on by this citizen's movements, over 290 local governments and seven state legislatures have passed resolutions backing a constitutional amendment to overturn Citizens United, 125 members of Congress have sponsored one of several Amendments to do the same and despite Mitt Romney's campaign comment that "corporations are people, too," both President Obama and John McCain have also backed overturning Citizens United.
On Saturday, November 17, the Southern California Money Out/Voters In Coalition is holding a major Conference on ending the influence of corporations and wealthy individuals on American democracy at UCLA Law School. Nationally renowned speakers include Harvard Law Professor Lawrence Lessig, Trevor Potter who is former Chair of the Federal Elections Commission and attorney to Stephen Colbert and John McCain, Jeffrey Clements who is author of the book "Corporations are Not People" (with a forward by Bill Moyers), and American Prospect editor Garrett Epps. Participants will also have the opportunity to vote on the principles they believe should be included in a Constitutional Amendment.

For more information and to register for the Conference, click here.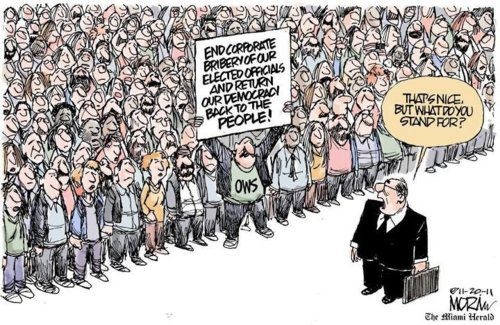 And on Election Day last Tuesday, more than 7 million voters weighed in directly with their views on Citizens United.
•In Montana, which Mitt Romney won with 55 percent of the vote, 75 percent of voters backed Montana Initiative 166, which charges Montana's elected officials with supporting a Constitutional Amendment to create a level playing field in campaign spending and establishes as official Montana policy that corporations are not people.
•In Colorado, 74 percent voted to support Amendment 65 instructing Colorado's congressional delegation to propose and support a constitutional amendment that allows Congress and the states to limit campaign contributions and spending that allow all citizens, regardless of wealth, to express their views on a level playing field.
•Seventy-eight percent of voters in more than half of Massachusetts' towns and cities voted to support local measures instructing their state legislators to support a constitutional amendment that corporations are not entitled to the constitutional rights of human beings and Congress and the states may place limits on political contributions and spending.
•By similar 70 to 80 percent margins, voters in cities like San Francisco, Chicago, Richmond, Eugene and Ashland voted to back resolutions calling for amending the Constitution to overturn Citizens United.
The movement to overturn Citizens United and restore democracy to the people crosses party lines and includes liberals, moderates and centrists. The lead spokespeople for the Montana ballot initiative were Democratic Governor Brian Schweitzer and Republican Lt. Governor John Bohlinger. Schweitzer promised that the Montana initiative would "start a prairie fire" to overturn Citizens United.
If you want to join the "prairie fire," you can find one of the many organizations involved at united4thepeople.org.

And if you're going to be in the Southern California area on November 17, you can register for the Money Out/Voters In Conference here.
(Full disclosure: I am one of the organizers of the Conference and will be moderating a panel.)
Popular in the Community