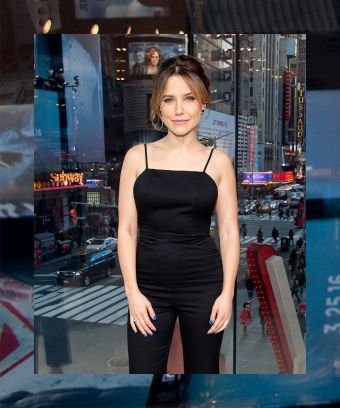 Imagine spending fifteen years working day and night at your dream job and then realizing you don't want it anymore. It's not an ah-ha! moment that's exclusive to the rich and the famous, of course, but for actress Sophia Bush, it was a decision that was, well, fifteen years in the making. After starring in hits like "One Tree Hill" and "John Tucker Must Die," and most recently "Chicago Fire," "Med," "Justice," and "P.D.," the actress is now a producer, and recently inked a deal with 20th Century Fox to produce her own show. On top of that — yeah, all of that — Bush isn't stopping: She's focusing hard on social work, too, which she speaks passionately about to Refinery29 co-founder and global editor-in-chief Christene Barberich on this week's episode of UnStyled.
While she may be known to most as a bonafide television darling, Bush has had a knack for social advocacy since she was a child. "Advocacy has been my life far before I had a platform for it. Back in the day, I started using Twitter because of the Deepwater Horizon oil spill. That's literally the reason I started an account," she says. Don't believe her? One scroll through Bush's Instagram and you'll find post after post on issues like gun control, reproductive rights, birth control, environmental legislation, and so much more. Surprisingly enough, her fans aren't as thrilled about her social work as you'd think.
"When I talk about that stuff, people go nuts about it because they can't process that I'm a social liberal, that I believe in equality for all, that I believe we should smash the patriarchy and systemic racism and actually make healthcare more easily accessible than weaponry," she reveals. "As they like to call me a 'libtard,' or a coastal elite, they're so shocked to find out that I've been a sharp shooter since I was twelve years old." Her life in front of the camera may be over (for now, at least), but that doesn't mean we won't be seeing any less of her.
Tune in to Bush's conversation with Barberich on these heavy-hitting topics, and a few lighter ones (like Bush's thoughts on personal style, celebrity stylists, and more) on this week's episode of UnStyled. In terms of doing it all, Bush has that on lock, but when it comes to doing the right things, she's an expert.
Why did you end your contract?
Sophia Bush: "I don't have to give everyone the specific break down of exactly why I left until I'm ready to do that. But, the overarching theme for me, was that I landed my dream job. I landed this job that, since I was 20 years old and trying to become an actor, I said I wanted. And aspects of it, don't get me wrong, were wonderful. But, I realized by the end of the second season I couldn't do that job anymore."
When do you feel like you'll be ready to tell your fans more about that?
SB: "I don't have any personal life drama. And like, you guys are literally idiots. Like, all of your theories about my life are always wrong. And P.S., you generally find out I'm single, like, a year after I am. I've been doing me for a year, and you all are just pissed? I don't care if you're pissed; it's not your life. You know? So, in a way, you sort of have to laugh. But also, it is tough to read thousands and thousands of comments of people; them just being, like, 'You have no respect for us and you didn't tell us,' and it's like, you know what? I had to respect myself in a situation where I didn't feel respected."