Glenn McMahon's bariatric surgery had only required an overnight hospital stay. A post-surgical complication, however, transformed Glenn's experience into 114 days of fighting for his life.
Glenn, a 56-year-old construction company owner from New Jersey, visited a local hospital for a procedural bariatric surgery on Jan. 7, 2016. After post-surgical difficulty removing his ventilator, Glenn aspirated. He soon developed pneumonia and acute respiratory distress syndrome (ARDS). Despite maximal support with a mechanical ventilator, Glenn's oxygen level was dangerously low from his severe pneumonia.
"There was no question after talking to [his physician] that Columbia was where we wanted to be," said Kathy McMahon, Glenn's wife, who was a pulmonary nurse for 35 years.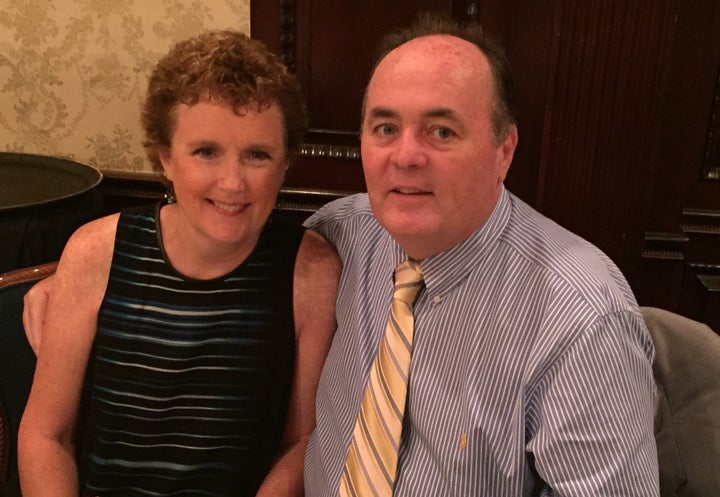 In NYP/Columbia's MICU, Glenn was supported with ECMO for 22 days. The cutting-edge device accorded Glenn's lungs vital time to begin recuperating from pneumonia and ARDS.
"Some people know what ECMO is, but most people don't. ECMO saved my life," said Glenn.
After being transferred from NYP/Columbia's intermediate care unit to a rehabilitation center in New Jersey, Glenn joined in-patient rehab and then outpatient therapy in order to regain strength in muscles atrophied during his hospital stay. Currently, Glenn's therapy is swiftly improving his physical abilities.
Glenn and Kathy remain firmly connected to the NYP/Columbia ECMO Program. As newly minted members of the NYP/Columbia ECMO Family Advisory Board, both are steadfast, passionate advocates for raising awareness about ECMO. They hope to ultimately aid current and future ECMO patients and their loved ones.
"I can't say enough about the staff. There aren't words to describe how grateful we both are… They looked out for my needs and [Glenn's] tremendous medical needs. They still reach out about how Glenn is, how I am. I feel like I became a part of the Columbia MICU family," said Kathy.
Related
Popular in the Community