One day last summer I found a lump in my breast. I'd been checking myself haphazardly over the years, never expecting to find anything of concern. But this was different. Just like a pea and not going anywhere.
It was a busy summer with work, culminating in a last-minute family trip to New Zealand, during which I turned 40. I posted a photo on Facebook of my birthday dinner, making sure it was a flattering one and, a little smugly, captioned it "40 feels good." But it didn't. I was tired, on edge, and increasingly conscious of this lump that suddenly felt a little sinister.
On my return to London, things happened quickly. I saw my GP who in turn referred me to the breast clinic. I told my boss I needed to work from home, explaining why in an offhand manner, only feeling a faint sense of alarm when I saw a tear in her eye. No need to panic, I assured her. I'd read the stats: only 1 in 20 women who visited the clinic had breast cancer. It wasn't even in my family. And I'd only just turned 40.
The day came. I worked from home that morning, the only concern I felt was whether it would rain. I walked to the hospital, underestimating how far it was from home and arrived drenched, flustered and only marginally appeased when I saw my sister waiting for me, anxious that I had support.
The rest of the day was a cliché in many ways and one I relived night after night for months afterwards. The ultrasound where the nurse became silent and slipped away to get the doctor. The reassuring pat on the arm. The words: it doesn't look benign. My wail: I have a 6-year-old daughter. The cup of tea in the private room. The rain falling incessantly. The instruction to come back in a week when pathology reports would be complete. The large glass of wine in a nearby pub where my sister and I sat and tried to digest the news.
A week later my diagnosis of breast cancer was confirmed ― a Grade 3 cyst, stage 2B cancer that had spread to my lymph nodes ― and I started on a treadmill of scans, blood tests and heart checks. The reassurance that my doctors were out to cure me was of little comfort as I cried repeatedly, imagining my husband and daughter living without me and my mother, at 82, burying her daughter.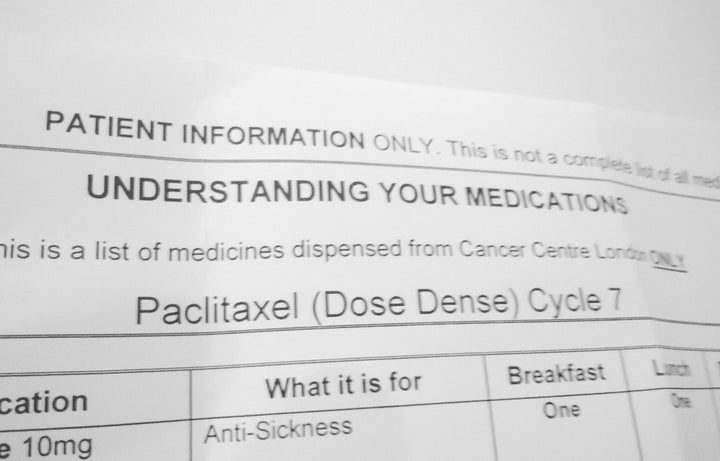 Everything happened swiftly. Cards arrived, many bouquets, thoughtful letters, prayers promised, generous gifts. An army of friends rallied and delivered on offers of dinners, babysitting and solid shoulders to lean on. My work colleagues were remarkable, offering quiet counsel, kindness and respect.
And then chemo began. It was as challenging as I expected. And yet I was deemed lucky. I had no mouth ulcers, diarrhea, constipation or vomiting. I managed to work part time from home – which was a godsend – and somehow stumbled through the exhaustion and onslaught on my emotions. As I sat in the easy chair in the chemo unit every fortnight, I tortured myself by scrutinizing photos from last summer. I envied that glossier, slimmer version of me in the photos for her innocence just as I feared for her as the cancer spread quickly. She had no idea. Who was that woman, I wondered, and would she ever return?
Eight rounds later and a reprieve of a few weeks I was ready for surgery. On the guidance of my surgeon I opted for wide local excision, otherwise known as breast conservation. I also had my lymph nodes removed. A textbook recovery in many ways and then it was on to twenty rounds of radiotherapy.
And now, as I face the end of active treatment and the possibility of saying "I had cancer," I wonder what lies next. The expectation that I should feel excitement as I finish treatment confuses me as I am cast adrift from the comfort of regular hospital visits. Will I forever fear the cancer's return? Will I ever feel like me again?
For now, all I can do is live my life. I am relieved that I was diagnosed and treated at a relatively early stage and will always be grateful for the excellent and compassionate care. But I still miss the girl I used to be. Maybe she'll come back. Or maybe the new version will be even better.