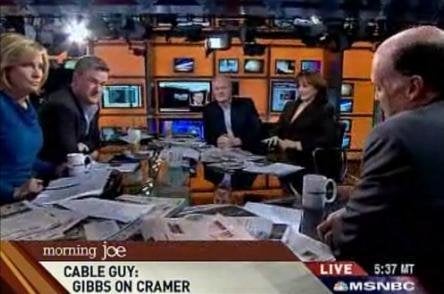 Today on Morning Joe, they talked about Syracuse winning, and how the kids in Park Slope are having a "virtual life" and how "the stability of [General Electric] was good" and how Rahm Emanuel shouldn't have sounded so gleeful about crisis presenting opportunities and how Bernie Madoff's apology was "lame," and how the movie "The Tao Of Steve" explains Barack Obama's approach to discussing the economy, and how the economy is like watching the Knicks, and pills and flasks. And there was good, substantive stuff on Afghanistan policy, and Mexico, and Dexter Filkins new book and the lessons learned from the Rihanna/Chris Brown incident, too.
Though perhaps one is forthcoming!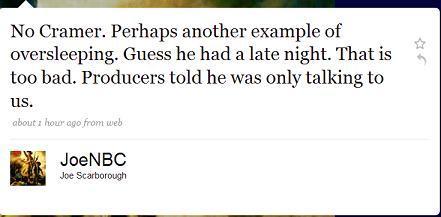 Late night? I wouldn't have thought going home after the taping, taking a mild sedative, and curling up in a fetal position would have been that taxing for Cramer.
But, okay. Look for Cramer, I guess, next week on MJ. Still, one would have thought the typically chatty MJ crew would have mentioned it, if only in passing. Just saying.
OH! Peggy Noonan did get asked about bongs this morning, so that was kind of awesome.
Calling all HuffPost superfans!
Sign up for membership to become a founding member and help shape HuffPost's next chapter