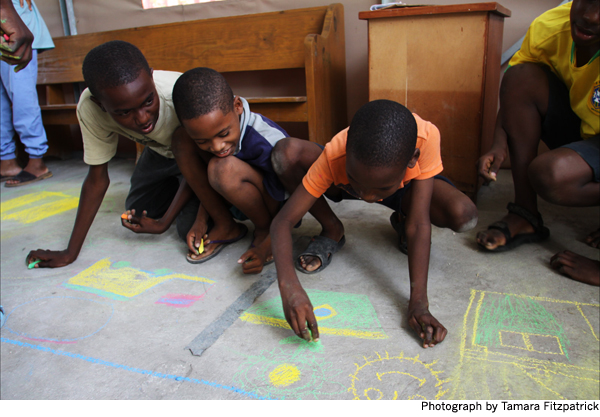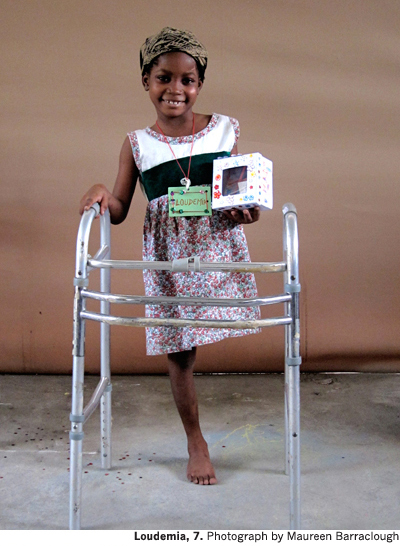 CARREFOUR, Haiti — Bounding through the overgrown grass in high squeal, these children, most living in rooms and tents on the campus of Hopital Adventiste d'Haiti, don't seem like they had just six months ago witnessed the world crash down around them, leaving their lives in heaps of bloodied flesh and rubble.
At the moment, they're feverishly focused on stuffing into plastic bags anything from the hospital grounds that could be sculpted into trees — fallen branches, banana leaves, rubble with colored paint on the smooth side of its surface, the ubiquitous discarded plastic bottle that would make a good, solid base.
Stefan, only three years old and barely clearing the grass himself, led his team of four on the mission, advancing forward with broad stomps, waving a branch high in the air like a flagstaff.
It is during these hours of play that the roughly two-dozen children who have been living at the hospital since the January 12 earthquake seem like any other, radiating with energy, bright eyes brimming with potential.
They say they dream of becoming doctors, presidents and nurses. Unanimously, their biggest wish is to go back to school.
"After the earthquake, I was very sad because it seemed like all of my friends died," says Juanito, 13, who wishes to become "an important person" and to that end carries a small notebook in his back pocket for recording daily incidentals.
"This play takes our stress away."
Nearly 4,000 schools were damaged or destroyed during the earthquake, and the rubble alone may take up to six years to clear before rebuilding can take place. Meanwhile, UNICEF claims that around 80 percent of the damaged schools have resumed classes in temporary structures like tents.
But the children living in Haiti's hospitals, many who have injuries limiting their mobility or are now parentless, "are normally sitting there staring at white walls. And that can be pretty depressing for them to have nothing to do while they're laying in bed," says Zola Bruce, executive director of the non-profit Unified for Global Healing.
Her organization brought four teachers and social workers, including herself, to run an arts program at the Adventist Hospital in July as part of its two-week medical mission there. The tree-making project was one of dozens that the children lined up for every day, clutching in Ziploc bags their previous assignments even though that wasn't required.
Bruce says she explored partnerships with five hospitals in Haiti before deciding to bring her team of 24 to Adventiste, and that none of them had any programming for children.
Nathan Lindsey, the Adventist Hospital's assistant administrator, confirms that Unified for Global Healing was the first volunteer group to bring people specifically to engage the kids. But when the hospital is slow, he says the staff will naturally play with the children, braiding the little girls' hair or allowing a tag-along during rounds.
And they find their own games to play. Popular toys include piles of rocks — which they race one-by-one across the room while humming and holding their breath, winner being the one who can make the biggest new pile without gasping for air — and plastic bottles that stand in for soccer balls.
But even at their young age, the children astutely recognize that adults are somehow needed to alleviate their suffering.
"They took the structure very seriously. They would come ten minutes before the workshops began and help us set up, which meant unfolding the blankets, getting the room ready, sweeping," says Susan D'Aloia, a youth educator and adjunct film professor who headed the community arts program.
Overwhelmingly, she says the favorite project was the "souvenir boxes," white cardboard boxes with a cellophane window that were decorated with stencils, markers, sequins and plastic gemstones. Inside, the children placed a folded, hand-drawn "snapshot" of their lives and anything small that was meaningful.
Perhaps for the children, who all lost their homes during the earthquake, the souvenir boxes were so special "because they don't have space of their own, so that little box is a space just for them," says D'Aloia.
One eight-year-old boy, who was living at the hospital because his father was sick with typhoid (and eventually died), slept with his box tucked under his pillow.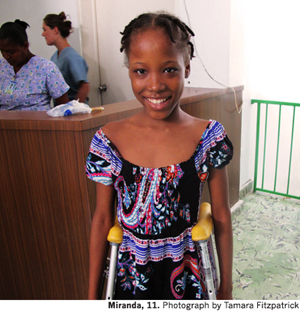 Miranda, a sylphlike 11-year-old who was pinned beneath her crumpled home and watched her father die, says her favorite thing about the arts program was "for sure talking and drawing about my life." An external fixator is bolted to her leg in six places, preventing her from playing her favorite game Double Dutch, but she says she only has one wish: to go back to school.
Although resilient, Haitian children have undeniably experienced deeply traumatic events that need to be processed.
Art therapy programs are still relatively rare in Haiti, but a high-profile example is the "Plas Timoun" art classes running out of two converted buses in Port-au-Prince. First Lady Michelle Obama visited one last spring, and the artwork hangs in the Smithsonian National Museum of African Art.
"They are having a lot of emotional pain that they're not able to get out in any other way," says Bruce. "Art is a way for us to make that connection with them; to help them feel comfortable during their healing process."
Calling all HuffPost superfans!
Sign up for membership to become a founding member and help shape HuffPost's next chapter