Although Fidel Castro turned over the daily governing of Cuba to his brother Raúl in 2008, his once-iron hand, bolstered by his diehard loyalists, continued to be felt behind the scenes. Now that Fidel is gone, that hand should be loosening its grip. Henceforth, perhaps even parodies of the Maximum Leader might be tolerated by authorities willing to rise above minor provocations. To be excessively thin-skinned and oversensitive, like a certain compulsive twitterer, signals insecurity, immaturity, and a lack of statesmanship. Instead, the ability of a government to ignore such provocations demonstrates confidence and leadership..
A test now is the Cuban government's treatment of performance artist Danilo Maldonado, nicknamed El Sexto, arrested once again, apparently for writing "Se fué" (He's gone) on a wall after Fidel's death. Raúl Castro would be well advised to just let it go. The authorities might take a lesson from their overreaction to Maldonado's caper of December 25, 2014, which ended up making them look foolish and petty--becoming a virtual laughingstock abroad. On that occasion, El Sexto had painted two (female) piglets with the names "Fidel" and "Raúl," then spent 10 months in prison without charge, released only after two hunger strikes and being named a prisoner of conscience by Amnesty International (AI), while also being heralded by well-known artists from around the world. He'd announced plans to repeat the painted pig performance again this Christmas, so perhaps his recent arrest was calculated to prevent that. But is arresting El Sexto preemptively actually making the Cuban government look even more ridiculous? It's not likely to bolster official legitimacy or the government's image either at home or abroad.
Now that Danilo is back in prison, at AI, we have again named him a prisoner of conscience (POC) and issued another an Urgent Action for him. Last year, on Human Rights Day, Dec. 10, he joined us in writing letters on behalf of other POCs at the AI DC office; this year, we were writing letters there on his behalf. After Fidel's death, the authorities would have been well advised to just ignore him and his "performance art" this time around; instead, by making a big deal, they are again arousing international support for him and against the Cuban government, though perhaps not within Cuba itself, where such information is blocked.
I previously posted on this forum regarding on El Sexto's prior arrest, and here is our current Amnesty International Urgent Action on his case.
Here's another update, this one on Cuban democracy advocate Sirley Avila, a 56-year-old campesina who protested the closing of a rural school, then was attacked by a man wielding a machete, losing part of her left arm and hand, as well as suffering other serious injuries that limit her mobility. She had originally been attacked on her farm outside Las Tunas in May 2015. In March 2016, she came to Miami for 6 months of rehabilitation arranged by the Cuban Democratic Directorate. Last September, she returned home to her elderly mother and son, looking forward to working again with her animals and garden at her rural home. But she found her property occupied by strangers whom she was unable to dislodge. And her attacker was roaming free after a hearing which had shut her out. Here is my previous post about her.
When Avila returned again to Miami after only 2 months at home, I received this message: "She had to flee Cuba. Situation had become intolerable. Home was occupied. Mother's home where she was staying had a microphone and camera placed across the street along with constant harassment by state security agents. Finally the man who attacked her was on the street and bragging how he was going to finish the job."
For her own safety and survival, especially in her now disabled condition, Avila was forced to leave her homeland, property, family, and friends behind. The Cuban government showed absolutely no intention of protecting her and may actually have been encouraging aggression against her. So she is now back in Miami, waiting in a crowded shelter for resettlement. Is this how a self-described benevolent socialist state, publicly proclaiming its commitment to protecting all its citizens, especially the most vulnerable, carries out its duties? Is this the appropriate reaction to the U.S. outreach to the Cuban leadership? Actions speak louder than words.
Another current case is that of independent human rights attorney Laritza Diversent, our panelist at Amnesty International USA's annual conference in Miami on April 2, 2016. Is the Cuban government's attack on her and her organization partly in retaliation for her appearance with us? Here is Amnesty's urgent action for her and her organization. These are just some of the many non-violent Cubans currently being harassed, arrested, and harmed right now by their own government. Raúl Castro, now after your brother's death, the whole world is watching. Do the right thing!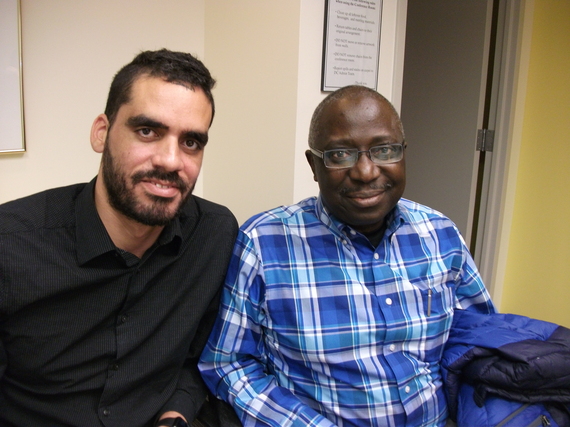 On Human Rights Day, Dec. 10, 2015, El Sexto was writing letters for other POCs along with former Nigerian POC Dapo Olorunyomi. This year, on Human Rights Day, we were writing letters on his behalf.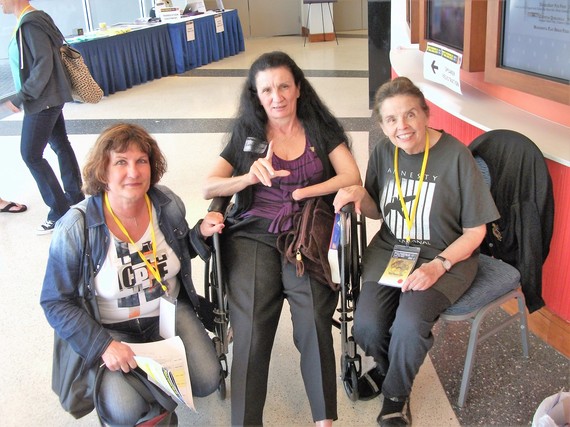 Sirley Avila with author and Gabriele Stein of Amnesty Germany at AI USA's annual conference in Miami on April 2, 2016, with Sirley making the "L" sign for liberty.
Calling all HuffPost superfans!
Sign up for membership to become a founding member and help shape HuffPost's next chapter