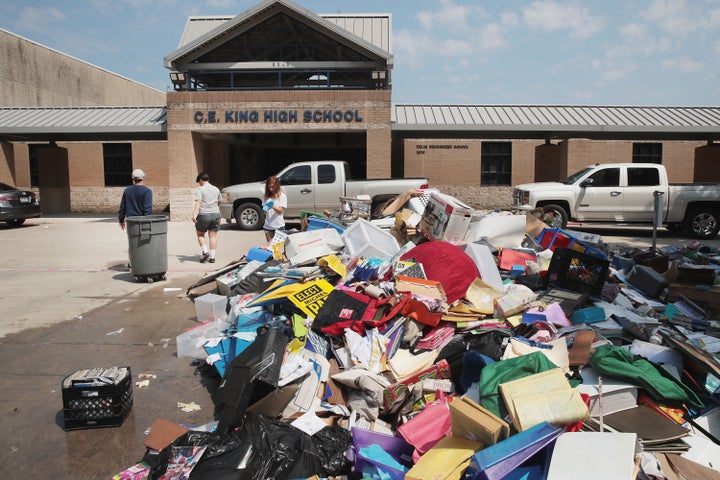 NOTE: This post was first published in the immediate aftermath of Hurricane Harvey and is being recirculated as part of HuffPost's "Listen to America" series.
It's an all-too-familiar scene in America. A natural disaster devastates a major metropolitan city.
And then the forces of profit and privatization use the chaos and uncertainty as cover to steal public services and turn them into mechanisms to increase their own bottom line.
That's what happened to New Orleans in the wake of Hurricane Katrina in 2005. And if Houston residents aren't careful, it's what could happen there in the wake of Hurricane Harvey.
Right now the immediate danger is the weather.
Thousands of people have evacuated to rooftops as rushing waters flooded streets and neighborhoods. Many roadways are only navigable by boat, and emergency services are so overtaxed that civilian volunteers have stepped up to help rescue stranded residents. By the time the weather system passes through, Houston could get as much as 50 inches of rain – the highest amount ever recorded in Texas.
U.S. Education Secretary Betsy DeVos was so overwhelmed by the news that she took to Twitter, saying, "Our prayers are with all those in the path of #HurricaneHarvey. @usedgov stands ready to assist impacted schools."

To which noted liberal commentator Keith Olbermann responded, "The hurricane is going to do less damage to schools than you are, Motherfucker."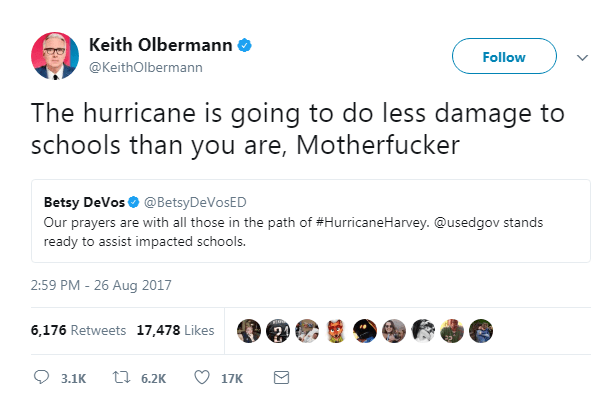 And if history is any guide, he may not be wrong.
In the aftermath of Katrina, New Orleans lost almost its entire public school system. About 90 percent of the city's 126 schools were given to the Louisiana Recovery School District, which turned them all into charter schools.
For those uninitiated into the mysteries of corporate education reform, charter schools differ from traditional public schools because they are financed by tax dollars but privately operated. They often are controlled by appointed boards with little to no transparency and are rife with opportunities for investors to profit through fraud and neglect – opportunities that just aren't present at traditional districts.
So, in effect, Louisiana state officials elected by the white majority stole control from local school boards elected by the city's black majority. More than 7,000 teachers ― most of whom were people of color and had been displaced by the hurricane ― found themselves replaced by mostly white teachers brought in from other parts of the country.
Now, more than 10 years later, the New Orleans experiment has been shown to be a failure. Scores on standardized tests have improved (kinda), but the curriculum has narrowed; teacher turnover has doubled, disadvantaged and special education students have even fewer resources while schools fight over high-achieving children; students spend hours being bused to schools far from their homes; communities have been erased; and parents have less control over how their own tax dollars are spent.
This could be the future for the Houston Independent School District (HISD).
After all, Houston is where the infamous Knowledge is Power Program (KIPP) charter school network got its start.
Yet the charter network, one of the largest such chains, with 209 schools nationwide, has one of the best propaganda departments in the industry. They pass off inhumanity to children as "rigor" and gloss over inability to teach difficult students as "high standards."
Will Texas lawmakers be swayed by powerful charter operators to use the current catastrophe as a business opportunity to gobble up the existing school system?
Perhaps. But there are some significant differences between Houston and New Orleans.
For instance, the students served by the New Orleans system a dozen years ago were almost all living below the poverty line. By contrast, Houston has high- and low-poverty areas. In fact, many neighborhoods cater to upper middle class children.
It's doubtful that parents from more affluent neighborhoods would put up with losing local control and all that goes with it. Their political and economic power would probably stop any wholesale charterization of the district. That's why KIPP schools – and in fact most charter schools – are nearly nonexistent in wealthy neighborhoods.
"Will Texas lawmakers be swayed by powerful charter operators to use the current catastrophe as a business opportunity to gobble up the existing school system?"
However, there are plenty of community schools serving high-poverty populations suffering from systemic disinvestment and neglect that could be in danger of just such "reforms." In fact, many of those are exactly the ones that have been worst hit by flooding and weather damage. At least 10 consistently struggling schools could find themselves targeted for the New Orleans treatment. The state and federal government could withhold relief funding on the condition these schools give up their elected school boards and embrace the kind of Wild West, laissez-faire, free market deregulation that charter schools bring.
Hurricane damage could become a pretext to empowering state lawmakers to expedite this process. Perhaps they might even ask local school boards to give up control of their struggling schools in exchange for leaving alone the more-affluent white schools.
I had the pleasure of visiting Houston a year ago for the United Opt Out Education and Civil Rights conference. There I met with parents, students, concerned community members and representatives of the local teachers union – the Houston Federation of Teachers.
They helped me understand that Texas has a unique perspective on school choice.
For instance, they aren't generally too fond of school vouchers.
However, this is the land of former Gov. George W. Bush, one of the biggest charter cheerleaders in the country. His party broadly supports charter schools, yet the Texas legislature has struggled to increase them.
Last year, Gov. Greg Abbott and Lieutenant Gov. Dan Patrick made a big push to increase charter schools across the state. In an unusual move, state House Speaker Joe Straus refused to bring the bill to the floor for a vote. Straus held the issue hostage because he couldn't get support for a new school funding formula.
It should be noted that all of these players are Republicans. Democrats are a minority, with the ability to impact policy almost not at all.
It's still too early to tell if the state and/or federal government will take a page from the Shock Doctrine playbook and use Harvey as a distraction to embolden their agenda. One can only hope voters have learned the lessons from Katrina and Louisiana. Otherwise, over time a manmade disaster could once again eclipse the damage done by a natural one.
Special Thanks to Zakary Rodriguez for help navigating the Texas education scene.
Popular in the Community