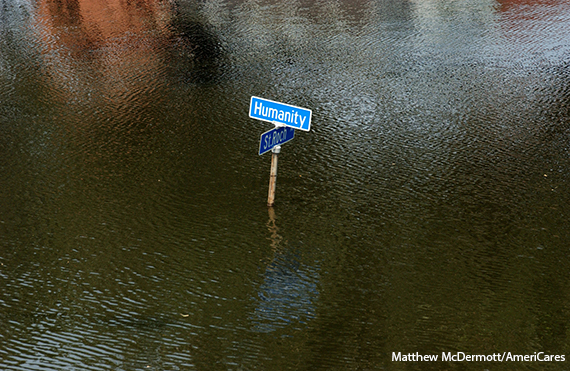 By the time patients arrive at Dr. Monir Shalaby's office at the EXCELth clinic in New Orleans, they have run out of options: Most have little or no income, no health insurance and, usually, a heap of health issues.
Ten years ago, their options shrunk to nothing when Hurricane Katrina's storm surge breached the levees, swamping homes and businesses. With many of the city's charitable hospitals closed due to storm damage and two of EXCELth's clinics flooded, patients came to the third from all over the city, standing in blocks-long lines to replace lost prescriptions and seek health care.
The EXCELth staff struggled, too -- all of the clinics' paper patient files were soaked, ruined and useless, erasing patient histories of tests and diagnoses.
While donations of medicine, supplies and project funding from organizations including AmeriCares helped EXCELth care for the surge of patients and make needed repairs, the damaged health system created dangerous gaps. One woman whose lymph node cancer had been treated under her employer's insurance pre-Katrina found herself uninsured after the business closed due to hurricane damage. Her wait to see an oncologist was two months long. "I had to tell her to leave New Orleans to get care," Shalaby says.
Ten years later, Shalaby can point to positive changes since Katrina: EXCELth has three mobile clinics, ready to move when and where they're needed if a clinic is damaged. And all of the nonprofit's medical records are electronic -- there's a cloud-based portal that can connect medical staff to patients even if both have evacuated to different states, a scenario made all too clear during the hurried Katrina exodus.
Preparing for the next disaster by building back better is a rising refrain today among those of us engaged in disaster response and recovery efforts around the globe. In New Orleans, EXCELth is showing us all how to do that in a thoughtful way.
Along with its improved services has come an explosion of demand. Before Katrina, EXCELth had 1,500 patients. Now, the roster is over 10,000, half of whom have no insurance whatsoever. To help meet this rising need, AmeriCares continues to send EXCELth and a dozen other clinics in the Katrina-affected area regular donations of medicine, supplies and other support. Across the country, we've found 800 health providers like EXCELth that need help year-round so that their patients - the most vulnerable - can survive the everyday emergencies of being uninsured and unhealthy. In September, during National Preparedness Month, AmeriCares plans to share an emergency operations guide designed for the free and charitable clinics that serve this at-risk population.
Even with these safeguards, Shalaby worries how his patients will fare in the next disaster, large or small. Because the majority suffer from conditions such as diabetes and heart disease that need treatment daily, Shalaby and his co-workers always make sure patients have two or three months' worth of medicine, never just one. "Having enough medicine with the patient is the most challenging thing in a disaster," he says. "If you have a chronic disease, medicine is part of your life."
Calling all HuffPost superfans!
Sign up for membership to become a founding member and help shape HuffPost's next chapter